Customer loyalty is the most decisive factor for any brand to remain at the top of the ladder and promote a continuous flow of income. Many shopaholics buy newly launched products from emerging brands or retail stores but hardly a handful of them turn out to be loyal customers and continue associations in the long run.
Setting optimum price based on demand and other conditions, having products in stock, providing efficient customer care and promoting a overall satisfactory shopping experience are decisive factors for building strong and long-lasting customer loyalty. It is vital for brands to focus on converting first time shopper into loyal customers, thereby laying a strong foundation for a brighter tomorrow.
Why Customers Switch Brands ?
Nowadays, gathering a few thousand customers to visit the retail store and persuade them to into buying products  is hardly an uphill task. A significant amount of investment in the social media advertising platform, online advertising or public events depending on the target audience can easily help in attracting few customers (mainly shopaholics) at the start. But the tougher part is inculcating the loyalty factor amongst them for a long-term association.
We live in a world where consumers have an infinite number of options for buying any goods/products. Consumers tend to switch brands if they are not happy with the quality, customer service or if an alternate competitor brand provides better incentives.
"There is a strong link between the way consumers describe their loyalty habits and the way they subsequently buy—so even comparatively small shifts in what consumers say can manifest in big changes in what they do," said Julie Currie, senior vice president Global Loyalty, Nielsen.
Earning customer devotion is the only factor which separates successful firms from those which are dying. Price, packaging, customer service and reputation are some of the factors that affect a consumer's decision making process. Price was voted as the important criteria which persuades consumers in switching brands.
The Nielsen Global Survey of Loyalty Sentiment polled more than 29,000 internet respondents in 58 countries to evaluate consumer views on loyalty levels across 16 categories that range from FMCG goods staples to technology products and retail establishments. They eventually found that more respondents accepted being not loyal than completely loyal.
61% Of North Americans Are Price Conscious!
If we analyze the trend country-wise, nearly 61% of North Americans and 54% of Europeans voted for price as the major criteria for switching to an alternate brand. The global average being 41%. In the Asia-pacific nearly 28% and in the Middle-east and Africa nearly 36% of respondents upheld price as a deciding criterion while looking for alternate brands. Investment on the research analysis of products before launch, testing of products, safety additives, and packaging cost a lot more in the developed states of North America compared to Asia Pacific and African countries.
As a result most of the products are high priced, hence consumers do not hesitate to switch to a lesser priced product. Amongst the folks of Asia pacific and European countries, making a switch from a tried and trusted product to something new involves a considerable amount of risk for consumers with discretionary incomes. Hence they hesitate to switch to low-priced brands easily. The consumers in developing nations are more price sensitive and avoid trying out new products without consulting experienced users.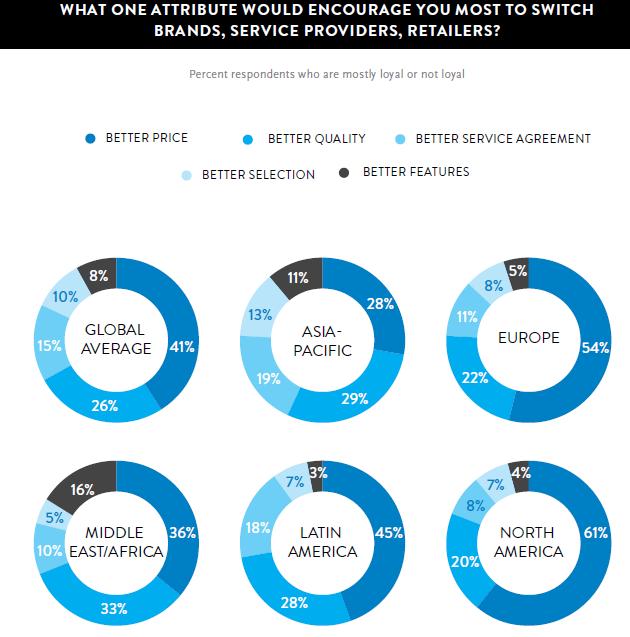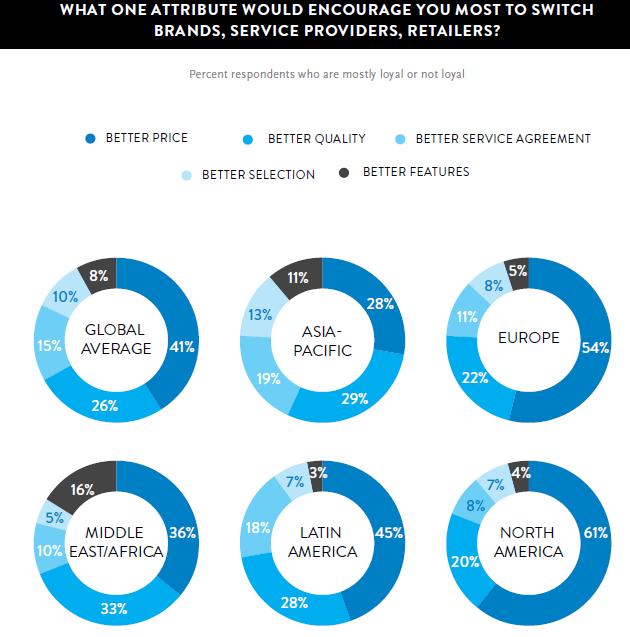 Quality was cited as a reason for brand switch by 29% of Asia pacific countries, 33% of Middle east and African countries, 22 % of Europeans, 28% of Latin Americans and 20% of North Americans. Quality is considered as the top most priority while manufacturing goods  in developed nations of North America. A majority of product goods produced by manufacturers are branded and produce above average quality, hence the consumers hardly bothered about quality as most of them are well above the quality threshold.
Comparatively, the emerging markets of Asia and Africa consist of a large number of local players. Although, there is a certain bar that manufacturers must maintain above the quality threshold level, but still a majority of them do not meet the quality needs of consumers. Hence respondents in Asia pacific and African countries look for better quality goods and switch brand without hesitation if the desired criteria is not met.
A better service agreement is highly cited and expected by consumers in the Asia-Pacific (19%) or Latin America (18%). Whereas in North america hardly 8% had up voted and in Europe just 11%. This can be attributed to the reason that consumers in emerging markets have a wide variety of options when they are looking to buy a product. A lot of players, both local and international, have entered developing markets, as they foresee more potential for sales in emerging markets. Hence options available for customers are in abundance and they look for additives like better servicing and warranties.
They do not prefer switching brands very often (as a large number of consumers in these regions belong to the middle class) therefore better servicing is prioritized to promote the longevity of the product. 
Better selection or range was also most influential in Asia-Pacific (13%), compared to respondents in Europe (8%), North America (7%), Latin America (7%) and Middle East/Africa (5%). Improved features (8%) were the least influential at the global level, whereas in Africa 16% upheld for  better features, followed by 11% in Asia.
Uneven income distribution is widely seen in developing nations where people buy products according to their capacity and requirements. A majority of local brands are flourishing in emerging markets mainly due to variations in income levels amongst consumers. Very few group of people can afford high-priced branded products.
Across five different product or service attributes analyzed (price, service agreement, selection, feature or quality), offering the right price held the most persuasive power to motivate consumers to swap devotion to a brand, service provider or retailer.
"Good prices may initially offer consumers enough motivation to change allegiance to a new product, it won't keep consumers for long if the product doesn't deliver on its promise. Getting the price/value equation right, having products in stock, and offering a satisfying shopping experience are vital ways to build long-lasting customer loyalty."- said Julie Currie, senior vice president Global Loyalty, Nielsen
Source : Nielsen