Top social networking sites like Facebook Inc.(NASDAQ:FB) and Twitter Inc.(NYSE:TWTR) are concerned about the decline in user base growth from certain key regions The user base increased by a mere 22.9% in case of Facebook in the last quarter, whereas for Twitter, the increment recorded was about 6.13%(in Q3 compared to Q2,2013)). But, as per the latest forecast by eMarketer, growth in the number of active users on social media sites around the world may be slowing, but it shows little sign of stopping. A majority of top social media sites are feeding on or rather sustaining because of the emerging markets where the timeline is lagging behind, in terms of social media usage.
By 2017, 2.33 Billion Users Expected To Use Social Networking Sites! Growth Rate Declines On Y-O-Y Basis!
According to the latest report by eMarketer based on the forecast of internet, broadband and social network users worldwide –  monthly active users' (MAUs) tally (from any electronic device) for social networking sites will rise up to 1.61 billion this year. This marks a gain of 14.2% compared to the previous year, and a similar growth rate is expected for another year. The figure (social networking users) is likely to rise up to 2.33 billion by the end of 2017.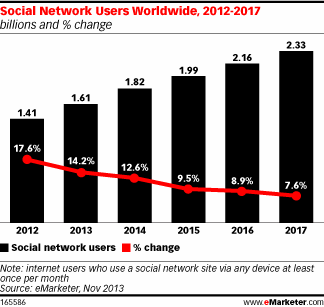 Although, the developing countries of Asia-pacific will continue to contribute heavily to user base count of Facebook, Twitter and other social networking sites, the overall growth rate is expected to decline on Y-O-Y basis. In the above graph, growth rate is expected to stumble down from 12.6% in 2014 to 9.5% in 2015, and further drop to 8.9% and 7.6% in 2016 and 2017 respectively. One of the main reasons which can be attributed to the above drop rate is emergence of the Messenger App. The power house features of  rapidly evolving Smart phone or mobile devices and an increasing usage of other apps which provides similar services as that of social media sites are also responsible for the same.
The trend of staying connected with friends and relatives is slowly changing from social media sites to Mobile messenger apps. If users wish to have voice chat, video chat, share files, send text, pictures, videos, audio clips, location data and contact details – all of this is possible through various messenger apps like WeChat (400 Million users), Viber(200 Million users), Nimbuzz(150 million users), WhatsApp(300 Million users) and BBM. A majority of messenger apps require minimum effort to install and start using, even the data consumption for using these apps is miniscule. Hence consumers hardly hesitate to switch from social media sites to messenger apps for staying in touch with their friends.
Although Facebook recently revised its messenger app, but still the previous mobile messenger apps, majority of which are cross-platform apps have managed to steal the thunder from social media sites to a remarkable extent.
Smartphone is emerging as a powerhouse for entertainment and information, users have numerous options for spending their leisure time by playing games, browse comfortably for information, news, shop online on large mobile screens. Numerous apps are designed for Smartphones and tablets to provide all sorts of features which social media sites provide. Hence social media usage is decreasing Y-O-Y.
India Is The Leading Country In Social Networking Users' Growth Rate!
If we compare the growth rate of social networking users country wise, Netherlands was leading with 63.5% of all residents using one or the other social networking site. Next in line was Norway with 63.3% of penetration of social network users as a share of the total population. Social network user penetration tally in Sweden, South Korea, Denmark and the US were 56.4%, 54.4%, 53.4% and 51.7% (of total population) respectively.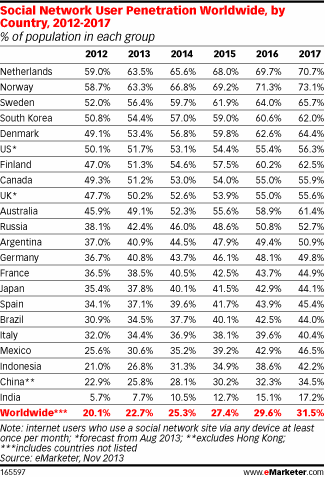 The fastest growth in social network usage was observed in developing markets like India, Indonesia, Mexico and China. India recorded the highest growth this year and the numbers will increase to 37.4% on a Y-O-Y basis, while Indonesia's numbers will climb by 28.7% and Mexico will grow its social network user base by 21.1%.
The growth in developing nations will continue for the next few years as the web users in the region have woken up to social media rater late, compared to developed states. The internet penetration which was significantly low, is picking up speed and hence is likely to engage a majority of new users with interesting social media sites. The advertisers in developed nations are yet to embrace the latest methods in social media advertising, hence they are bound to increasingly promote their brands on various social networking sites for the next couple of years. Even consumers are  likely to engage with their favorite brands on social media.