Mobile handsets shipments in India totaled 62.9 million in Q3, 2013, resulting in 10.9% Y-O-Y growth. Though, the market was largely driven by Smartphones as feature phone market in India recorded, first time, negative Y-O-Y growth of 0.8%, the contribution of Smartphones in India is yet to complement the worldwide Smartphone market.
According to latest CMR report, Smartphone shipments in India touched 11.1 million units in Q3, 2013, an astounding 152.3% growth compared to the year ago quarter. It's ignominy to learn that Smartphone growth in India is failing to accelerate much to stay in accordance with global growth. In Q3, 2013 Smartphone contributed 55% of total mobile handsets shipments globally, while in India the contribution remained 17.6%, in site aggressive marketing strategies opted by local vendors such as Micromax and Intex.
Mobile Handsets Shipment In India Q3, 2013
Mobile handsets shipment in India totaled 62.9 million units in Q3, 2013, feature phones remain the most preferred pick by majority of new users. Despite of poor performance in Smartphone segment, Nokia secured its top position by controlling 18.9% of total mobile handsets market – thanks to immense brand popularity and extensive reach of its feature phones.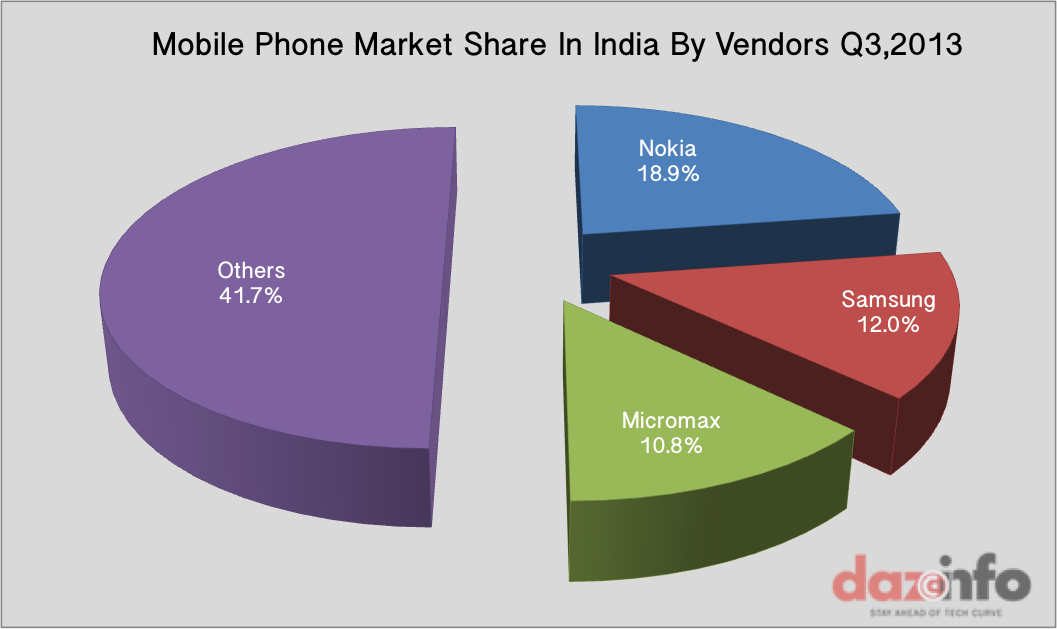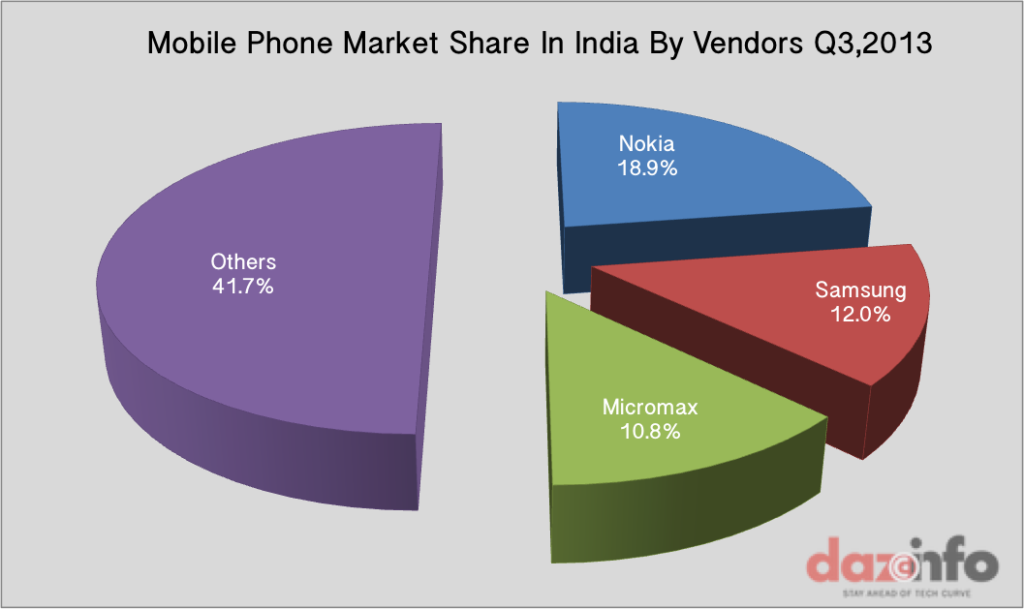 Samsung secured the second position with 12% market share followed by local vendor Micromax that shipped 6.79 million mobile handsets during the whole quarter.
In spite of 51.8 million units of shipments feature phones growth lost to Smartphone and registered -0.8% Y-O-Y growth.
Smartphone Shipments In India Q3, 2013
Samsung, though, left behind Nokia in overall mobile handset shipments; it leapfrogged its nearest competitor with distinct margin to secure the top position on the list. The Korean electronics giant captured 33.9% of Smartphone market in India during third quarter this year, followed by local vendors Micromax and Karbonn with 19.7% and 9.5%, respectively.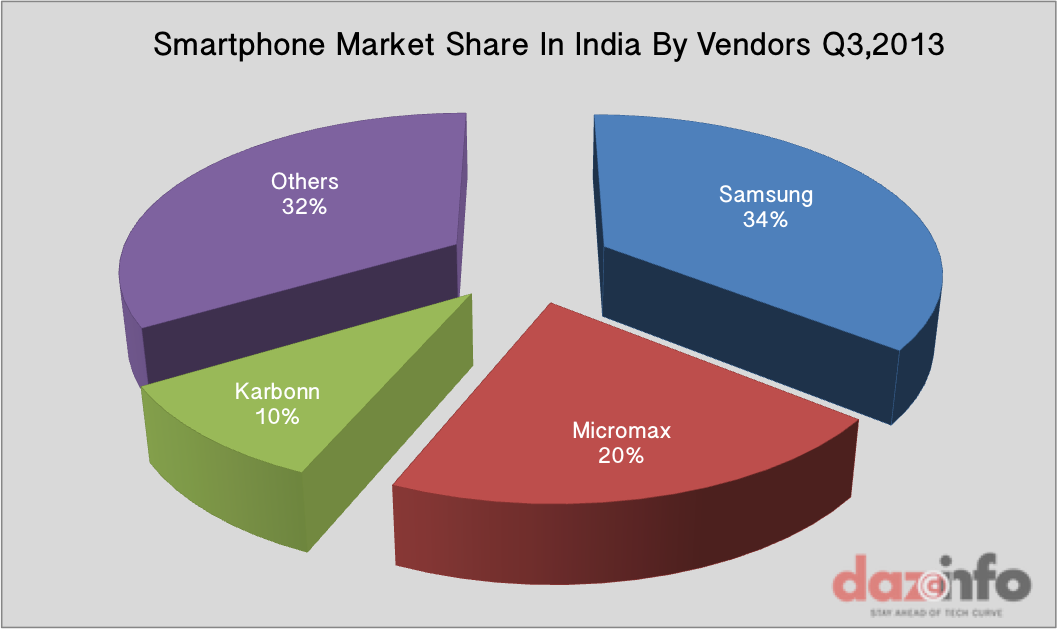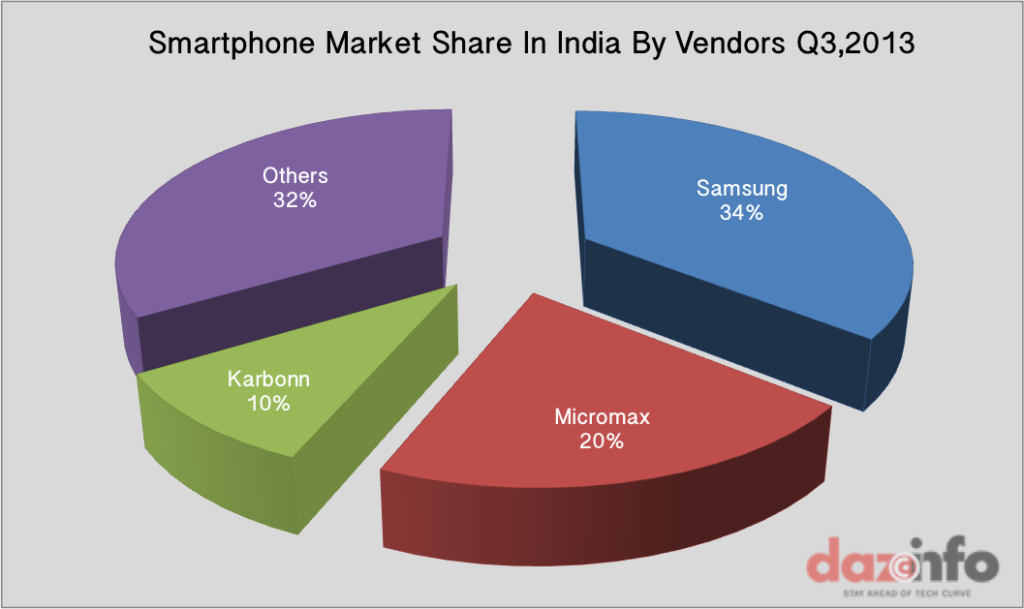 It's quite interesting to learn that Samsung, Micromax and Karbonn together shipped 68.1% of total Smartphone shipped in Q3, 2013, leaving. Besides, other global players Sony and HTC, and local mobile vendors, such as Intex and Lava have also penetrated Indian market significantly. And, this has left quite a congested room to grow for Apple iPhone and Nokia's Windows 8 powered Lumia series Smartphones.
Source: CMR