The growth of regional mobile handset makers has helped the global Smartphone market to penetrate further in Q3, 2013. According to the latest report from Gartner, worldwide Smartphone sales in Q3, 2013 crossed 250 million for the first time ever, contributing 55% to total mobile phone sales. In the third quarter, ending September 30, of Q3, 2013, worldwide mobile phone sales totaled 455.6 million, an increase of 5.7% from the same quarter a year ago.
The sales of feature phones continued to drop in Q3, 2013 despite the introduction of smart feature phone by Nokia. In the same quarter, a year ago, feature phone sales accounted for nearly 60% of total mobile phone sales that had reached 431 million. In the last twelve months, the feature phone market has been shrinking with each passing quarter and has reached a meagre 45% in Q3, 2013.
Worldwide Smartphone Sales Q3 2013:
Being the largest market of mobile phones by subscribers, the Asia-Pacific region played a vital role in mobile phone industry growth in Q3, 2013. The overall mobile phone industry witnessed a 11.3% growth compared to the same quarter, a year ago, while the smartphone industry grew by 77.3%. Western Europe and America have also showed positive performance in terms of the overall mobile industry growth in the latest quarter.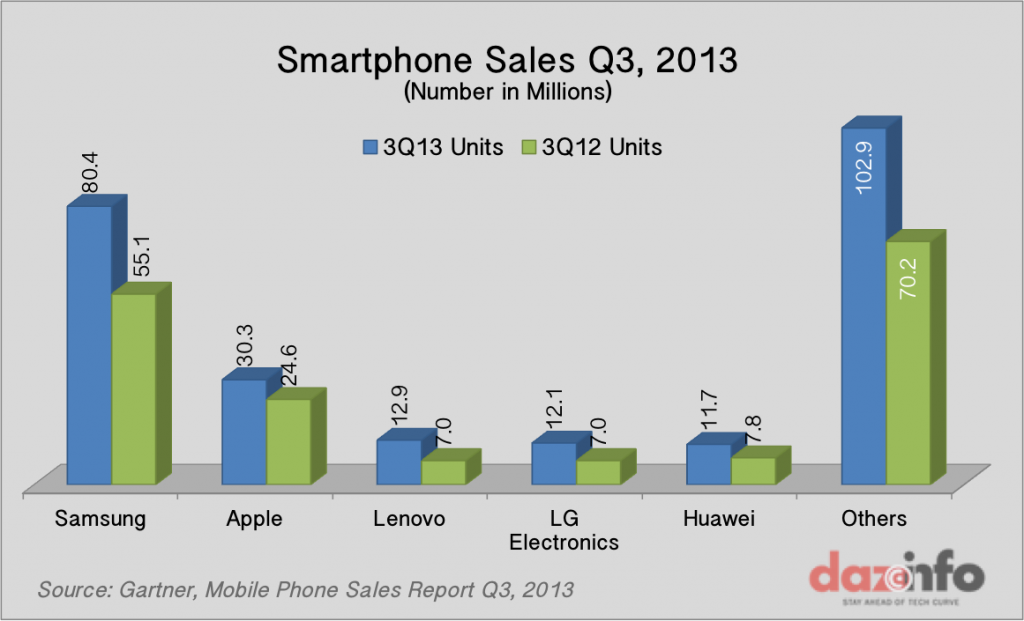 Samsung Electronics Co. Ltd. (KRX:005930) continued its regime over worldwide Smartphone market by controlling 32.1% of market share in Q3, 2013. Though the Korean Smartphone giant failed to scale up its market share compared to the same quarter, a year ago, it maintained a sizable gap with Apple Inc. (NASDAQ:AAPL), whose market share plunged to 12.1% in latest quarter from 14.3% last year. Interestingly, while both the top Smartphone giants failed to improve their smartphone market share, smaller Smartphone players Lenovo, LG, Huawei and other local smartphone players strengthened their market presence and are apparently eating up Apple's share of the pie. For the first time ever Lenovo has reached the third position in the list of top Smartphone vendors in any quarter.
On the others side, Android – Smartphone OS from Google Inc. (NASDAQ:GOOG) – has also improved its market share in the Smartphone OS industry. Four out of every five Smartphones sold in Q3 2013, were powered by Android. Blackberry OS emerged as the biggest loser in  the Smartphone arena as its market share dived to a new low of 1.8% from 5.2% since last year. The Smartphone OS for Microsoft that controls Windows Phone OS, showed a marginal improvement in last one year as shares went up to 3.6% from 2.6% in Q3, 2012. In spite of Nokia's recent acquisition, the company is yet to witness any significant gains from the much-controversial 'marriage'.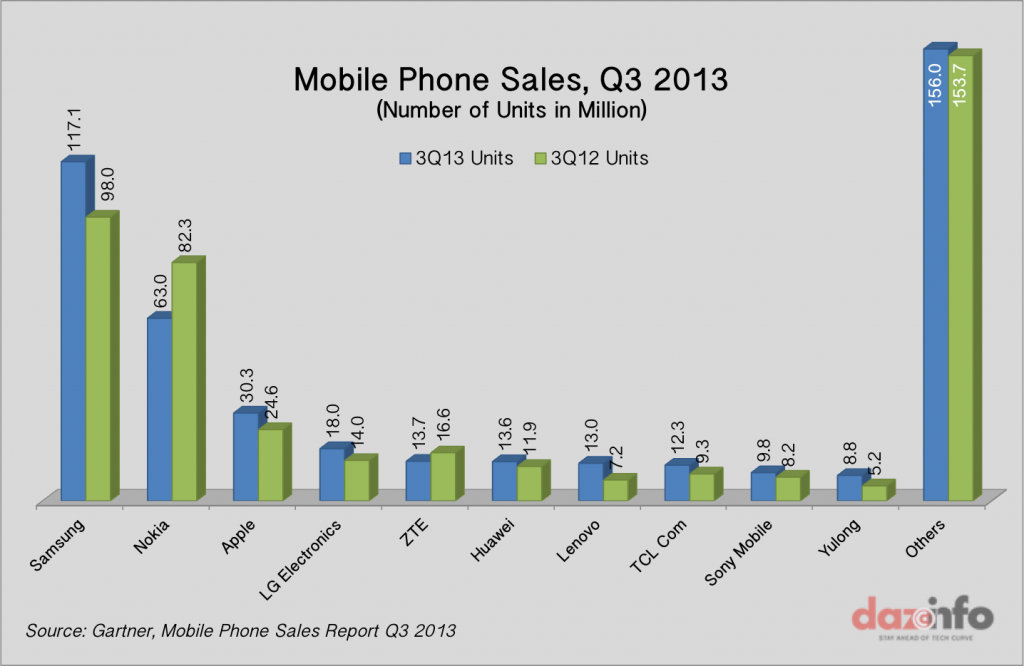 Overall, Nokia emerged as the top loser, as the company's total mobile phone market share shrunk further to 13.8% from 19.1% in Q3, 2012. However, in the Smartphone industry, Apple continued its disappointing show in Q3, 2013.  While Apple holds high possibilities of bouncing back with the recent launch of the iPhone 5S and the iPhone 5C – Nokia is expected to face more tough times ahead, as users continue to show a lukewarm response towards the Windows 8 powered phones.
Source: Gartner