More than one-third of world population is online; this has ignited the fight in web browser market in 2013 between internet giants such as Google, Firefox, Microsoft and Apple. Microsoft's Internet Explorer, a leader in world-wide browser usage during late 90s, is outplayed by Google Inc. (NASDAQ:GOOG) Chrome and Mozilla's Firefox. According to the recent report from Shareaholic – which tracked usage of browsers by web dwellers – Chrome is dominating over Firefox, Safari and Internet Explorer with 34.68% browser market share. The study was conducted on about 200,00 odd publishers with 250 Million monthly website visitors in last 9 months.
Web Browser Market 2013: Every 3rd User Is On Chrome
Chrome, Firefox, IE, Safari together accounted for nearly 80% of total share of browsers preferred by web users across the globe. Share of Chrome web browser increased from 34.15% to 34.68% in September 2013, followed by Firefox with 16.6% share. Usage of Apple Inc. (NASDAQ:AAPL) powered Safari decreased from 16.74% to 16.15% in last 1 month.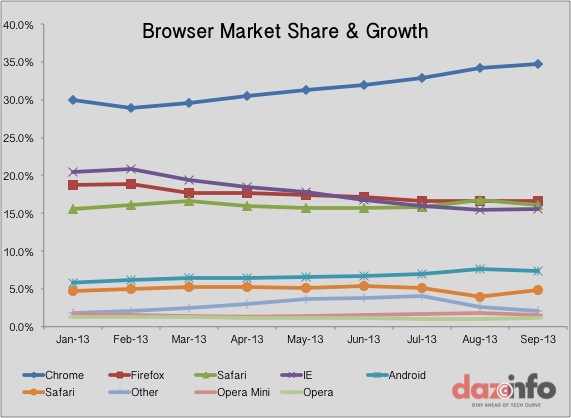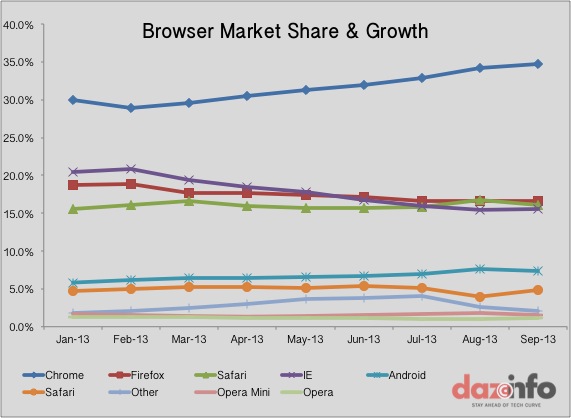 If we analyse growth rate, out of 8 browsers listed above Android native browser grew fastest at the rate of 26.75% from January 2013 – September 2013, due to increasing usage of Android powered smartphones. Chrome increased its share by 15.64% in last 9 months re-establishing its supremacy. Internet Explorer, however, emerged as the biggest looser as its market share dived down by 23.81%, followed by Opera with a drop rate of 11.6%. Surprisingly, the usage of Safari dropped in last 1 month from 16.74% to 16.15% in spite of emphatic opening sale of 9 Million iPhone 5S and iPhone 5C in first 3 days of its launch. However, market share of safari is likely to surge up in next couple of months as Apple has started venturing into new market with its fleet of product range including new MacBook Air, Pro and iPad.
Why Chrome, Firefox Outcast The Rest!
Chrome and Firefox both are well-known browsers and are available for Windows, Mac and Linux users, unlike Internet Explorer or Safari that have restricted itself only to Windows and iOS, respectively. Comparatively, Chrome and Firefox are faster and provide soothing experience for users while browsing. Both Mozilla and Google have adopted a strategy that keeps users engaged with respective browser; if a user finds a bug and notifies the same, he is awarded and because of very strategy users' attention towards resolving of bugs is always higher. Unfortunately, Microsoft Inc. (NASDAQ:MSFT) doesn't offer any form of reward to users for discovering a bug in IE. Besides, Chrome is currently available in nearly 50 languages, performs faster in terms of browsing experience and provides better control over different tabs with an impressive loading speed.
Firefox, the most famous and latest addition to list of well-known browser, available in 78 odd languages, provides more secure privacy mode compared to other browsers. The first and foremost benefit is that user can download and save Firefox installation anytime in any system, unlike IE. 'Tabbed browsing' allows user to open infinite number of pages in single browsing window, whereas in case of IE, certain toolbars and a pop-up blocker needs to be installed. Firefox allows user to decide whether or not to disable add-ons, reset toolbars and controls. It's extensions are unique and are important for better browsing experience. For above reasons, Chrome and Firefox account for combined share of 51.28%.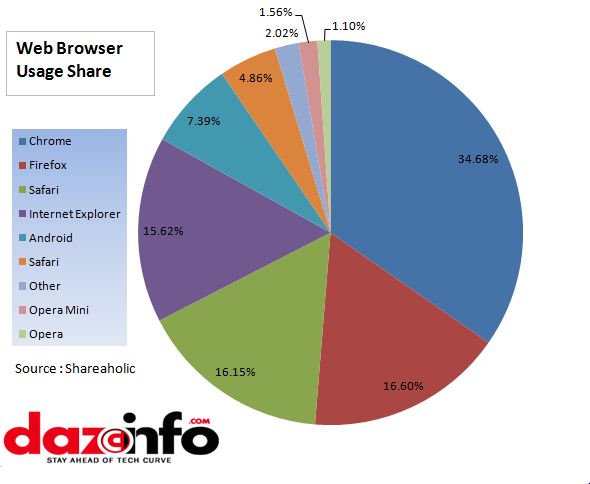 Internet Explorer: A Download Catalyst For Other Browsers!
Internet Explorer, a browser which is preferred by majority of users for the first time as bulk of laptops/PCs are windows powered, finally ends up in role as 'Download Catalyst' for other browsers.
When it comes to installation and updates, IE user has to reboot the system due to increased hardware acceleration and several updated features, whereas for Firefox, Safari and Chrome a quick browser restart is sufficient. In case of resolving bugs, Microsoft resolves them on a fixed schedule, while bugs attack Internet Explorer at unscheduled hours.
Safari has manually activated reader mode which is ad-free and allows user to concentrate only on content. It has a 'Reading list' which allows user to save the pages users wish to read later even offline. However, unlike Chrome and Firefox, the integration of 3rd party extensions in Safari is poorly handled. Opera too enables user to save pages for offline reading and the browser uses visual tabs in form of thumbnails of each tab and these tabs can be placed both at top or bottom of page. But very few website builders bother to check browser compatibility with opera due to its thin market share. This has also resulted in less number of extensions for Opera compared to Firefox and Chrome.
As the global penetration of Internet is all time high, competition among browsers is more fierce than ever now. Besides, the emergence of multi-purpose gadgets has made each of browsers have got its own positive and negative aspects. Therefore, it is very tough for all users to agree upon usage of single browser. Best option would be to install more than one browser and launch a test drive to select the best. It would be interesting to watch which of the top 8 giants or any new bee dominate the browser market in future.
Source : Shareaholic