Google Inc. (NASDAQ:GOOG) has managed to beat Industry prediction on third-quarter revenue with a negligible margin as the search giant announced its Q3, 2013 earnings report on Thursday, October 17, 2013. The company reported $14.9 billion as revenue for Q3, 2013, up by 12% compared to the third quarter of 2012. The revenue attainment resulted in $2.97 billion in net income, up from $2.18 billion in same quarter of last year.
"Google had another strong quarter with $14.9 billion in revenue and great product progress," Larry Page, Google's CEO, said in a statement. "We are closing in on our goal of a beautiful, simple, and intuitive experience regardless of your device."
The major highlights of Google's earnings Q3, 2013:
$14.89 billion in revenues in Q3, 2013
 Operating income increase to 23% of revenue, from 21% a year ago.
Google-owned sites contributed $9.39 billion, or 68 percent of total Google revenues, with Google Network bringing in $3.15 billion and "other" a total of $1.23 billion.
56 percent of Google revenues originated from countries other than the U.S.
Google now has cash, cash equivalents, and marketable securities totaling $56.52 billion.
Earnings Per Share of $8.75, up from $6.53 last year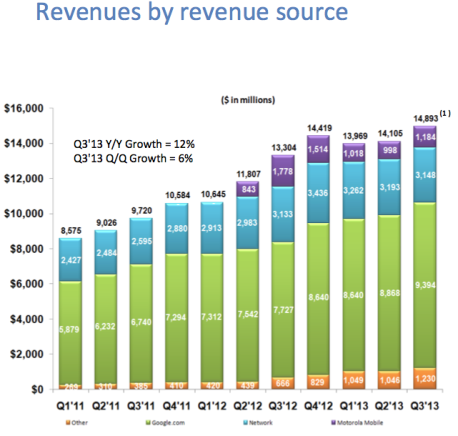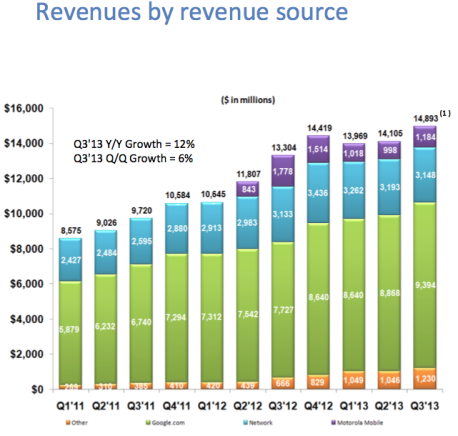 Motorola Mobility Performance Disappointed
The bad part of such overwhelming performance came in the form of Motorola Mobility – a company that Google acquired in 2012 for $12.5 billion. The revenue of Motorola Mobility declined to $1.18 billion in Q3, 2013 from $1.78 billion during the same period in 2012. By contributing mere 8% to Google's total revenue, Motorola Mobility posted loss of $248 million in Q3, 2013.
Online Publishers Must Be Worried?
The interesting fact of the complete report remained the growth in Cost-Per-Click (CPC) that has a significant impact on Google's revenue every quarter. The number of paid clicks, though, went up by 26% over a year, decline in Cost-Per-Click (CPC) continued and it dived down by 8% compared to Q3, 2012. In last quarter, the company registered the decline of 4% in CPC. This can attract direct impact on publishers' earnings, which is pegged to Google CPC. As CPC continues to fall, majority of online publishers could face nearly 6% – 8% in their total earnings from Google Adsense.
The low CPC indicates the growing competition in Online advertising market for Google. Emergence of multiple local advertising networks and social media – especially Facebook – has forced Google to offer its advertising inventory at reduced 8% price.