Investment by companies on Internet advertising is growing at exponential rate in last couple of years. With exploding increase in number of internet users, majority of firms are relying on marketing funda of  "Advertise where your customers are"  and spending greater share on Internet advertising compared to traditional marketing methods. Internet advertising revenues are spiking higher than ever, specially in the U.S, where internet advertising revenue totaled to nearly $20 Billion in Q1 and Q2 together.
Is the U.S. Internet Advertising Market Stagnating ?
According to the report by PwC on Online advertising revenues, the Internet advertising industry in the U.S is showing significant growth in range of 15 to 20% on Y-O-Y basis. Total revenue in Q2 of 2013 reached about $ 10.3 Billion, whereas in Q1 it was about $9.8 Billion, depicting on increment of 5% between 2 quarters. On a half-yearly performance comparison, Online Advertising revenue of H1 2013 was $3.04 Billion more than H1 2012. Increasing awareness of online marketing especially social media and mobile marketing has contributed largely to above increment factor. Internet advertising revenue will continue to zoom high with more number of firms using online platform to acquire customers.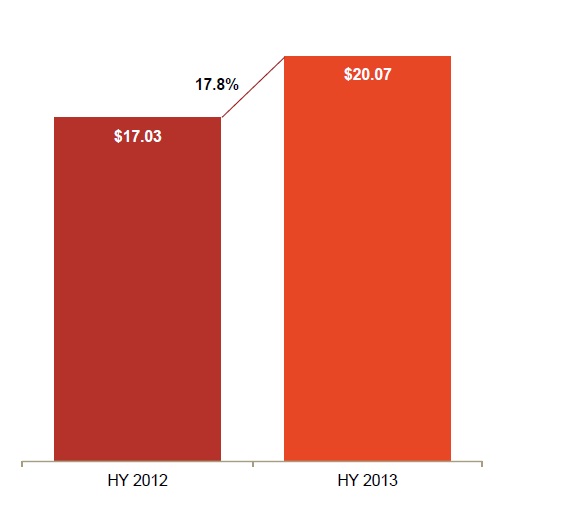 If we look at growth on Q-O-Q basis, the industry recorded 4.6% increase in Q2, 2013 in comparison with the earlier quarter. The overall revenue reached to $10.26 billion in Q2, 2013 which is nearly $1.5 billion more than same quarter a year before, registering a growth of 17.6%.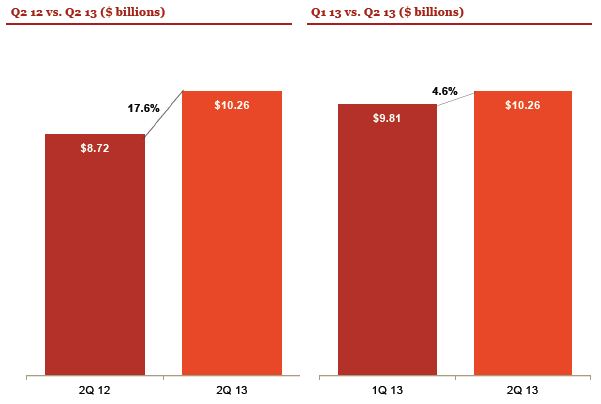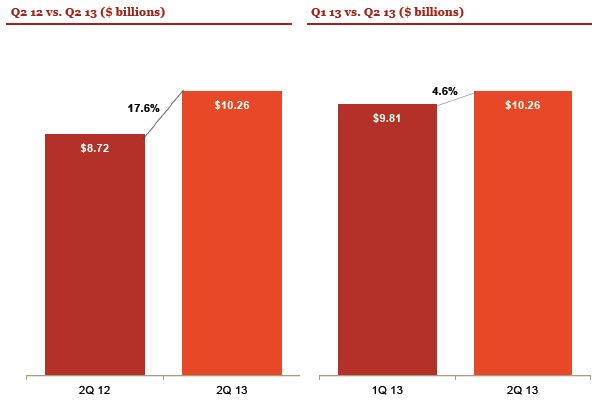 If we compare Q2 revenues of last 4 years, significant increase of close to $5 Billion in internet advertising revenue took place. The overall Internet advertising budget in Q2 of 2009 was close to $5.4 Billion, which climbed up to $10.3 Billion in Q2, 2013, mainly due to various marketing initiatives opted by Social media sites like Face book and Twitter to attract advertisers and increasing user base in all the above networking sites.  The CAGR (Compound Annual Growth Rate) was approximately 20% for Q2 growth rates in last one decade. Increasing global mobile users has also contributed largely towards online advertising revenues.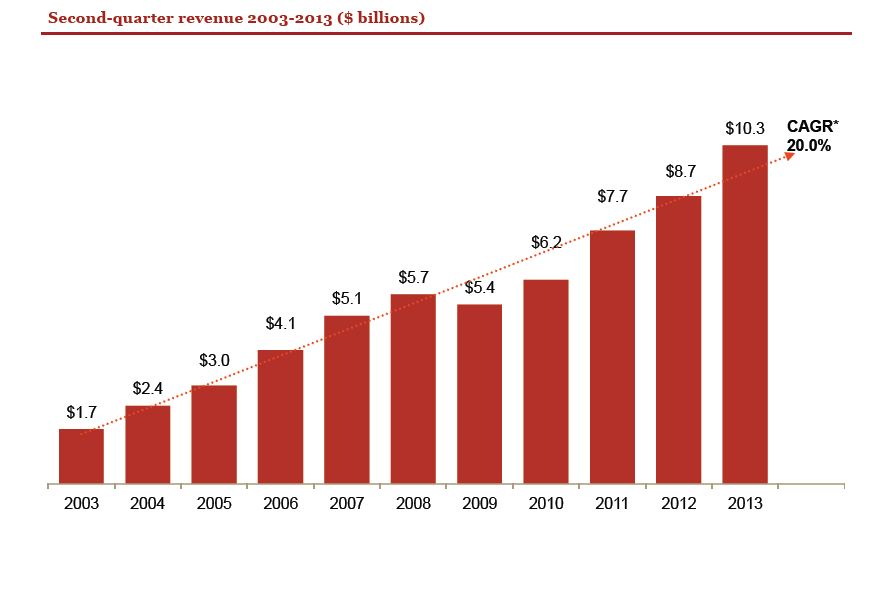 The report also highlighted an interesting trend that has been continuing for last few years; companies spend more on internet advertising during 2nd half of a year when compared to 1st half. About $62 Billion was invested during 2nd halves in last 4 years (2009-12) which is way higher than $54.9 Billion in 1st halves. This is mainly because of huge amount spent on advertising by online firms during special occasions such as Christmas, Thanksgiving day, which drive maximum profits to online firms and brands.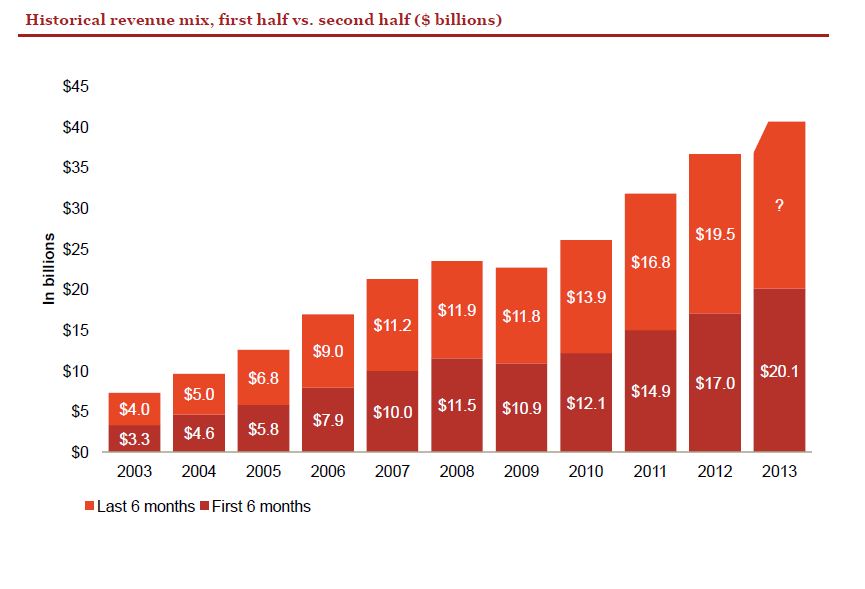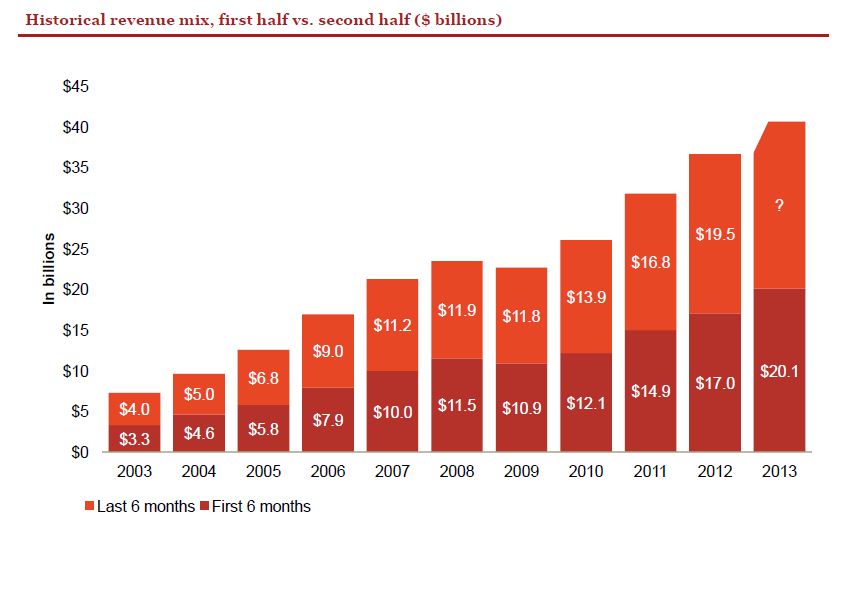 Top 10 Ad-Selling Firms Accumulate About 70% Of Total Advertising Revenue!
Top ad selling companies like Google , Facebook and few more continue to dominate by keeping 70% of overall internet advertising revenue into their favor. Ad-selling companies ranked 11-25th position enjoy 12% of total revenue share. Companies are relying more on Internet giants such as Google, Facebook and Twitter for Internet Advertising, as majority of web users are accustomed to one of the these.
Search And Display Ads Continue To Dominate The Ad-Formats
Majority of advertisers are investing in search ads, as such ads are vital to drive consistent traffic to website by 1st page exposure on top 3 search engines ( Google, Yahoo, Bing). Search ads accounted for 43% of revenues in Q2,2013, amounting to $4.4 Billion, which signifies drop of 4% compared to previous quarter. However, display ads accounted for $3.1 Billion or 30% of total revenue, an increment by 8% compared to Q2,2012. Display ad is totally out-casting the search ad in terms of visibility and revenue. If search ads are classified under 'pull medium', for which user needs to search on an engine to trigger an ad, then display ads could be tagged as 'push medium' that requires just page views to drive an ad into the favor. In future companies are likely to invest more on display ads for better brand visibility and ROI.
Mobile revenues totaled 16% of  Q2, 2013 revenue, amounting to $1.6 Billion, up by 149% compared to Q2, 2012. Increasing usage of mobile devices has resulted in such enormous growth and the revenue from mobile section will continue to zoom higher in future.Lead generation owned a significant share of 4% whereas Email revenue formed 0.4% of total revenue.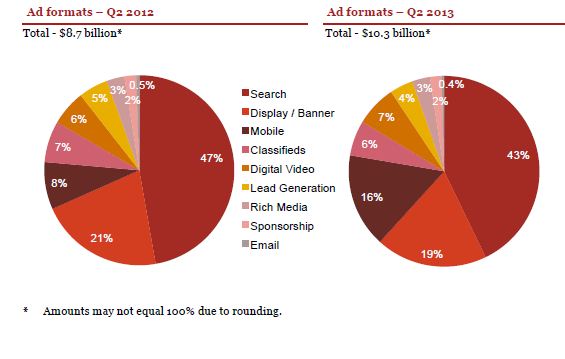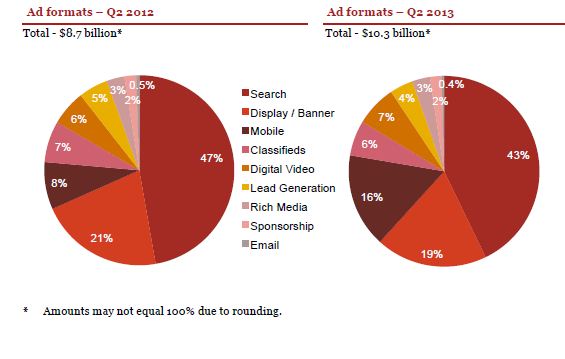 Future Trends
With increasing smart phone penetration Internet advertising revenue in the U.S. is likely to sway into mobile section, majority of firms would look for ad-medium which would fit best in small screen. Display ads will dominate over search ads as they are more effective and likely to increase website clicks. Online brands are bound to invest on social media marketing especially Facebook and Twitter as they are best when it comes to addressing the masses and improved analytic tools have helped advertisers in estimating their returns from social media sites. More number of firms are appointing teams dedicated to social media marketing as they are driving most of the revenues for online brands.