People browse through millions of websites everyday for various purposes. Most of these websites have social media login button which eases the user's efforts of sign up besides improving users experience. User database of most of the websites has increased significantly by this additional option. It has been an interesting topic of study to understand how internet users prefer to use social login than filling up old school lengthly form on every website.
79% Online Users Prefer Facebook and Google+ To Login
Social login seems to be most adopted mechanism to access restricted areas of any online property. Until Q1, 2013 we had seen social media giant Facebook Inc. (NASDAQ:FB) losing its popularity to Google Plus with final market share down to 46%, compared to 49% in the previous quarter, whereas its close competitor Google+ owned 34%. Since then both Google+ and Facebook had considerable increase in its number of users. The latest report by the popular user-management and Social login provider Jainrain states that Social media giant Facebook continued to enjoy biggest pie of the market with a drop of 1% and rests at 45%, same was the case with Google+ (34%) with drop rate of 1%.
It was interesting to note the diversity in choices of Social login of users. A significant increase of 1% was witnessed in market share of other social media sites LinkedIn Corp (NYSE:LNKD), Twitter and Windows which are becoming more and more popular.
LinkedIn enjoys substantial popularity on sites that cater toward business professionals. A majority of Internet dwellers maintain their professional online identity and they prefer to project their persona via LinkedIn while interacting on B2B websites. Users can choose to grant the website access to their LinkedIn profile information, including a verified email address, name, company name, job title and industry. The site can then use this information to conveniently pre-populate a sign-up form, which eliminates the need for consumers to fill out the form from scratch or enter lots of redundant professional details about themselves.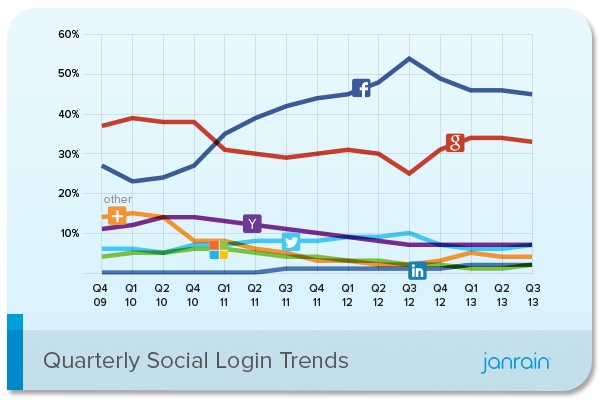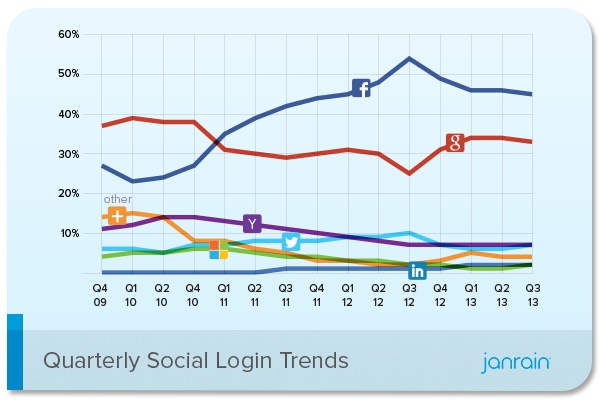 When the study was categorised according to geographic boundaries, local players emerged as the clear winner; Netherlands witnessed Hyves in strong competition with Facebook. In Brazil, Orkut emerged as most preferred Social login while in China, Sina Weibo & Renren maintain popularity. Similarly, the Japanese and Russian market was driven by Mixi and vKontakte as Social login, respectively.
Who Will Be the Winner?
Social media giants are in continuous efforts to increase the number of users. It would be interesting to find out the winner in this race.
Facebook's initiative of Internet.org will be helpful in driving much bigger share of Social login into their favor. If the 5 Billion people are made to login through Facebook in order to access low-cost Internet, it would definitely give them greater scope for gaining a major share of Social login market.
Increasing popularity of Twitter due to a large number of mobile internet users has made it a strong competitor in Social login market share. Advertisers, Marketers Prefer Twitter for their Ad-campaigns over Facebook, due to valuable engagement happening in Twitter.
LinkedIn too has adjusted its sea legs well in Social login share. Professionals and Job seekers would consider logging in through their LinkedIn profile if they are applying for jobs or visiting any B2B sites. It would definitely give a better impression as LinkedIn profile will have all Info in presentable, professional manner and it would avoid wasting time in filling up long forms.
Pinterest, with its recently added feature of ''Product pins'' from certain websites (including eBay, Etsy, Urban Outfitters, Way fair etc), has created a buzz amongst e-commerce sites. Product pins help user in providing notification regarding fluctuating price of certain commodities. Users who shop Frequently online would prefer Pinterest as a social login for e-commerce sites.
The majority of online websites will continue to have Social login buttons of Facebook, Google Plus because of a large number of users. But consumer's choice will be based on their "Purpose of visit". LinkedIn might be at the top in case of Professionals and Businessmen but Pinterest would be more favoured by online buyers. For entertainment and other purposes, social media giant of future will dominate.
Source: Janrain