Smartphone penetration is all-time high across the globe. Developed markets are flooded with high-end smartphones, mainly with iPhone and Samsung Galaxy range, while developing nations, likes of India, are showing warm response to entry-level smartphones, thanks to local mobile makers.
This growth is helping the pegged industries to enlarge its adoption and interest among people, which would result in million of dollars as revenue. According to the latest report from Avendus Capital, mobile apps and gaming industry in India is bound to reach $450 million (Rs. 2,700 Crore) by 2016. The growth would be derived from 382 million smartphones users, 266 million of them using 3G network. In 2013, number of smartphone users is expected to reach 67 million, out of which nearly 85% would be accessing the Internet using 3G.
"The digital content market (other than caller ringback tones) in India has been sub-scale due to large-scale piracy. Mobile Internet is opening the doors for large-scale monetization of digital content through paid apps which is expected to grow to become a Rs. 2,000-crore market in the next 3-4 years," said Ashish Bhinde, Executive Director and Head (Digital Media and Technology) of Avendus Capital.
It's a well-known fact that Smartphones enjoy the most momentous role in mobile Internet industry; more than 50% of mobile Internet traffic and paid online content revenues originate from Smartphones, powered by apps largely coming out from Google and Apple factories. Google Play and Apple App Store revenues are expected to touch Rs. 800 Crore by 2016, claims the report.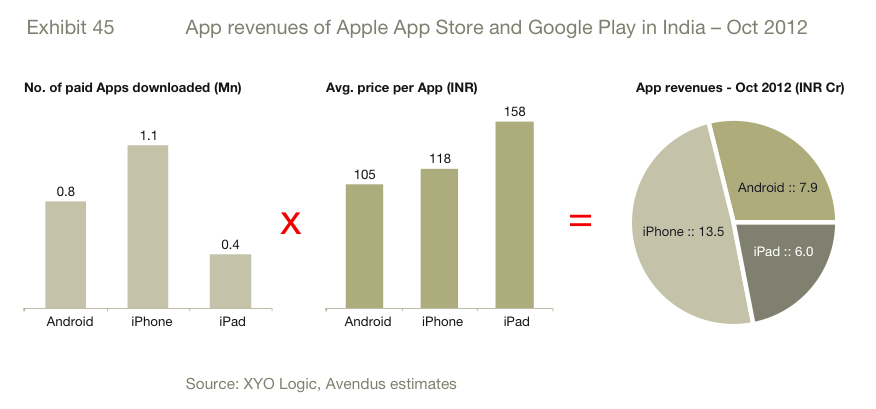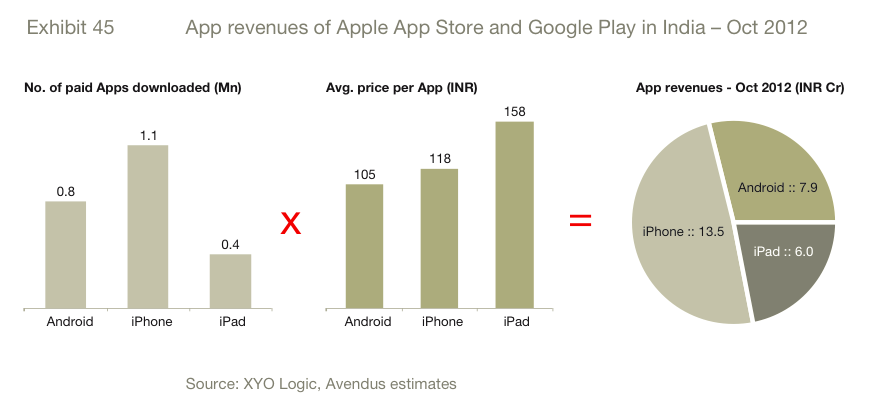 The constantly increasing independent app developers are fueling up the competition in paid-app market, which is resulting in availability of apps at quite competitive price. Consequently, the Average Revenue Per User (ARPU) for paid apps is expected to dive down from Rs. 132 in 2012 to Rs. 78 in 2016. However, the growing 3G subscription base is transforming the complete scenario into a number game and will help the overall revenues to touch Rs. 2,065 crore from paid apps.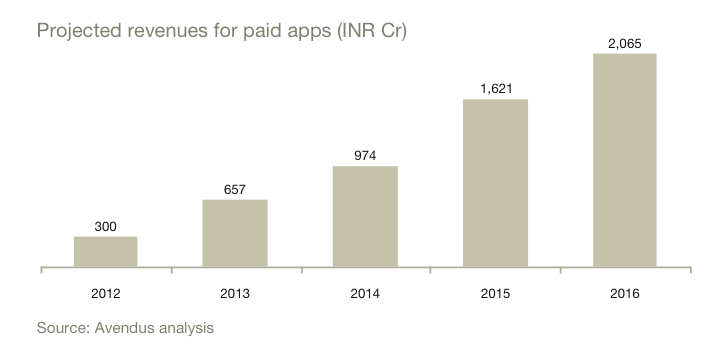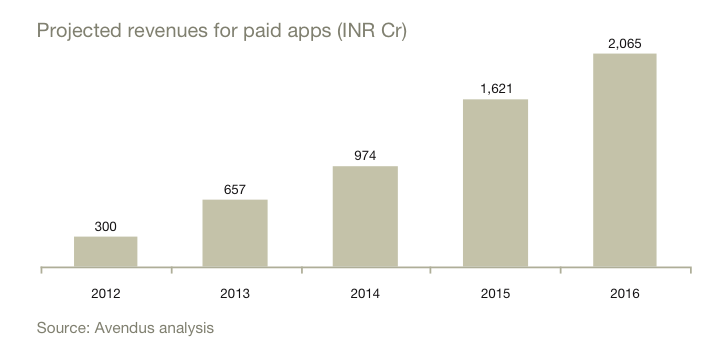 Cricket, Games, Video, Music and News are the top categories, dominating the Indian content landscape on smartphone. Smartphone users are spending majority of their mobile internet time on Facebook, Google and mobile messaging apps such as WhatsApp and WeChat.
As of March 2013, number of Smartphones stood to only 36 million while out of 431 internet supported mobile devices, report claims.
Source: Avendus