Apple leapfrogged all corporate giants to become the best global brand of 2013 and IT companies such as Google, IBM and Microsoft dominated the list of top 10 companies. Unfortunately, the scenario is upside down in India where Infosys emerged as the only company that secured a place in the list of Top 10 Best Indian Brands in 2013.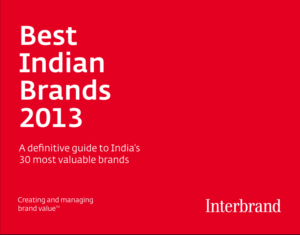 According to latest report, titled "Best Indian Brands 2013", TATA Group tops the list with $10.9 billion brand valuation, followed by Reliance Industries (led by Mukesh Ambani) . This reminds me a very popular old saying that is used to tease a person trying to follow a lavish life style "Don't treat yourself as a kid born in TATA or Birla family"; now, in the context of this list, people in India won't mind replacing "Birla" with "Reliance". The list is compiled by Interbrand – a company known for yearly evaluation of brand value at global and country level.
In India, where I.T. industry is growing by leaps and bounds and marking its presence at global Tech forum, TCS (part of TATA Group), Infosys, Wipro and HCL were the only IT companies that secured a place in the list of top 30 best Indian brands. With brand valuation of $3.7 billion Infosys secured 5th place while Wipro settled at 11th position with $2.2 billion brand valuation.
Telecom brands Airtel, Reliance and Idea were the ones that managed to hooked itself along in the list with 3rd, 18th and 21st position respectively. The report estimates Airtel worth $6.2 billion by brand value while Reliance (led by Anil Ambani) worth $988 million and Idea worth $815 million.
BFSI industry enjoys the maximum number of brands, including SBI, HDFC, Axis Bank, ICICI, Bank Of Baroda, Punjab National bank, Kotak and Union Bank in the list of top 30 best indian brands. With a brand valuation of $3.3 billion HDFC lead this category, followed by ICICI with $2.5 billion.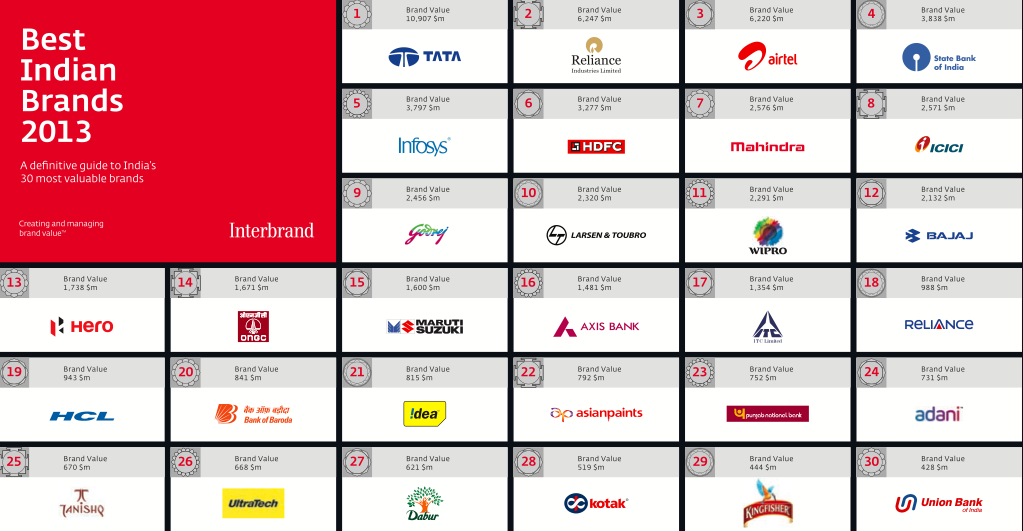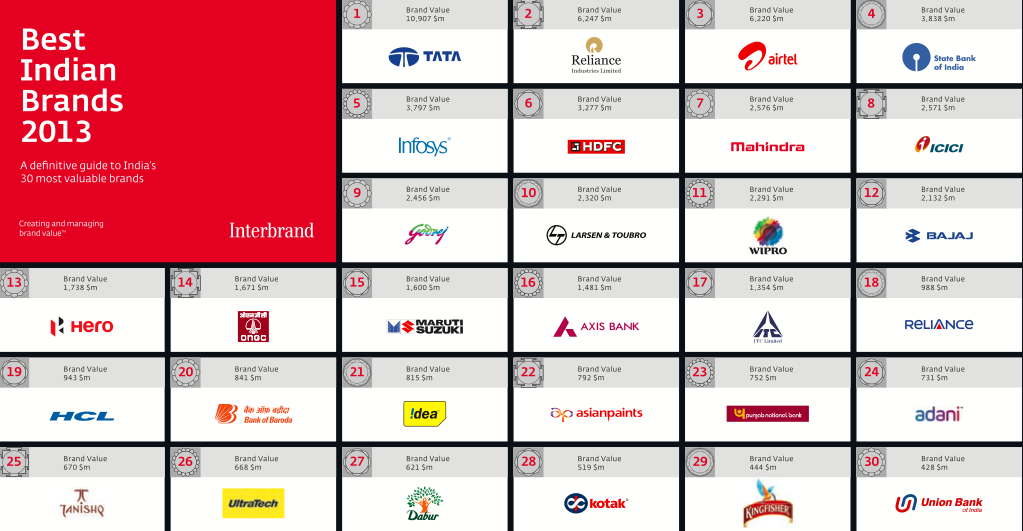 Other popular Indian brands Mahindra, Godrej and L&T also managed to make up to the list at 7th, 9th and 10th position with brand valuation of $2.5 billion, $2.4 billion and $2.3 billion respectively.
Source: Interbrand