Brand loyalty signifies consumers' commitment towards company's products and Apple Inc. (NASDAQ:AAPL) has apparently learned it in a best way. For last 10 years, Apple has been up scaling its position in the list of Best Global brands; From 50th place in 2003 to 1st place in 2013, Apple has leapfrogged many industry giants active in different verticals, be it sugared-water Coca-Cola or the arch rival of its time IBM, Apple has tremendously outpaced all Top 99 best global brands in 2013.
According to interbrand report on Best Global Brands 2013, Apple sits right at the top with more than $98 billion as brand value, followed by Search giant Google Inc. (NASDAQ:GOOG), Coca-Cola, IBM Corp. (NASDAQ:IBM) and Microsoft Corp. (NASDAQ:MSFT).


Apple also emerged as the best Tech brands in 2013, followed by Google, Microsoft, Samsung, and Intel. Tech Industry emerged as the most lovable among consumers by securing five out of top 10 global best brands in 2013. Overall, 13 tech brands managed to secure a place in the list of Top 100 Best brands while 10 out of these 13 are positioned under top 25.
The regional outlook of Top 100 best brands of 2013 showcase that American wins over other continent with a distinct margin. 57 brands belong to the America followed by Europa & Africa with 33. The global technology hub Asia, though, managed to grab only 10 positions in the list, it remained the only region in the list of best top 10 brands' list besides the America.
Automotive remained the best sector with 14 brands in the list; Technology and FMCG grabbed the second position by contributing 12 brands each.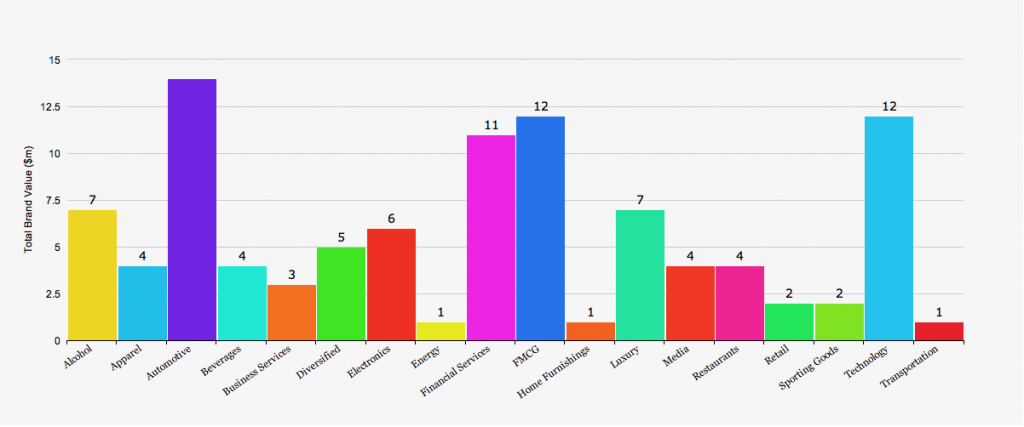 The road-to-success for Apple, to become world's best brand, has not been that easy; The best brand of 2012 Coca-Cola was trading at 12 folds higher than Apple in 2000 by brand value, however, between 2010 and 2012 Apple's brand value surged up by nearly 4 folds from $21.1 billion to $76.5 billion in 2012 – almost matching up Coca-Cola. In 2013, Coca-Cola brand value improved marginally against 28% of Apple that resulted in making Apple the best global brand of 2013.
But, there is also something more interesting; Google and Facebook, holding 2nd and 52nd position in the list of Best Global Brands 2013, have registered the highest improvement in their brand value beating Apple. While Google recorded 34% improvement, resulting in $93.2 billion valuation, Facebook witnessed 43% improvement that up surged its brand valuation to $7.6 billion in 2013.
Source: Interbrand Best Global Brands 2013