It is expected that the total revenue from mobile apps will show an increase of $8 billion from last year to $26 billion in 2013. App downloads were seen to be increasing all throughout the year. Number of downloads is expected to reach 102 billion in 2013, a significant increase from 64 billion downloads in 2012. Free apps will account for 91% of total downloads in 2013. In-App Purchase (IAP) is expected to account for 17% of the total revenue from app market in 2013. Out of the $26 billion expected revenue, $8.8 billion is expected to come from tablet apps. This further highlights the growing popularity of tablets among consumers.
Number of app downloads is likely to show strong growth through 2014, as number of smartphone owners increase, but the trend will possibly exhibit a slowdown in later years. This is likely to happen as a result of users becoming more aware of the apps they want and using the same portfolio of apps more often rather than downloading new ones.
IAPs To Gain Momentum
IAPs are showing promising growth and are likely to be a major monetization method for app stores and developers. By 2017, IAPs is forecast to drive 48% of revenue from apps. IAP contributes to a significant amount of Apple Inc. (NASDAQ:AAPL) App Store revenue from iPhones worldwide. While other platforms haven't reached such high levels yet, analysts believe IAPs contributions will exhibit an increase in the future. However, from the perspective of downloads, IAP is likely to have a strong growth in 2013 and 2014 but will slowdown in later years due to increasing smart device penetration in mass-markets where consumers' willingness and/or affordability to spend on IAPs is lower than early adopters.
"We see that users are not put off by the fact that they have already paid for an app, and are willing to spend more if they are happy with the experience, as a result, we believe that IAP is a promising and sustainable monetization method because it encourages performance-based purchasing; that is, users only pay when they are happy with the experience, and developers have to work hard to earn the revenue through good design and performance.": Brian Blau, research director at Gartner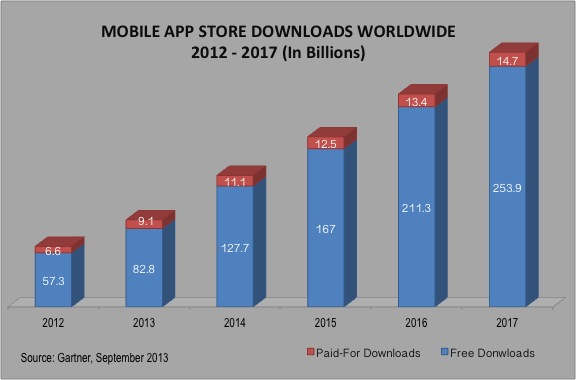 The chart above shows the increase in number of downloads. In 2013, app downloads have increased by 38 billion. In 2014, an increase of 36 billion is expected. The growth rate will keep increasing till 2016 but will fall slightly in 2017. We can also see that the number of free downloads will increase rapidly, this can be an indication of higher penetration by smart devices in emerging markets. The number of paid app downloads will also show an increase, although the rate of increase will comparatively be slower, indicates that more users will become aware of apps they want to use and demand of quality apps will increase as markets would have seen a higher degree of penetration.
Revenue Vs. Download Count
Apple's App Store and Google (NASDAQ:GOOG) Android's Play Store are currently the two largest app libraries. Although both ecosystems offer free as well as paid apps, Android has more free apps (80%) than iOS (60%). It was seen that Android users download more number of free apps but iOS users don't mind paying for apps provided they get a good experience. Both the platforms have their own different target markets and cater to specific demographics. Apple products have a smaller user base as compared to Android, but are more focused in mature markets, where users are more well-informed and choosy about the quality of apps. Android phones have undoubtedly penetrated more markets and have a larger user base compared to iPhones, However, a large percentage of Android users come from Asia-Pacific region which are abound with price sensitive markets like China and India. Users from such markets are more likely to download free apps. While Android has more number of downloads, iOS generates more in terms of revenue.
SOURCE: Gartner