It's no surprise that Smartphones are leading in every aspects of like; and the new study from Movable Ink claims the same when it comes to email marketing. According to the study, mobile has surpassed desktop as a device used to open the greatest percentage of emails; 48.1% of respondents, who received emails from Movable Ink in Q2 , 2013, used their smartphone to open emails, compare to 38.1% that stick with Desktop. This clearly state how exactly Smartphones are becoming one of the crucial target points to ensure the success of email marketing.
iOS More Email Friendly Than Android
Although Google's Android is the most widely used mobile OS capturing 39.9% of global mobile OS market by August 2013, iOS leads with a sizable margin in open rate of marketing emails. The study highlights that nearly 51.47% of emails were opened on iOS devices, largely on iPhone that captured 38.50% of total open rate.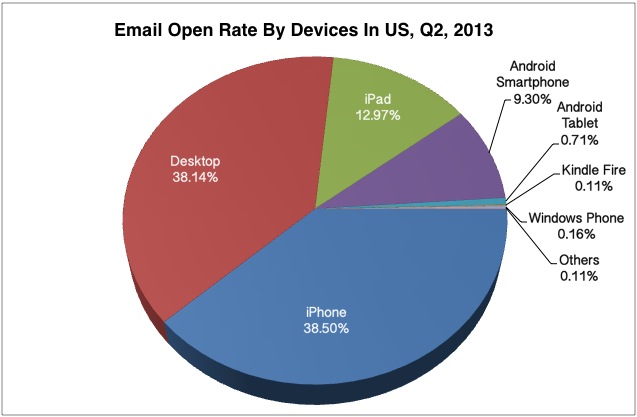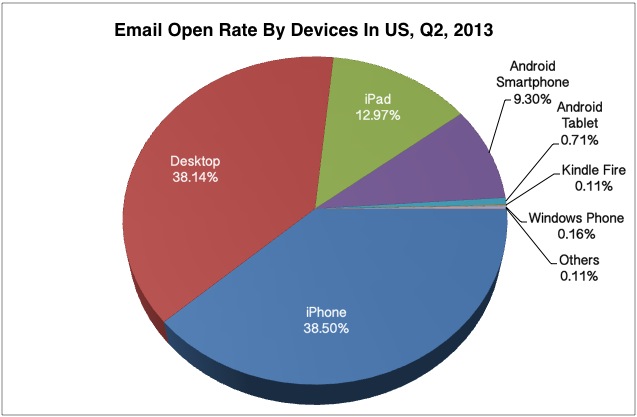 On contrast, only 10.21% of marketing mails were opened on Android powered devices, while Android Smartphone contributed almost 90% of these.
Android Wins Over iOS In Email Engagement
The study also recorded the engagement duration of marketing emails various devices' type. Unlike iOS, Android powered smartphone wins over rest all devices for keeping a reader engagement for the greatest amount of time; 53.4% of people, who opened marketing email on Android Smartphone, stay tuned for more than 15 seconds, while the percentage of readers with same duration dived down to 41.5% on iPhone devices. However, in Tablet section, with Android leads over Apple iPad with 41.9% readers compare to 30.2% on iPad.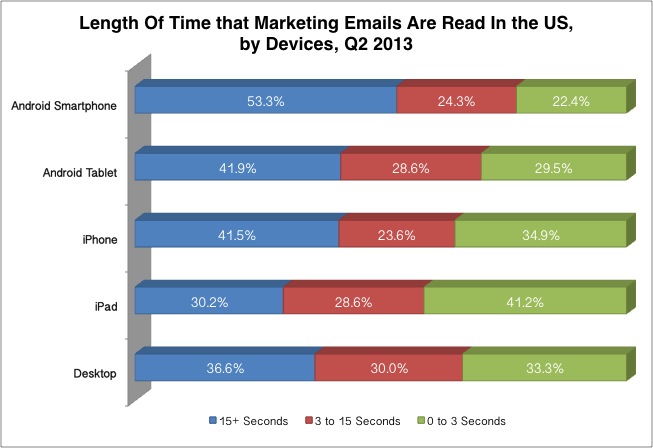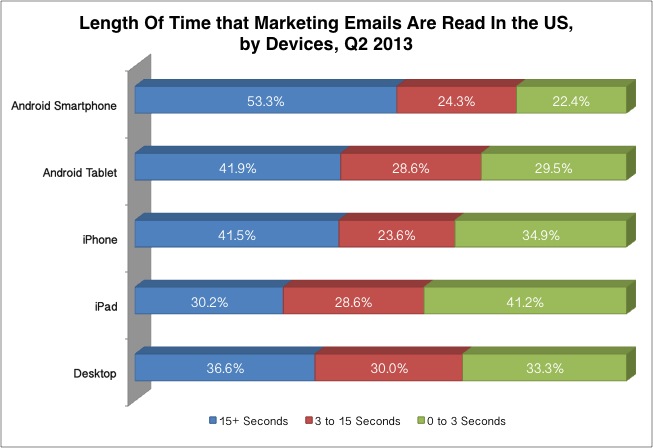 The study also categorized responses based upon time duration between 3 to 15 seconds; and the whole outcome went upside down. In this category, Desktop users scored the highest with 30%, followed by iPad and Android Tablet users with 28.6% share. It's evident how different users behave with marketing mails while accessing it on various devices?
The Movable Ink's study, which was conducted across the 3 months from April 1 to June 30, 2013, includes more than 100 enterprise B2C marketers from retail, travel, financial, media and telecommunication industries in US.
Email Marketing Reigns Over Social Media
The above market trend is no way limited to US market alone; according to Octane Research study, email marketing outshines social media by generating highest percentage of engagement in India. Marketing emails engaged 39.2% of users compare to 36.5% users on social media. Consequently, 37.7% of marketers are disposed towards 6% to 10% increment in their email/sms marketing budget for 2013.
Interestingly, according to another study from sikich, consumers who receive marketing emails regularly spend 83% more when shopping. Around 70% of digital marketers see email as the top medium of ROI.