It's a PC lover's nightmare!
The growing popularity of new and compact devices like smartphones and tablets among the masses since the past couple of years has gravely affected the PC market lately. The industry had been losing sales in mature markets steadily since the dawn of smartphones and majority of its sales came from emerging markets. Analysts had forecast that the PC industry could sustain a few more years due to continued growth figures in emerging markets. In the first quarter of 2013 (1Q13), PCs witnessed a tragic decline in sales by 13.9% after selling 76.3 million units worldwide, followed by 75.6 million units in the next quarter (2Q13).
Worldwide PC shipments will continue to decline and are expected to fall by -9.7% by the end of 2013, according to a new forecast by International Data Corporation (IDC). The forecast not only reflects the continued expansion of mobile device options at the cost of PCs but also marked the discontinuance of growth in emerging markets worldwide although some countries like India reported positive growth in PC sales. According to the source, the worldwide PC market will decline through at least 2014, followed by modest single-digit growth from 2015 onwards, but will never regain the peak volumes last seen in 2011.
"The days where one can assume tablet disruptions are purely a First World problem is over. Advances in PC hardware, such as improvements in the power efficiency of x86 processors remain encouraging, and Windows 8.1 is also expected to address a number of well-documented concerns. However, the current PC usage experience falls short of meeting changing usage patterns that are spreading through all regions, especially as tablet price and performance become ever more attractive" – said Jay Chou, Senior Research Analyst, Worldwide Quarterly PC Trackers, IDC.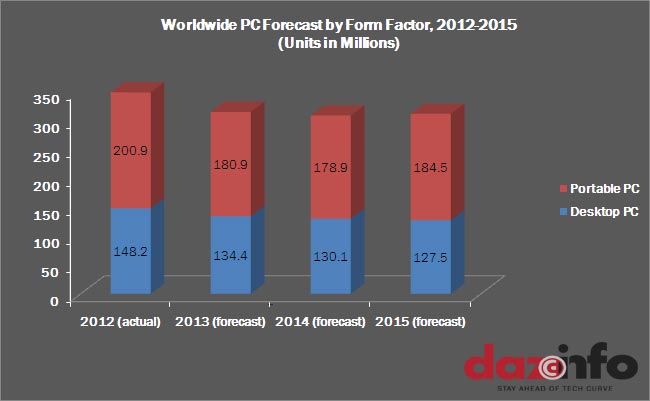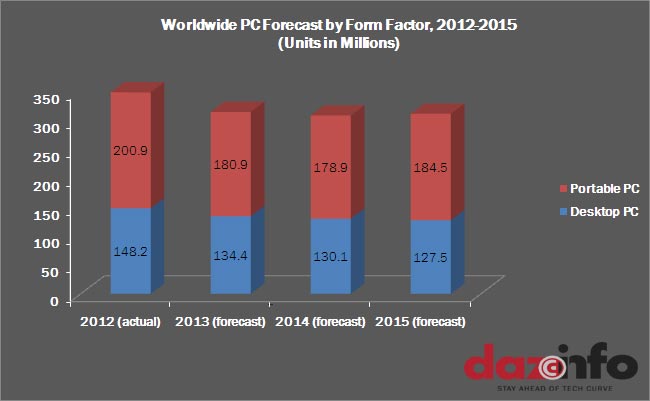 The graph above shows how the growth pattern declined: In 2012, there was a decline of -4.0%, and this figure will almost double itself in 2013, with -9.7% growth, followed by a -2.0% growth in 2014, but is expected to rebound slowly with an increased 1.0% growth in 2015.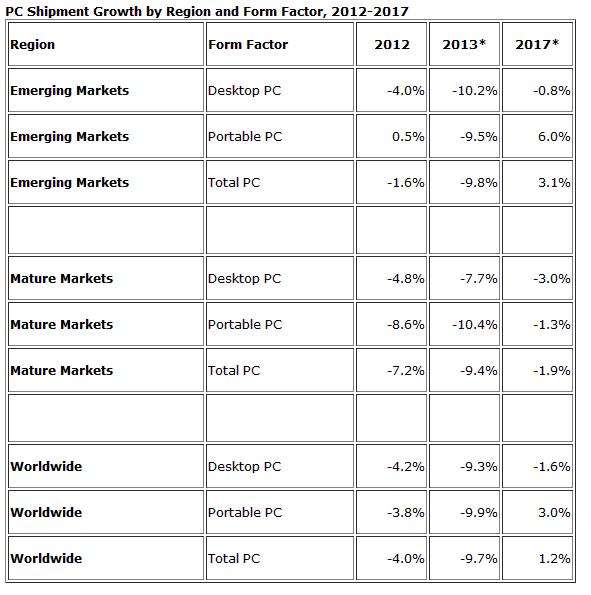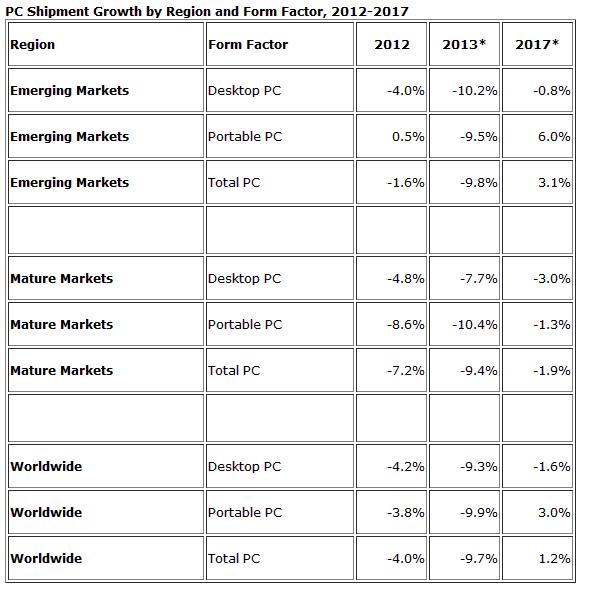 What could have led to such a decrease in PC sales? Well, first of all, buying a PC is more like a long-term investment and recent improvements in technology has lengthened the life-cycle of PC in recent years, so the need to replace a PC with another had decreased. Most businesses still preferred using Windows XP even after the launch of newer versions. The recent change in this scenario where businesses are taking a first serious look beyond the hugely dependable Windows XP and the more recent Windows 7 combined with lukewarm replacements will result in a rebound in the sales of PCs beyond 2014, although marginally.
The industry has been lying dormant lately in terms of enhancing consumer engagement, perhaps due to the lack of compelling applications. We haven't seen any major improvement in PCs apart from the continued VLSI and added networking capabilities. There is an immediate need for reinventing the personal computer.
"The second quarter of 2013 was the third consecutive quarter where the U.S. market came through stronger than the worldwide market. This was largely due to some recovery in the overall economy and channel inventory replenishment, following the stronger than expected 2Q13, we expect the second half of 2013 to restore some volume momentum driven largely by better channel involvement of top vendors and industry restructuring/alignment. We also anticipate operating system migration (Window XP to 7) will drive some volume in the commercial segment. Entry-level ultraslim systems and lower-priced convertibles will also be bright spots in an otherwise still troubled consumer market", said Rajani Singh, Research Analyst, Client Computing.
Is it the end of PCs then? Will children in the future complete their school home-works and assignments on tablets? Will the emergence of gaming consoles (mobile and otherwise) endanger the PC gaming community, as game manufacturers choose to release console versions of games prior to PC versions? I, for one, hope not! Businesses will still continue to use PCs, due to their dependability, security and ease of use and of course, PCs cost less to repair and maintain. Gamers will still use PCs due to the option of adding extra hardware or changing the OS whenever needed. Programmers will still use PCs, just for the fun of hearing the click of a mouse and the sound of keys pressed on a keyboard!
Source: IDC