Apple Inc. (NASDAQ:AAPL) tops the list of manufacturers by driving 39.3% of total ad impressions worldwide in Q2, 2013, according to a report from Millennial Media. Interestingly, Korean electronics giant Samsung, having greatest number of devices in the market, could only secure the second place by accounting 26.13% of ad impressions. The report consists of number of ad impressions on millennial media – a mobile advertising and data platform – in Q2 2013.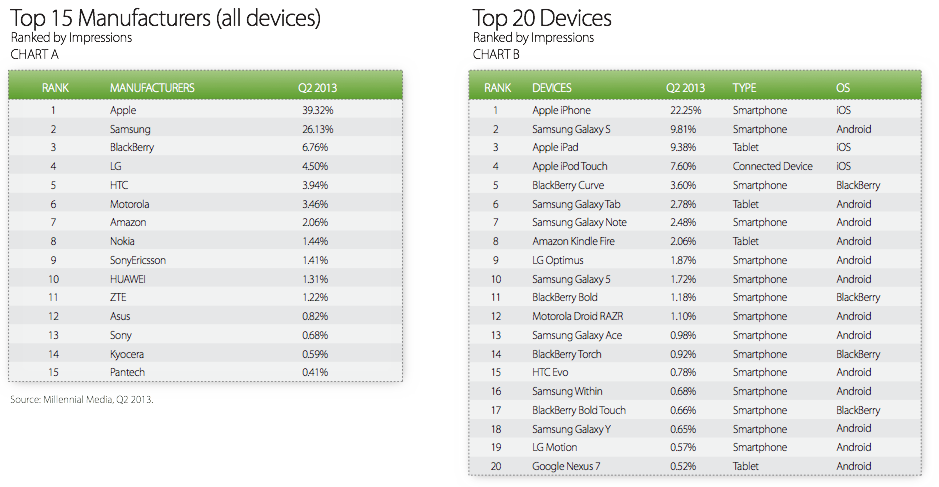 In terms of individual devices, its Apple again; iPhone accounted for 22.25% of worldwide ad impressions, followed by Samsung Galaxy S and Apple iPad with 9.81% and 9.38% of total ad impressions respectively. Out of top 20 devices, however, Samsung has seven devices – maximum number by any manufacturer – followed by BlackBerry with four devices.
Tablet has emerged as the biggest gainer in ad impression after segregation of these figures on device types. In Q2, 2013, Non-phone connected devices (mainly Tablets) market share grew to 25% from 19% – a 6% YOY growth – majorly at the cost of Smartphone.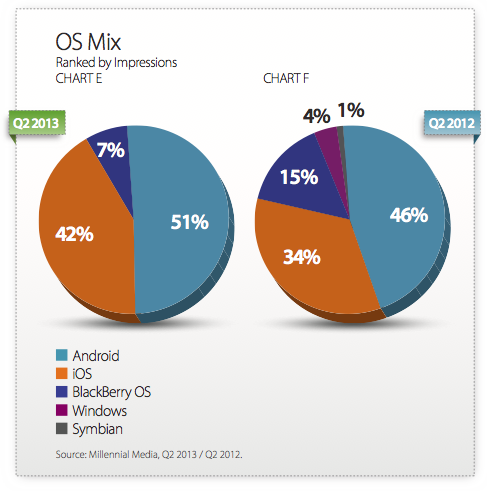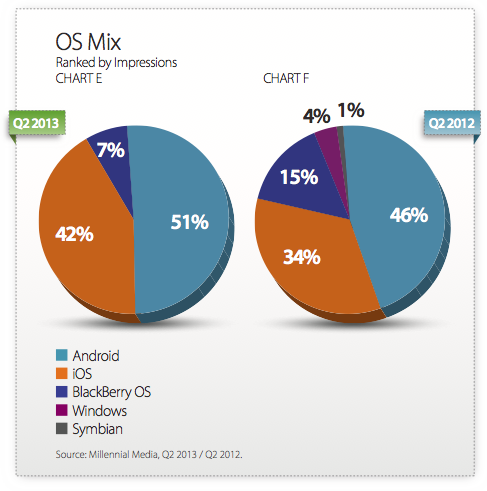 This clearly states the growing importance of Tablet in mobile advertisement industry. Notably, its Apple iPad that is driving majority of ad impressions in tablet segment; with 55% of ad impressions Apple iPad (iPad and iPad Mini) leads the show where 80% of iPad were powered by iOS 6.1. The archrival Google Android Tablets yet again failed to catch up iOS and managed to record 44% of ad impressions – in spite of the fact that it's a combine market share of all Android Tablets manufactured by different vendors unlike Apple.
Among all Android Tablet devices, Samsung Galaxy Tab drove the maximum 37% ad impressions followed by Amazon Kindle fire that recorded 28% of ad impressions in Q2 2013.
The report also indicates how exactly iOS and Android is penetrating the complete market by wiping out rest all competition. Though, Apple topped the list as device and in Tablet, it still lags behind Android while doing an overall OS based market comparison; Android strengthen its market presence to 51% in Q2, 2013 from 46% a year back ad impression market share. But, its Apple that took the biggest leap of 8% compare to last year only to penetrate 42% of ad impressions in Q2 2012. The growth of Android and iOS both came at the cost of BlackBerry, Windows and Symbian market share combined.
While segmenting these ad impressions based upon the app categories, millennial media didn't find any change in last two quarters. Game, Music & Entertainment and Communications remained the top 3 categories with highest number of ad impressions.
Report: Millennial Media