A recent forecast by International Data Corporation (IDC) states that the worldwide mobile phone will grow 7.3% year over year (YoY) in 2013. Last year the market experienced a poor growth of 1.2%. Strong gains in the emerging markets in the first half of the year and the availability of smartphones for less than $200 in some markets have led to this overall growth in the mobile phone market. Vendors are now forecast to ship more than 1.8 billion mobile phones this year, growing to over 2.3 billion mobile phones in 2017.
Smartphone shipments are forecast to grow 40% YoY to more than 1 billion units this year, thanks to the strong demand for smartphones across all regions. The growing number of sub-$200 smartphones provided mostly by local and Chinese vendors and other factors such as – steep device subsidies from carriers, especially in the mature economic nations, can be cited to be the reasons for this substantial demand for smartphones. Total smartphone shipments are forecast to reach 1.7 billion units in 2017.
This figure is a gigantic leap when compared to two years back, when the worldwide smartphone market could only boast of 500 million units. To be able to double that figure in just two years highlights the market penetration that smartphones have achieved.
The smartphone has gone from being a cutting-edge communications tool to becoming an essential component in the everyday lives of billions of consumers: Ramon Llamas, Research Manager with IDC's Mobile Phone team

Smartphones will represent virtually all of the mobile phone market in many of the world's most developed economies by the end of 2017: Kevin Restivo, Senior Research Analyst with IDC's Worldwide Mobile Phone Tracker program.
And such a penetration, where almost all phones shipped to developed markets will be smartphones, will be made possible by the falling prices of smartphones, aggressive carrier subsidies, higher consumer awareness, and the availability of a vast array of devices. IDC also forecast that the volume of smartphones shipped will still be dominated by emerging markets like China, even though the smartphone-feature phone ratio won't be as high as local vendors will continue to sell feature-phones along with locally manufactured low-priced smartphones that are likely to outsell international vendors. International vendors will find it difficult to compete with these local manufacturers as they will only be popular among the existing users. Moreover, the presence of firms like Lenovo Group Limited (ADR) (OTCMKTS:LNVGY) and ZTE Corporation (SHE:000063) who have made their presence global will pose a threat to other international vendors as international vendors from China currently hold 23% market share in Asia/Pacific [excluding Japan] region.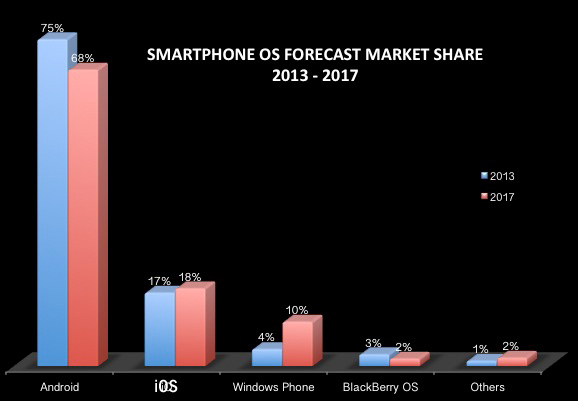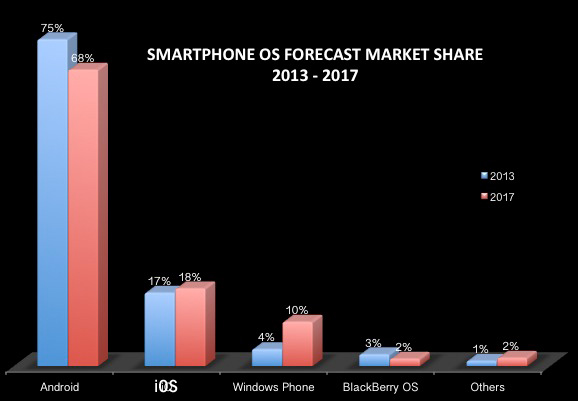 The Battle For Top Mobile OS Continues
With the strengthening of the smartphone market, the market for operating systems will continually evolve too but the possibility of a new operating system making its entry into the mobile market is very bleak. Android and iOS will most likely remain in first and second spot, respectively. It'd be interesting to see how Windows Phone and BlackBerry's futures will play-out as both the firms have undergone major strategic and structural changes recently.
Android:
Currently the largest market share holder, Android will continue to dominate the smartphone operating system for quite some time as markets mature and competition solidifies. Google Inc's (NASDAQ:GOOG)growing app library, combined with the number of vendors and devices and the wide range of price points will provide solid foothold for the company to be able to maintain its position. The closest Android vendor for Google-Samsung Electronics Co., Ltd. (KRX:005930) remains the top-seller of Android smartphones. Contribution also came from brands like LG Display Co Ltd. (ADR) (NYSE:LPL) and Sony Corporation (ADR) (NYSE:SNE) who have benefitted from adopting the Android platform have also contributed to the success of Android with their own devices.
iOS:
iOS will defend its position at the second place. The expected launch of lower-cost iPhone may open up a wider addressable market. iOS share gains will be tempered by the relatively high price points of the iPhone, which will make for a lower share ceiling.
Windows Phone:
Windows Phone is expected to solidify its position as the number three mobile operating system. With the acquisition of Nokia Corporation's (ADR) (NYSE:NOK) devices and services unit, Microsoft Corporation (NASDAQ:MSFT) will need to push its share gains by itself as OEM support is expected to shrink now that the company is set to become a full-fledged hardware maker. To ensure share gains in high-growth emerging markets, Microsoft will need to manufacture more low-cost smartphones.
BlackBerry OS:
The recent OS version released by BlackBerry Ltd (NASDAQ:BBRY) failed to create the expected buzz among customers and owing to the ever-tightening competition, the company will continue to lose shares markedly. BlackBerry volume will remain flat as the market will continue to expand around it thanks to enterprises with security or other specialized needs that continue to purchase devices from the company.
Source: IDC