Windows 8 the completely overdone and much invested, researched OS of Microsoft Corporation (NASDAQ:MSFT) is regaining the lost pride for the company after much criticism from the user circles complaining about lack of innovation in Microsoft's new products. The new user interface and integration of many web applications along with an App market have won many accolades. Weaving all the cloud, gaming, storage, Email and social networking applications together under a single window have left users happy. By June 2013, Windows 8 accounted for 7.41% desktop OS worldwide surpassed Windows Vista (4.11%) and also out shined all the versions of Apple's OS X combined by August. The following graph shows how quickly windows 8 penetrated into the market within one year from its launch in Oct 2012.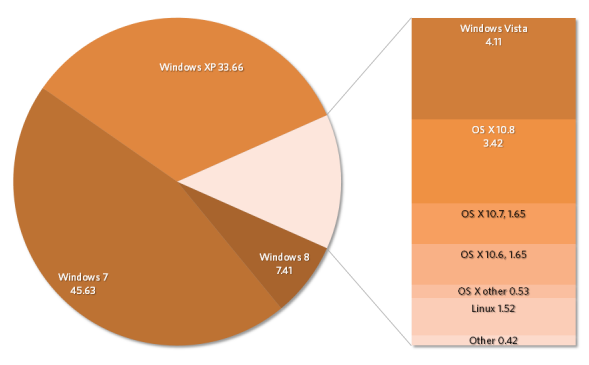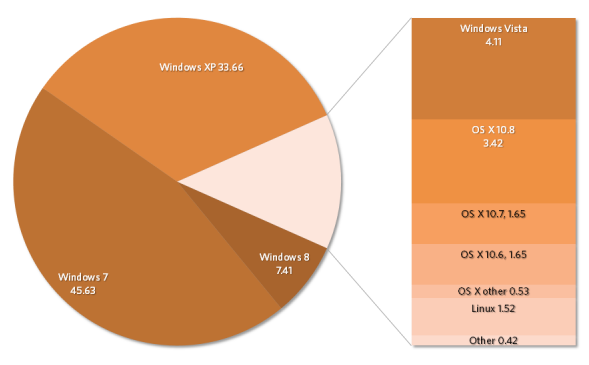 Windows 8 has grown considerably by penetrating 2.01% of global desktop OS market share just in the month of August, simultaneously Windows XP has lost 3.53% of its market share. People who still use XP are swiftly upgrading to new features and fast processors and even the Microsoft is also keen on stopping security and general updates. Once the support stops it will still remain in the market for quite some time, which will be a good option for spammers to exploit.
Desktop Browser OS: IE Rules
If we look at the global picture of desktop browser market, IE continues to be the world leader.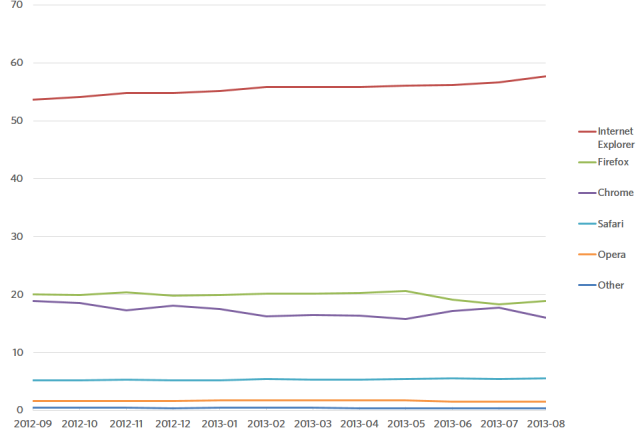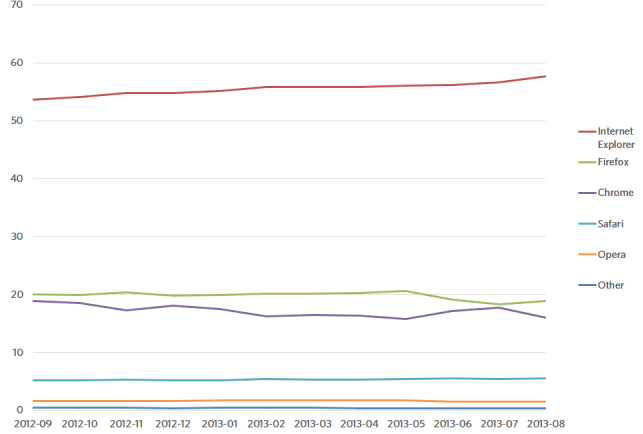 There is a clear unbeatable margin between Internet Explorer and other browsers. This is accounted mainly due to the fact that it is a default browser in Windows OS and cannot be uninstalled and many users opt for it by default. Of late there was a lot of criticism on Internet explorer from geeky circles for its slow speed and dull UI. Active user base who spend most of their time on the web, prefer Google chrome and Firefox over Internet Explorer. Chrome and Firefox are second in line in terms of market share. These browsers were innovative enough to integrate the new features like bookmark management, download management, password managing, search engine tool bar, privacy mode and auto update more efficiently than IE. Some other features like tabbed browsing, incremental search, and Ad filtering were better dealt in the former ones. But latest versions of the Internet Explorer like IE8 and IE9 are up to date and competitive. IE has moved up by 0.99%  because windows  has fought back well ,simultaneously Firefox was up by 059% and safari by 0.17% but Chrome was down by 1.79%. If we compare the browsers on the basis of versions the 21-30 versions of chrome and 15-22 versions of Firefox are equally divided in term of number of users but the IE7 and 8 engage more users than earlier versions .
Global Mobile Browser: A Upside Down Story
The scenario is way different in world wide Mobile browser market share .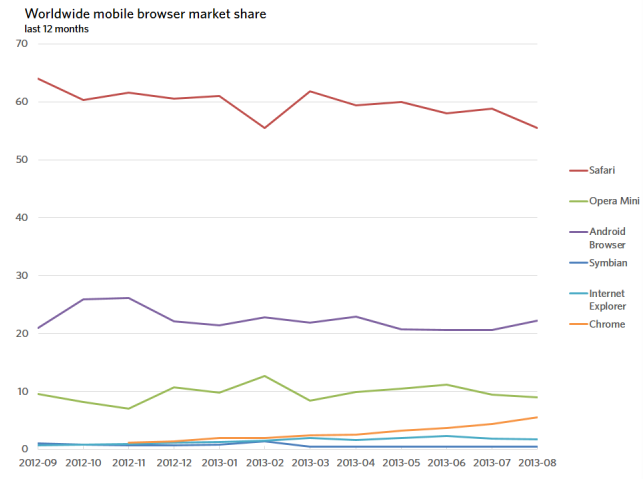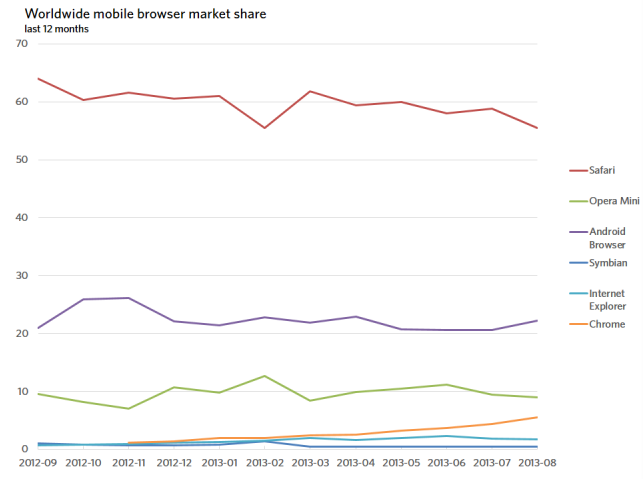 Safari takes up the position of IE in mobile segment and IE is at the bottom. This trend even though is studied only from a year similar segmentation's reappear if we take more time into consideration. Even though Android has a market share of approximately 80% but its browser still remains an underdog in the mobile browser segment. Apart from Android browser and chrome all the other browsers have lost market share or remained flat.
Windows clearly remains a market leader due to its collaborations with PC manufacturers and cheaper cost comparatively.so until and unless other competitors come up with an extra ordinary OS Microsoft regime continues!!.
Graph Source:  arstechnica.com