After prolonged controlled domination over the App market by the United States, there seems to be a change in the dynamics over App market. US had nearly dominated in all aspects including number of new apps developed, user interaction time, revenue generated and exporting generic apps to users of other countries. By 2008 65% of the PC units sold in the world were manufactured in US. And applications have changed the functioning of the industry to greater extent only within a period of five years. But now Apps from various parts of the world with a different appearance , thought , and functionality are popping out and leading the way.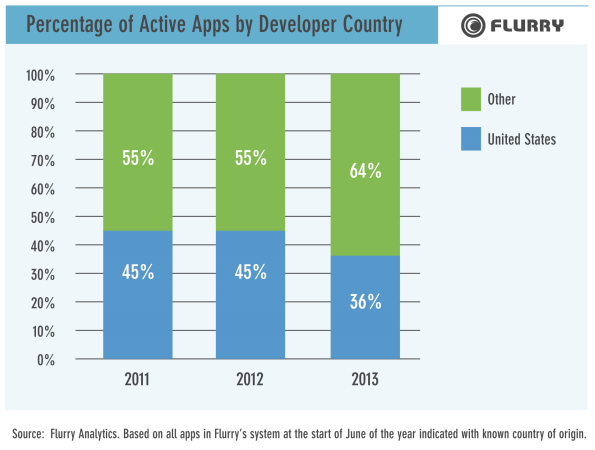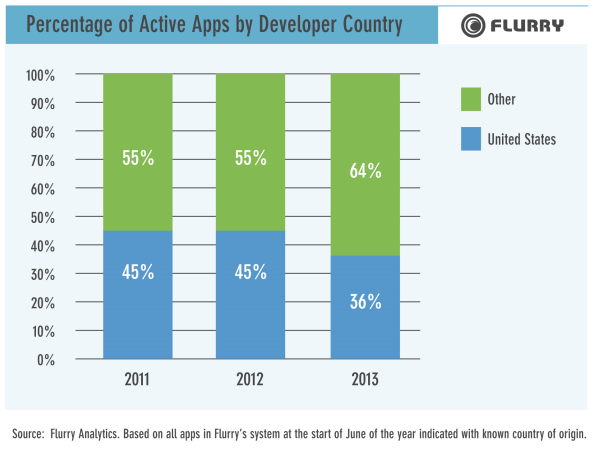 The number of apps being produced in the United States has dropped from 45% to 36% with two years from 2011, but still remains the majority contributor. This trend is deemed to follow as the apps developed by Asian and European countries are growing .In the next graph the average user engagement and active apps production is compared.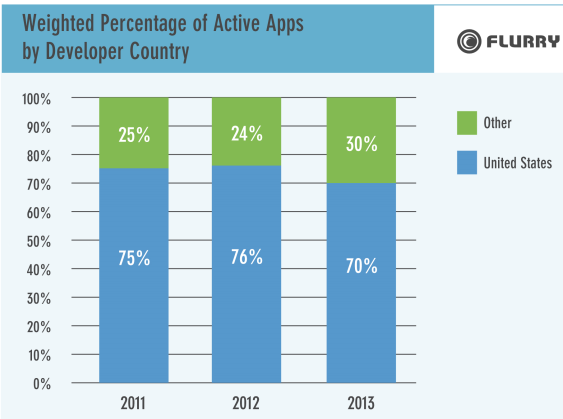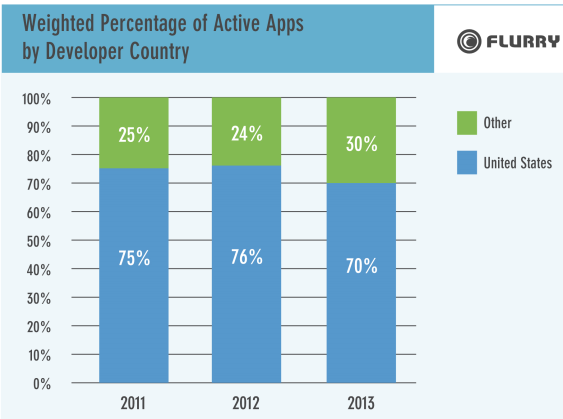 Even though the share is slipping for US the app usage time and user numbers which gives the user engagement is very high. The changes in this quantity are minimal due to various reasons. US being a mother market for Apps , the number of effective apps are more . Number of people using Apps is more in US than any other country. And other English speaking countries use Apps developed in US, which are usually delivered with few changes suitable to the local markets. Being the first in market they dominate over other App markets in terms of innovation, regular updates  and reliability and cost effectiveness due to competition.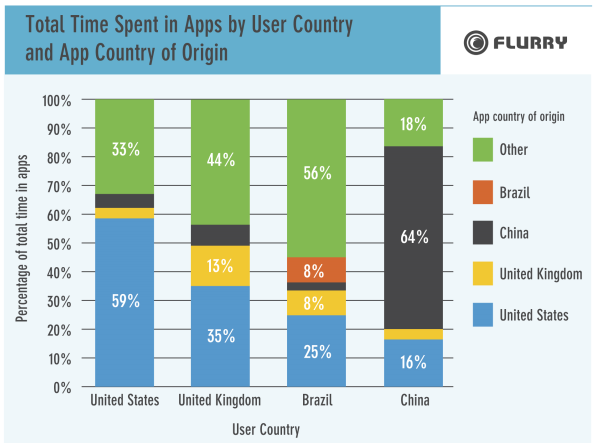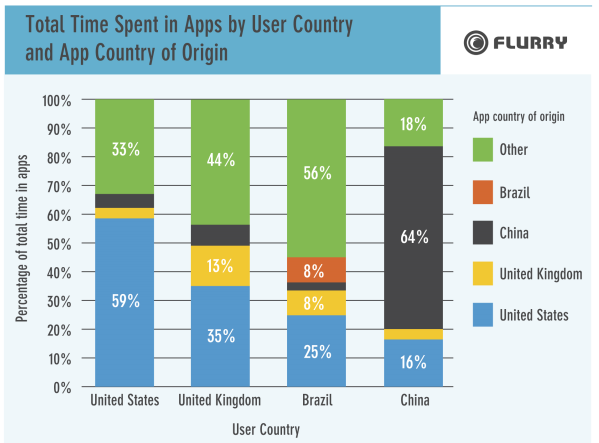 If we look at the users using Apps developed locally, China is the clear leader. The government initiatives in China to promote Local Economy and cultural roots remains a major reason for the transition. The number in US (59%) is close enough to China (64%) but the time span in which china has grown is very small. If we look at other countries Apps developed in other countries are mostly used in UK and Brazil .The penetration of US Apps is various countries is more than Apps developed locally or from other countries. The contribution of other countries is more on the whole but if compared individually US is the major exporter.
Globalizing the APPS
Countries such as Finland, Denmark, Bulgaria, and Slovenia are rigorously taking the opportunity to globalize and reach global markets.
"The impact of app developers in a given country by taking the total percentage of time users worldwide spend in apps developed in that country and dividing it by the total percentage of apps developed in that country."
The number is at around 8 on a scale of 10 for Finland and it in between 1-2 for US, Denmark, Bulgaria, Slovenia, and China. Low cost involved in the App development should allow Companies in all over the world to explore global markets.
Source Flurry.com