Just as Nokia Corporation (ADR) (NYSE:NOK) was seeing positive growth in some markets, Microsoft Corporation (NASDAQ:MSFT) announced its plans to acquire the Finnish giant. The company revealed its plans on Monday to acquire Nokia's devices and services for $7.2 billion. Microsoft claimed that this buyout will improve and expand the potential of the Windows Phone market.
While Microsoft is pleased that Windows Phone is now sitting in the number 3 spot when it comes to mobile operating systems, the company says that it will continue to provide solutions for both iOS and Android, but can't afford to rely heavily on either of the platforms in case Apple Inc. (NASDAQ:AAPL) or Google Inc. (NASDAQ:GOOG) make changes to their solutions that lock Microsoft out in the future. The company said that having its own hardware and software could be a potentially important situation for Microsoft to be in. The company also said that owing to the competition, it needs to offer a top class alternative to Android or iOS, and controlling the hardware is one of the ways to do that. Microsoft has also promised to take additional steps to promote its own Windows Phone app ecosystem.
Microsoft considers Nokia's embedded mapping technology to be a key "high-value service" and this acquisition will allow the service to be integrated within Microsoft's other services. Microsoft believes that an effective alternative to Google's mapping technology is required in order to give consumers more than "one digital map of the world."
Nokia's main challenge now is finding an efficient and effective way to unite the myriad of services and brands – Windows, Nokia, Live, Bing, Surface, Xbox and others – into one cohesive experience that will command and strengthen customer loyalty.
According to Microsoft, the Windows Phone currently hold a 10% market share in nine countries, and outsells BlackBerry models in 34 markets – equating to a 78% YoY growth. Nokia alone accounted for 81.6 percent of all the Windows-operated smartphones shipment during the second quarter of 2013. Microsoft makes less than $10 per Windows Phone shipped, but expects this to rise to over $40 after the deal is finalized. Microsoft believes that taking over Nokia's unit will provide entry into key growth markets.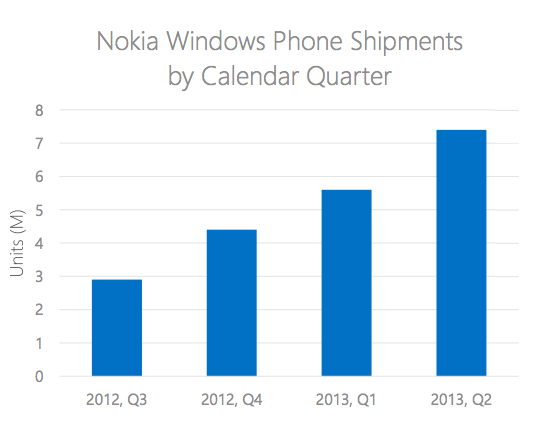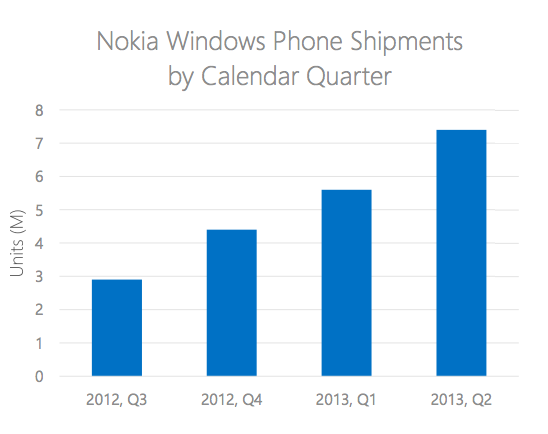 The company's predictions as to how the deal will affect the Microsoft's balance sheet in the near future are below: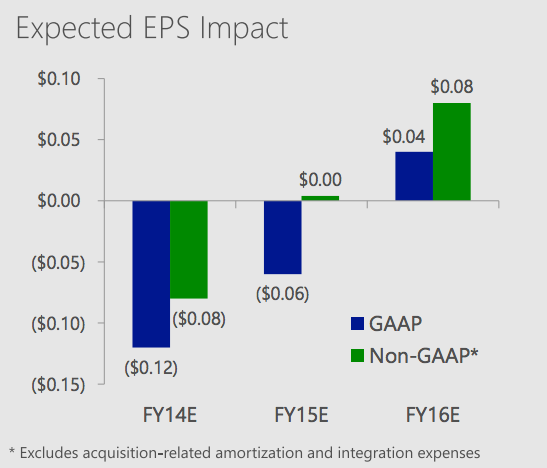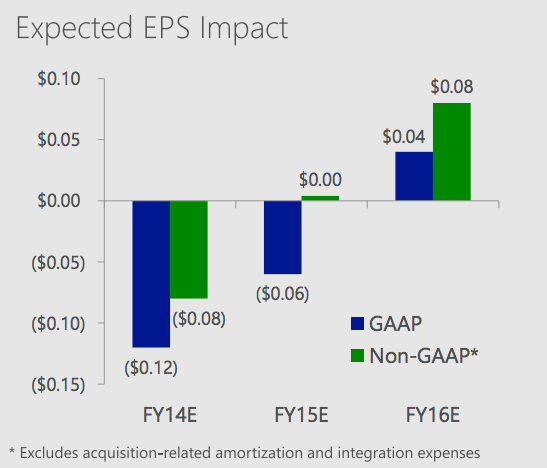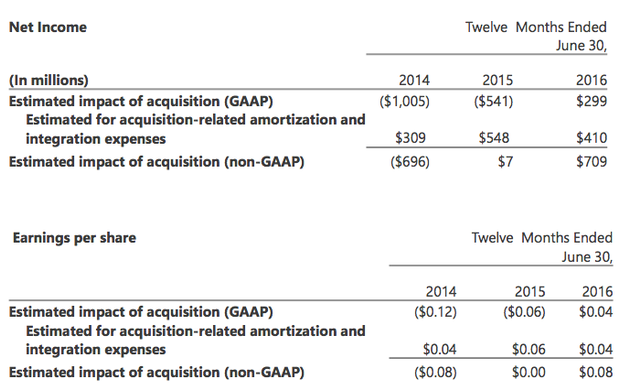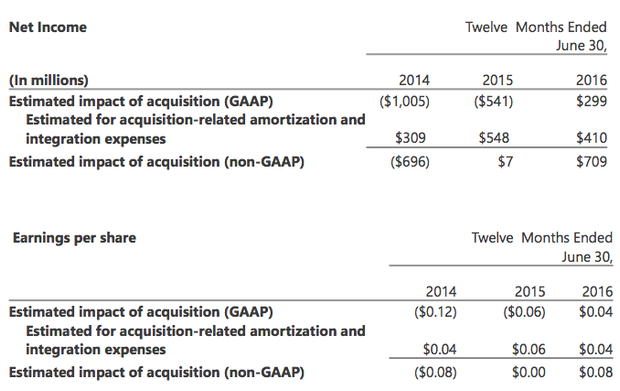 But will this move be the right choice for Microsoft to compete with iOS and Android? The firm says buying Nokia's unit will accelerate innovation and reduce friction going forward, boost the pace of innovation and improve marketing efficiency. The firm says that going beyond software and the shrinking PC market and creating a family of first-rate devices will make sure greater success in the smartphone market. Since Nokia's feature phones are still popular in many developing nations where smartphone users are growing rapidly, Microsoft can target this emerging market and use Nokia's brand image to set a strong foothold, but in order to do so, it has to gain customers in mature markets too, so as to facilitate its entry into such markets. Integration is the key here; if the companies are able to integrate well, only then will they stand a chance against iOS and Android.
Source: Microsoft