Just when we thought we won't need wristwatches anymore – as our smartphones could keep track of time and schedules, and a LOT more – looks like the watch is here to stay. After all, well, maybe not in the traditional form though, but maybe in a form we never thought we'd see or had once considered to be science fiction stuff. Last week we showcased 17 Smartwatches are reportedly under production or under production planing.
World's largest mobile devices' manufacturer Samsung Group (KRX:005930) announced the Galaxy Gear, recently – a wearable watch-like gadget that'll apparently be able to do almost everything our smartphone does – sending a wave of excitement and wonder across the tech world and among the tech-savvy. We live in an age where anything is possible, and Samsung just gave us a glimpse of the future.
However, Samsung – though most notable, isn't the first one. In 2011, we saw an Android-powered smartwatch by the California based firm – WIMM Labs. It was called the WIMM One, and was powered by a modified version of Android's Gingerbread OS. The watch featured a 16bit colour display, micro-apps, Bluetooth and Wi-Fi capabilities, smartphone-sync, web-notifications and had its own micro-app store. Last year, WIMM Labs went silent, suddenly ceased production of the WIMM One and had the following message published on its website –
"During the summer of 2012, WIMM Labs entered into an exclusive, confidential relationship for our technology and ceased sales of the Developer Preview Kit (…) We'd like to thank all of our developers for their interest and willingness to experiment with our platform and look forward to exciting advances in the wearable market."
This 'confidential relationship' left analysts wondering who the secret partner was – perhaps Apple  Inc.(NASDAQ:AAPL) – some analysts speculated. The curtain of suspicion was raised when Google Inc. (NASDAQ:GOOG) recently announced in an e-mail statement that it had acquired WIMM Labs. WIMM's employees are now reportedly working together with the Android team and according to WSJ, Google is working on its own smartwatch product powered by its Android operating system as the Internet giant seeks to spread its software beyond smartphones and tablets.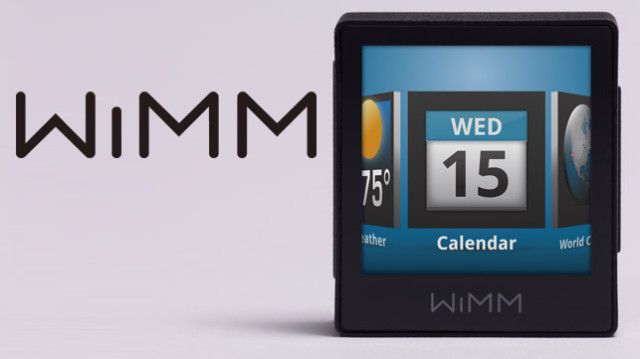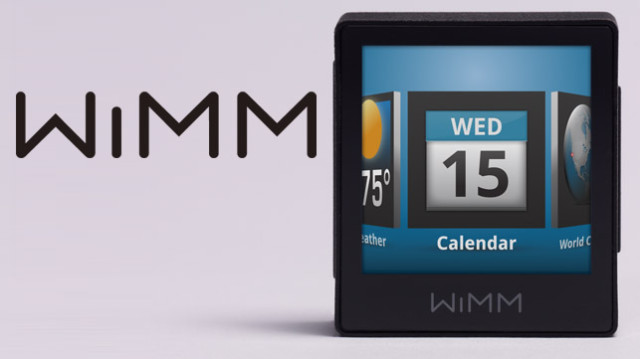 This silent move by Google can sure prove to be a clever one! With the announcement of Google Glass earlier this year, and now the acquisition of WIMM Labs, looks like Google is well set to tap this higly-potential emerging market and gain an edge before Apple Inc. comes out with similar devices. The Journal also reported that the company is also engaged in the development of an Android-powered game console and hopes to be able to mass market atleast one of its upcoming devices this fall.
There's a storm coming!
In March this year, Bloomberg speculated that the global watch industry will generate $60 billion dollars in sales in 2013 – which is big enough to encourage other competitors to enter this segment soon. The source also says that assuming a 10% market share with 60% gross margin, if Apple can create something totally new like they did with the iPod, the company could see revenues up by $3.6 billion. The projected number could be debatable, however, as we stand at last quarter of the year and retailers are yet to get smartwatches for their shelf.
Morgan Stanley's Katy Huberty did a similar exercise and came up with incremental revenue to Apple of $10 to $15 billion a year, assuming 20% of Apple's existing customers bought one every two years.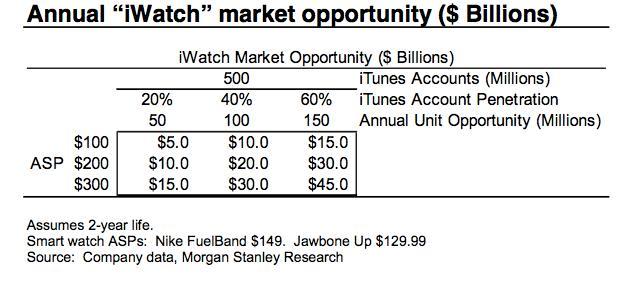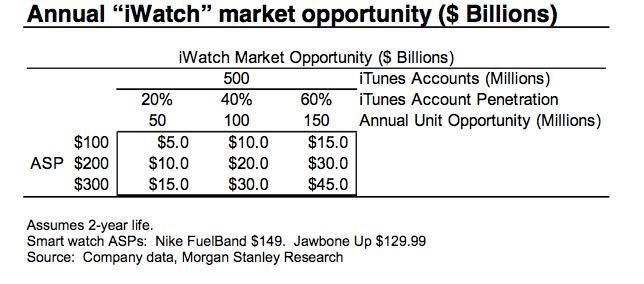 With many big names like Apple and Samsung eyeing the potential market for smartwatches, the battle is going to be fierce! There are speculations that Samsung's Galaxy Gear may run on Android OS (Source: AmongTech), although not officially confirmed, which may lead to a device war between Google and Samsung's respective devices. We can expect to see Google and Apple go head-to-head once again in a battle for top spot. Apple's upcoming iWatch is creating enough buzz across the web for us to be able to say so.