Local mobile vendors, like Micromax and Karbonn are fast gaining market share in India, catching up with MNCs like Samsung. In the second quarter of 2012 (2Q12), vendors shipped 3.5 million (35 lakhs) smartphones in India and according to International Data Corporation (IDC), this figure has increased threefold in the second quarter of 2013 (2Q13) to 9.3 million (93 lakhs). It was interesting to note that phablets (5.0" to 6.99" screen-sized smartphones) grew 17 times YoY (Year over Year) and as of 2Q13, dominates 30% of the total smartphone market in India.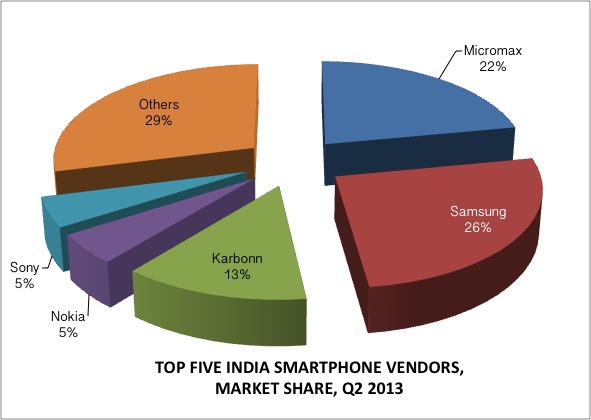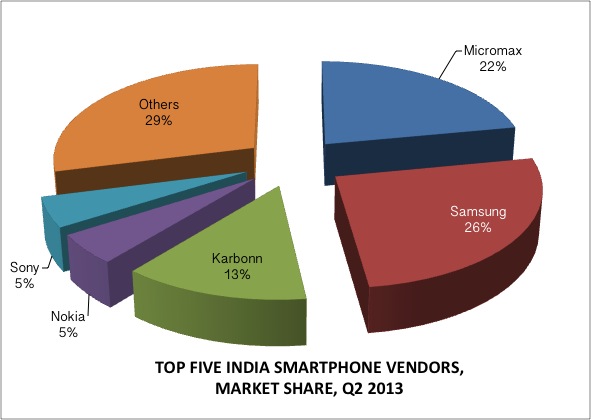 India was known to be a feature phone dominated market prior to the arrival of local vendors. The market was dominated largely by Nokia and Samsung while all existing local and Chinese vendors held negligible to small market share. As technology penetrated the Indian market allowing the entry of smartphones, they too made transition from feature phones to smartphones and as of 2Q13, they account for more than 50% of the total smartphone market in India.
"The key for growth in this market, as with most emerging markets, is a low-priced phone equipped with a large screen and dual SIM slots," says Kiranjeet Kaur, Senior Market Analyst with IDC's Client Devices group. "The dual SIM phenomena, which had accelerated the growth of local vendors in feature phone, turned to dual SIM smartphones flooding the Indian market. Topped with an attractive sub-US$200 price tag, these smartphones are highly attractive," she adds. The share of sub-US$200 smartphones in 2Q13 accounted for two-thirds of the total smartphone market.
There are a number of local smartphone vendors in India, but the most notable ones among them are Micromax and Karbonn, accounting to 22% and 13% of the total market share, respectively. The former banked on the wave of phablet-driven smartphone adoption, while the latter boasts of high specifications at competitive prices – making them very desirable in the Indian market.
Introduction of Galaxy Note by Samsung drew the attention of local and Chinese vendors like Micromax and Lenovo towards this category. The Note-series was a huge hit and the second iteration of Galaxy Note had crossed 3 million sales mark in just 37 days of its launch. Research firm IHS iSuppli stated that sales of phablets will see a 136% YoY growth and is very much likely to hit 140 Million units by the year 2016.
In the Indian market, there is no other international vendor that manufactures phablets apart from Samsung but HTC and Sony will soon enter the market with their respective phablets. But the competition will still rage on between Samsung and local vendors as phablets from Sony and HTC are most likely to fall in the high-price range.
In the global scenario, the Galaxy Note still retain top spot as the most preferred phablet. Samsung has a $46 Billion phablet market globally and combined with LG accounts for over 90% of the global market. Other players like HTC, Motorola and Dell only account for about 30% of the global market share of phablets.
Source: IDC