Mobile and Digital advertisement is increasing faster than rupee depreciation against major currencies. In today's era when customer service is done via Social media, it makes sense. Advertise where your customers are, must be the funda of companies. And the customers are on the internet, be it Google Search, Gmail, Yahoo, Facebook, Twitter, Mobile, and other online platforms. So today we present you a report on digital advertising.
Global Mobile Ad Revenue 2013
In present scenario, where buying a mobile phone is cheaper than two times meal, mobile advertising companies are making huge profit margins; be it iOS or Android or Windows or Blackberry, every platform is commitment towards monetization. In the recent report by emarketer, it is said that Google Inc. (NASDAQ:GOOG) will rock the mobile ad market in 2013, by controlling more than half of market, followed by Facebook Inc. (NASDAQ:FB).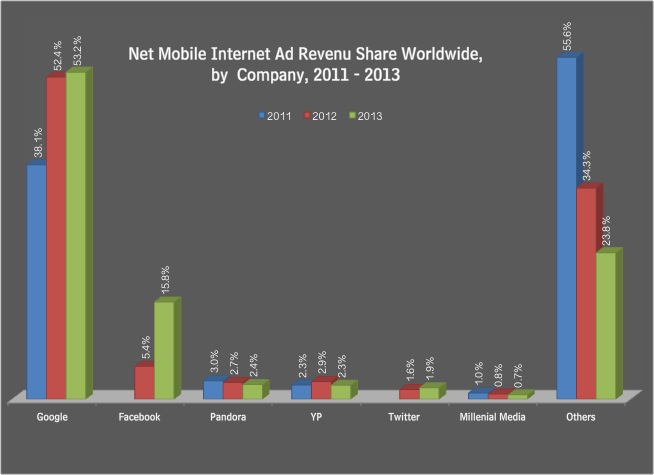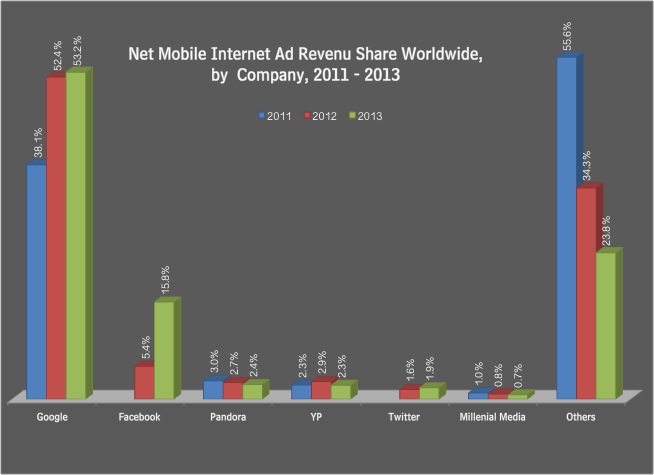 As we can see in the above graph, Google's share has been increasing since last few years and including this year when Google will lead without any close competition. Facebook has also done quite well for itself, the online social media giant has seen a growth of nearly 300% in a year. Facebook's mobile division is really talking. The same can be seen in its stock prices that touched $41 resulting in $100 billion as company's valuation. Twitter is also coming up with a very small piece of cake but it is a positive sign for the micro blogging website. Now let us have a look at which mobile OS is the main source of generating maximum volume/traffic when it comes to ads.
| | | |
| --- | --- | --- |
| OS Share | % of Traffic | % of Revenue |
| Android | 31.26 | 26.72 |
| iOS | 44.53 | 49.23 |
| RIM | 4.23 | 6.19 |
| Symbian | 5.6 | 2.46 |
| Other | 14.29 | 15.39 |
Apple Inc. (NASDAQ:AAPL) iOS continues to outperform all other OSs in terms of monetization, with the highest average eCPM and greatest percentage of publisher revenue. Though the market share of Android device is massive but when it comes to monetization, digital companies loves Apple. According to the report published by Opera, in the categories Music, Media & Video remain the number one category in Impression and revenue both. Below chart will present the rankings of different categories in revenues and impression.
U.S. mobile ad market has got a significant share in this, but this data is getting weaker every month. In Q4 2012, approximately 60% of all ad requests came from the USA but by the close of Q1 2013 the U.S. share of requests was 50.67%. the European market is moving at Godspeed and now hacks over 21% of mobile ad request share. US market is leading the way but the rate of increase in European market is really significant. Below chart shows how exactly mobile ad market is being penetrated as per continent wise:
Digital Ad Revenue 2013
Both Google and Facebook are at the top spot for digital ads revenue across all devices. According to the report, Google and Facebook holds more than one-third of global digital market in 2013 combined. Following chart and graphs says it all:
The market share forecast for Google is 32.48% not much increase as compared to previous year. Facebook is the highest gainer if we are to believe this forecast. Yahoo! Inc (NASDAQ:YHOO) follows the suit and then comes Microsoft Corporation (NASDAQ:MSFT). Twitter and LinkedIn Corporation (NYSE:LNKD) are slowly and steadily taking the pieces of the market. The top trends to watch out for digital spend in 2013 will be:
Mobile Marketing
Social Media
Context Marketing
Mobile marketing insights are already provided in the report above. Next moving on to social media insights
Social Media
Marketers who spend more than 40 hours a week on social media are more heavily focused on Pinterest, Google, Instagram and YouTube than those who spending 6 hours a week or less on social media marketing.
B2C marketers have adopted FB greater than other social sites and the reverse is true for LinkedIn in B2B scenario
67% of marketers plan to increase their Twitter activities
3/4 of respondents use Paid Advertising and 64% were seeking to increase spend this year
Budget spend is shifting from off-line to on-line
89% of advertisers uses free tool while 71% of agencies uses free tools
Only 6% of agencies don't do anything with social media
Around 70% of advertisers spend 1-10% of their budget on social media
29% of Advertisers and 27% of Agencies feel it's effective and demonstrates ROI
In a survey of 3025 respondents, 69% want to increase their presence on Youtube, 45% selected Facebook as the most important social media for marketing,
Blogging is the 4th most commonly used digital marketing tool with 58%, behind Facebook (92%), Twitter (80%) and LinkedIn (70%)
With all such insights we can say that digital ad market space is not only blooming but also creating an impact over advertisers with a sizable ROI. The market for digital space is going to increase by multiple folds in the next years without much of hickups. Consequently, number of companies are focusing on different channels of marketing by having either an in house team or outsourcing it.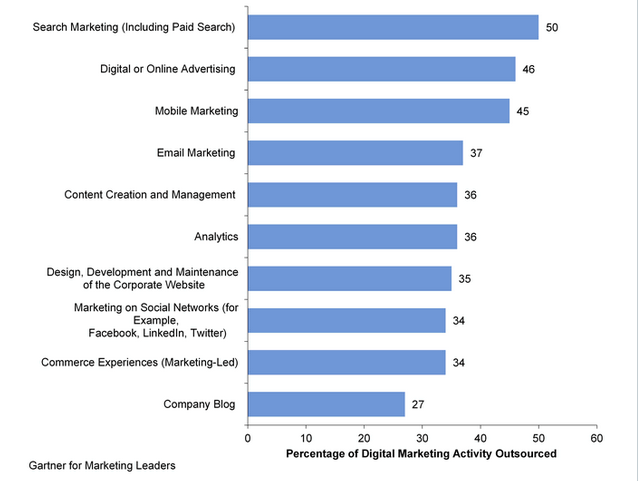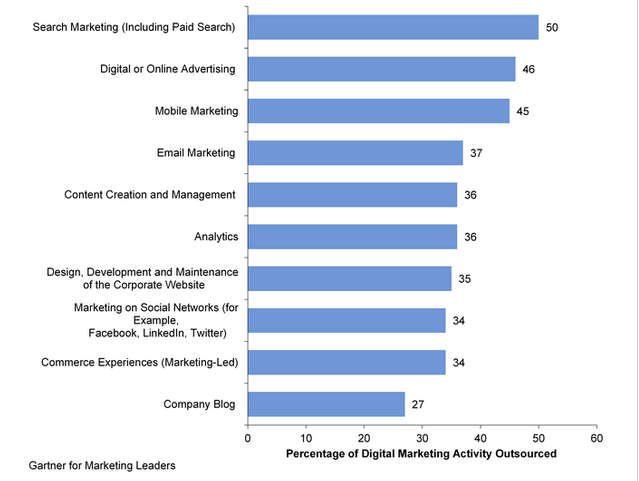 The graph proves that demand of digital marketing is surging up and agencies are grabbing these opportunities with both their hands. Digital marketing has become an integral part of the companies and no one can avoid it.