The digital ad market, that includes both mobile ads as well as ads that appear on desktops and laptops today, is focused on the two major players, Google In. (
NASDAQ:GOOG
) and Facebook Inc. (
NASDAQ:FB
). According to market researcher
eMarketer,
Google is set to reach about 41.1% of all net US digital ad revenue by the end of the year, and is expected to grow higher in next few years. Facebook,on the other hand, is catching up very fast; by the end of the year it'd account for 7.1% of total digital ad revenue, falling short of just 0.6% behind Yahoo! Inc. (
NASDAQ:YHOO
), and is expected to go up to 8.3% by 2015, surging ahead of Yahoo!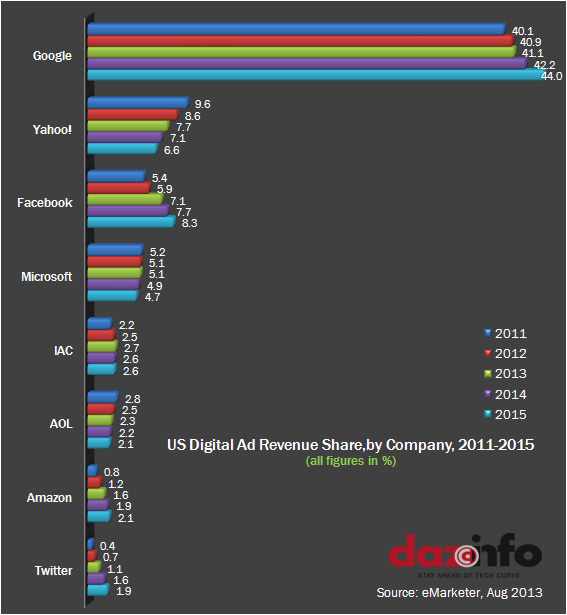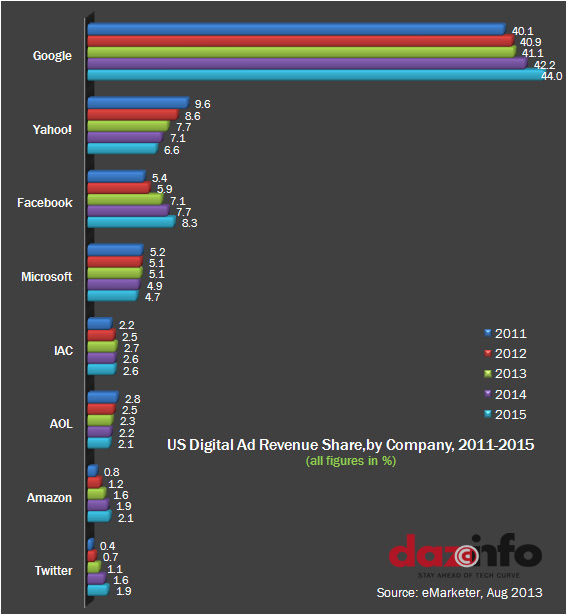 But the scenario is different when only mobile ads are taken into account. Google is all set to take in nearly half (48.2%) of all net US mobile ad revenues this year, and will remain the dominant firm in this space and by 2015, will rise back above the 50% mark. Facebook, in the meanwhile has grabbed a significant share in this market in a very short period, which prior to 2012 did not sell any mobile apps, but was able to capture nearly 10% in its first year, and is well ahead of its competitors. Facebook's revenue share is expected to go up to 15.3% by the end of the year.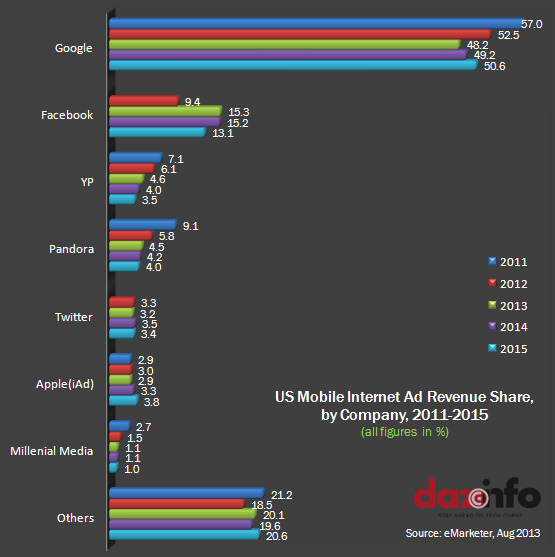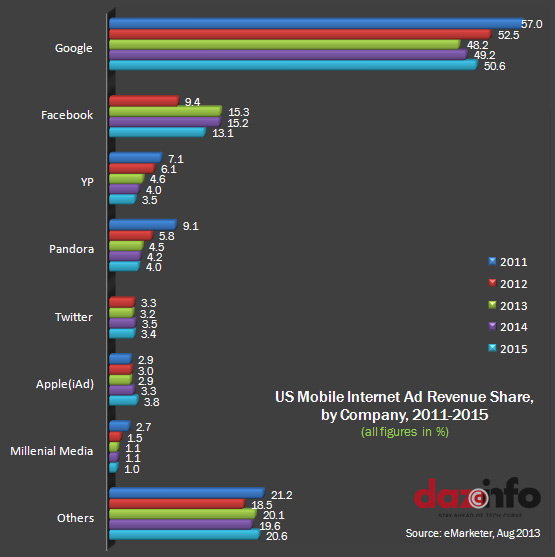 But Google's popularity may eat into Facebook's share in the market, leading to a slight decline in Facebook's revenue by 2015.
eMarketer also predicted other firms to take a combined one in five mobile US mad dollars in the foreseeable future.
GLOBAL SCENARIO
Mobile ad revenue globally accounted for $8.9bn dollars in 2012, which is a notable leap from $5.3bn in 2011 (Source: IAB Mobile Marketing Centre). Source has also revealed distribution of revenues by regions that clearly shows that 40.2% of the revenues come from Asia-Pacific, followed closely by North America (39.8%). Western Europe generates 16.9% of the total revenue from ads.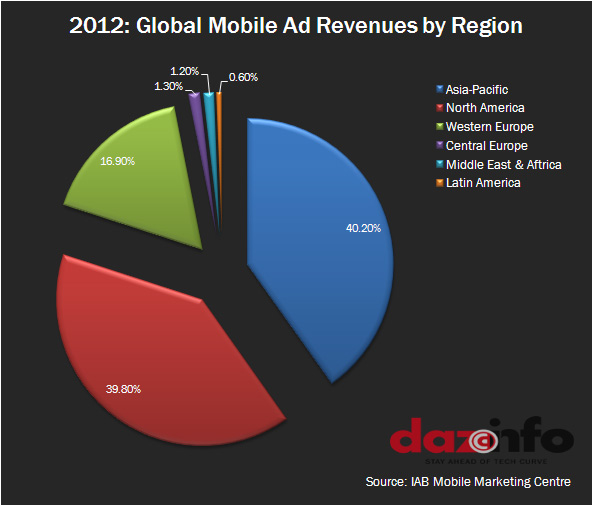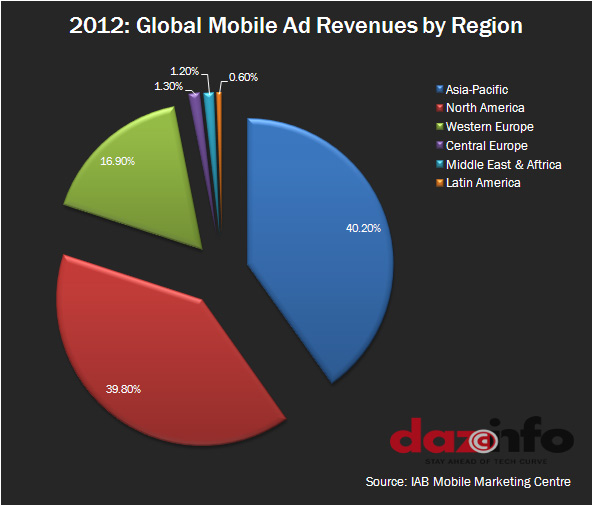 IAB also stated that the key factors behind this rapid growth is the increasing adoption of Smartphones and penetration by 3G and 4G technologies, along with the increasing amount of time spent on mobile devices.
Anna Bager, vice president and general manager, Mobile Marketing Centre of Excellence, US IAB, said that, "Mobile is coming into its own as a powerhouse advertising medium. Today's advertising is happening in a world where ad campaigns can be planned and bought across global networks on multiple media, but the massive and continuing acceleration of mobile's international impact provides new and exciting frontiers for content and communication."
Marketers today have the option and the ability to identify and analyze markets, reach out to larger audience and capitalize effectively on markets that are more viable and Google and Facebook seem to be doing just that.