In spite of explosive growth in indian Smartphone and Tablet industry the PC sales in India have stood at 3.53 million units by the end of second quarter 2013, marking a growth of 240% over the year and surged about 30.2% over the quarter. These figures have surprised the market, facing tough completion from smart phones and phablets a certain amount of volatility persisted.  The record sales, however, have not come from regular PC buyers this quarter; State Governments in India have included in their manifestos to distribute free personal computers to youth and women to encourage learning and keep pace with fast-moving world.
The following graph show distribution of market of various PC vendors in India.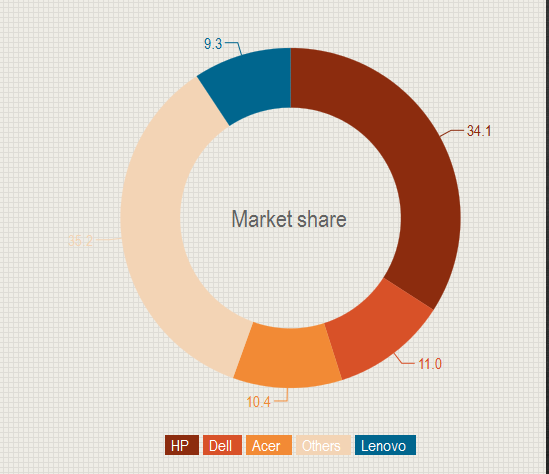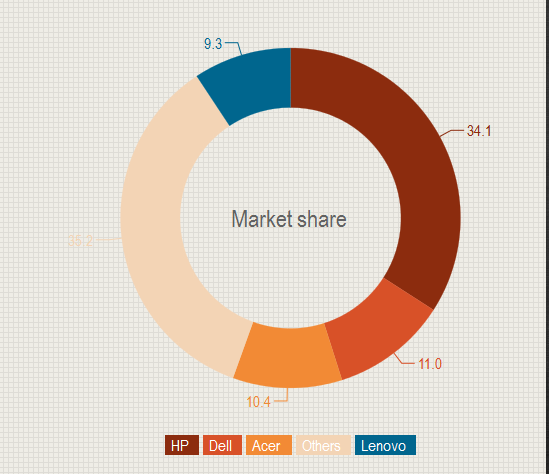 HP has managed to take the majority market share of 34.1% accounting to it outstanding performance in all its business. The other fact being HP has got the largest notebook deal from the state of Uttar Pradesh, under the scheme of free laptop distribution to class XII pass outs, which is the largest and most populated state of India. The majority of laptops are yet to reach to end users though, this was the major sales booster for HP this quarter. Apart from this their established channel network, effective pricing strategies along with incentive programs have come in very handy for HP quoted IDC.
Dell stood second in terms of market share (11%) , Even without any tie ups with state governments the company managed to grab second place in the PC market of India. Dell has a very structured product placing in the market, their entry level products with effective marketing campaigns really helped them.
Acer has managed third position with 10.4% being a very new player in the market. Acer has deals with many Government institutions and educational projects all across the country. Their largest deals have been in states of Tamil Nadu and Rajasthan which are relatively large and populous states.
Strong consumer spending due to festive season and college openings have aided the increases in sales well .
This time the state government manifestos have saved the quarter but falling rupee has kept many corporate institutions from spending on PC's. Some other factors as increased investment in commodities and other consumer devices have affected the PC sales in month of April, further adding to that the local tax policies have had considerable impact on shipments. These factors remain as a grave concern to the vendors because the demand from the annual  buyers has decreased and are not looking favorable in near future. Sidelining the sales the margins however have been low due to strong competitive scenario and inflation accounting to costlier parts and transportation.
The vendors have managed with unexpected demands from the state governments this time but the PC business seems to be disappointing in near future.
Source: IDC