Rapid advancements in the field of technology and the increasing number of smartphone users has opened up yet another great opportunity for marketers in the form of m-commerce. Smartphones have definitely enabled users to do more than just traditional tasks over the internet, online transactions are becoming popular among all users and rightfully so – it saves a lot of time an effort!
Lately, it has been seen that a large number of people are increasingly indulging in shopping over the internet for items ranging from grocery to home furnishings! According to a recent survey conducted in the U.S. by comScore, one out of every three monthly visitors to the average digital retailer website comes exclusively from mobile platforms.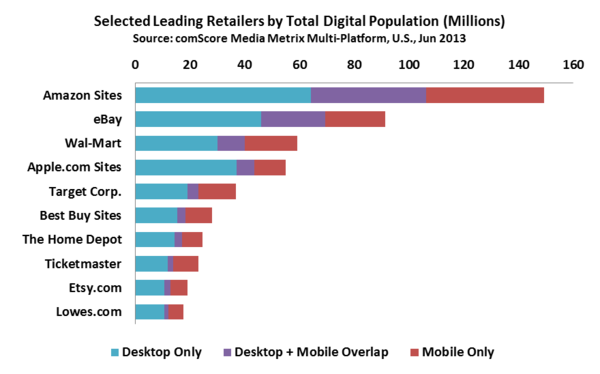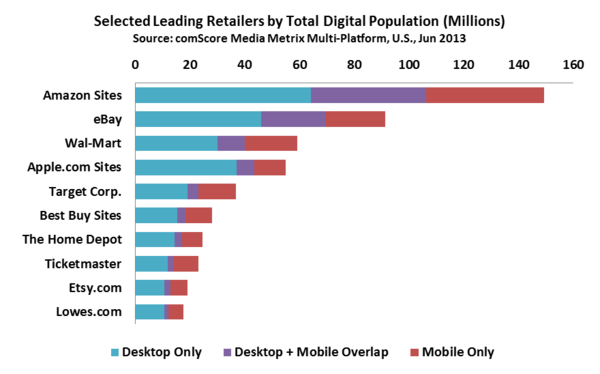 Another analysis by comScore revealed that an average of 35% of the average Top 50 retailers' monthly audience come exclusively from mobile platforms. This has led to the need, among retailers, for optimizing their mobile browsing experience or introducing mobile apps, otherwise they may lose atleast one-third of their potential customers.
Here are few things a marketer should know to develop a rich mobile experience for its consumers:
CHOICE OF PLATFORM:
In order to benefit most from m-Commerce, marketers must optimize their mobile experience effectively by understanding which platform is most widely used by customers, and also their preferred access method.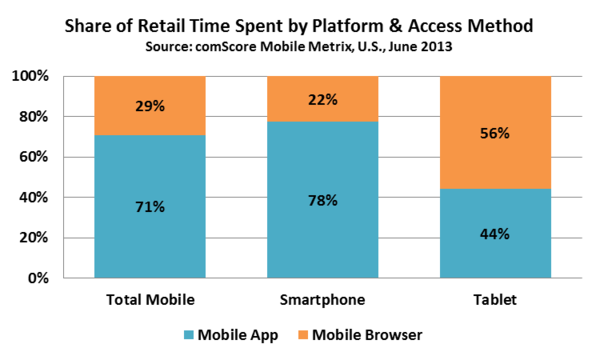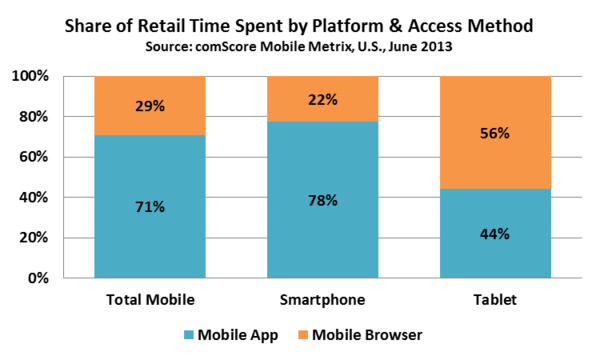 ACCESS METHOD:
It is a difficult for a marketer to decide between developing mobile apps and enhancing mobile browsing experience as, according to the report, users' reliance on apps or mobile browsing varies greatly between smartphones and tablets.
It has been found that apps play a major role in smartphones for Retail category engagement while tablet users prefer mobile browsing. It can be a pretty daunting task for a retailer to develop a fully optimized experience for every platform, not every retailer has the time or resources to do so either. Marketers should try to understand how consumers engage with Retail on their smartphones and tablets in order to better prioritize their efforts.
PRESENT SCENARIO
In the United States, during the first half of 2013, 63% of the total spending ($10.6bn) on m-commerce happened via smartphones, but when compared to the per-user spending, tablets drove about 20% more spending on average ($57 spending per tablet owner vs. $47 per smartphone owner).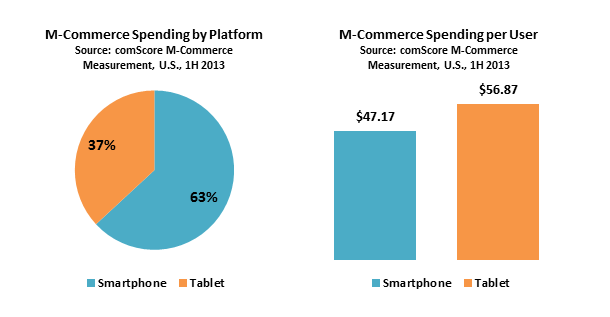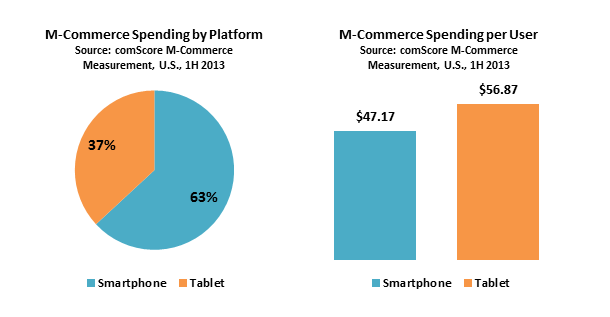 It is an immediate requirement that firms start focusing their development and user experience efforts on smartphones if they wish to earn profits in the present scenario, but it might not be long before tablets surpass smartphones in the total e-commerce spending, and therefore it'd be a wise move to not lose sight of the future and develop their browsing experience for tablets in the meantime.
CONSUMER BEHAVIOR
Moreover, smartphones and tablets have very different characteristics and usage pattern that yield significant behavioral differences, which means consumers' experience towards a product category will not be the same for all mobile touch-points and is not wise to assume otherwise.
The above table is an analysis to understand how likely consumers were to browse these categories on smartphones and tablets relative to their behavior on desktop computers. The results showed that some categories such as movies and books significantly over-indexed for both mobile platforms, while others such as comparison shopping significantly under-indexed.
Consumers' behavior also depends on their usage pattern of their Smartphones or tablets. Categories such as music, e-books and movies are mostly frequented by smartphone users when they are on the move, or during breaks in between work hours, etc. The use of tablets for online shopping, however generally happens during leisure hours in categories like games, movies, apparel, home furnishings, etc.
Another important part of any app or mobile website is the UI; a clear and easy-to-understand UI is always appealing, whereas complex interfaces may actually turn a consumer off
Understanding consumers' behavior and usage pattern and developing the right mobile experience for the right platform will help marketers benefit the most from this shining opportunity that is m-commerce.
Source: ComScore
[poll id="23″]