Mobile handset market in India is poised to touch Rs 35,946 crore. In FY 2013. The industry is estimated to witness the growth of 14.7% during the year while Samsung remains undisputed market leader, according to a survey done by Voice&Data.
In the last financial year (April 1, 2011 – March 31, 2012) mobile handset market in India valued worth Rs. 31,330 crore. One of the biggest highlights of this year was Samsung that leapfrogged Nokia only to become the leader of mobile handsets market in India. Samsung market share surged up to 31.5% during FY'2013 while Nokia slipped to second position with 27.2% of mobile market share in India. The Korean electronics giant nearly doubled its revenue from Rs. 7,891 crore in FY'2012 to Rs. 11,328 crore in the last financial year, ended March 31, 2013.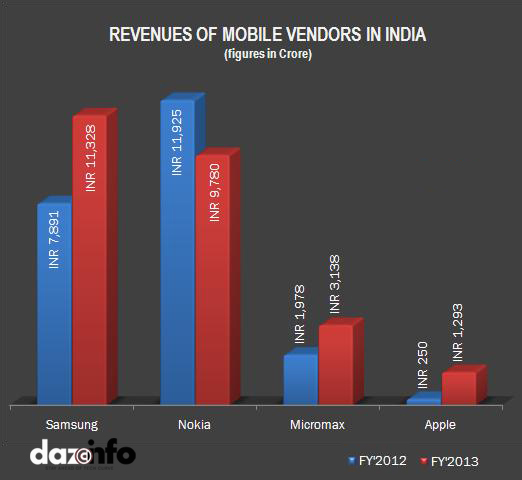 The extensive mobile handsets range was the biggest reason behind Samsung growth. Besides, the steady shift of feature phone users to Samsung entry-level Smartphones – ranged anything between Rs. 4,000 and Rs. 10,000 – was another factor that pushed the growth further up.
"Samsung handset prices range from Rs 1,500 to Rs 50,000 and come in varied screen sizes. These two factors helped the company grab customer's attention, besides the product quality and new features," survey report added.
Nokia is constantly feeling the heat from growing competition in 'once dominated' feature phone market. Local mobile vendors in India, like Micromax, Karbonn and Lava, are growing only at the cost of Nokia. Between April 2012 and March 2013, Nokia's revenue from Indian operations dived down to Rs. 9,780 crore from Rs. 11,925 crore in FY'2012.
The revenues of Apple from Indian operations grew by 417.2% to Rs. 1,293 crore in FY'2013 s compare to mere Rs. 250 crore a year ago. This resulted in 3.6% of mobile handsets market share in India for Apple. Local Indian mobile vendor Micromax reserved the third place by capturing 8.7% market share. Micromax revenue surged up to Rs. 3,138 crore in FY'2013 from Rs. 1,978 crore in FY'2012.
Mobile handsets sales in India are expected to reach 251 million units in 2013 and could grow further to 326 million units in 2016. Majority of this growth would be pegged to Smartphone market in India that recorded 167% growth in the first half of this year. Samsung managed to capture 40.7% of Smartphone market in India, followed by Micromax and Karbonn with 19.3% and 8.6% respectively.