Sony Corporation (NYSE:SNE) has released its second quarters financial report (calender year quarter ended June, 2013) with positive numbers. The mobiles have come very handy for Sony with a 36.2% increase YoY .  Favorable foreign exchange rates , increase in revenue from financial services and increase in net unit sales of  smartphones have significantly contributed to a 13% increase in the sales.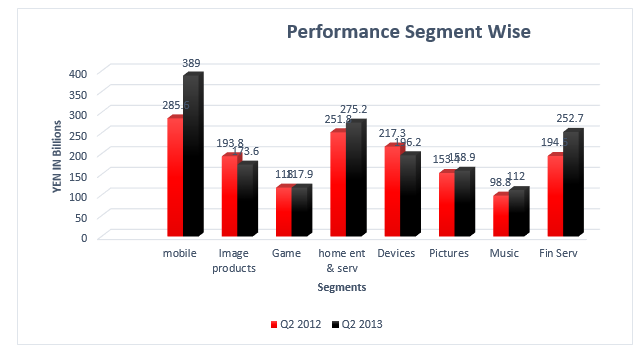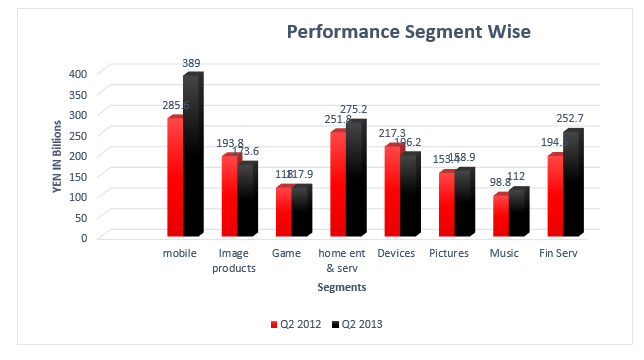 The image products, devices have under-performed due to loss of market share. Sony smart phones have tried to capture the customer taste. Sony has launched phones in almost all segments with beautifully crafted design and features. The transition from Ericsson to Xperia models have paid their share. The flat design and competitive features contribute considerable basis while decision-making, the looks and usability are definitely a weaponry which Sony never gives up. The gaming segment has remained flat but the operating costs have increased for Sony for its research and development related costs for its upcoming Plat station 4. This decision might be able to put Sony back on track in the gaming segment.
Strategically Sony should focus on generating revenue from its core businesses and not the financial services by looking at the number from the current quarter. Devices and gaming have always been Sony's brand value creators. Comparatively we can see that the contribution of these segments to the overall revenue is less. Its IP&S segments which takes care of digital camera and Video cameras have also decreased by 10.4% in sales over the quarter. A lot of market share is still under the control of Cannon and Nikon , this might be a an area where Sony should think to invest  in research and development and capture the market share.
Coming to the Home Entertainment and sound segment , it has seen an increase of 9.3% YoY sales due to improved product mix strategies of LCD televisions and cost reductions.
Devices segment which consists of semiconductors , image sensors , data storage devices has seen a 9.7% decrease YoY. We know that Thailand has been hit by major floods in 2011 and many of storage units of Sony in Thailand have also been hit , due to poor recovery of insurance the losses in covered have surfaced up.
The Japanese giant should try to incorporate the waterproof and dust proof technology to its low-end versions which will be a big yes to Sony, and its next quarter strategies should focus to compete with iPhone 5C , as Sony has this exceptional advantage of releasing new model within a very short period. This product cycle strategy is always a boon to customers who eagerly wait for new models. And on the other hands innovation is needed from Sony to counter new technologies like wireless charging and design changes to capture the phablet market.  This quarter has given an overall positive outlook and loses in few segments should not be attributed as a failure.