Have you ever dreamed of showing to the world that you are best enough to make an impact on the lives of tech-savvy generation ? Ever dreamed of something, which could recognize your zeal as well support you to accomplish your most admired project of your life? If you answer is "Yes", we believe that you are well at a stage of accepting the challenges.
Dazeinfo now posts for you an exclusive Google Impact challenge. A challenge – thrown by Google Inc. (GOOG) – where you could give wings to your thoughts that could solve world's most pressing problems. But, before you it hit you hard, let us tell you some eligibility you should posses.
Google is calling up all the Indian Social entrepreneurs.
You should be a non-profit organization on a good note to express your perception for the Impact you would like to make.
Here, we would like to mention that this challenge is not going to be effortless unless you are fit for it. The project you submit would go for a review to the Indian Googlers and around the world as well. So, this is a chance for you to show up your efforts and get rewarded for the same.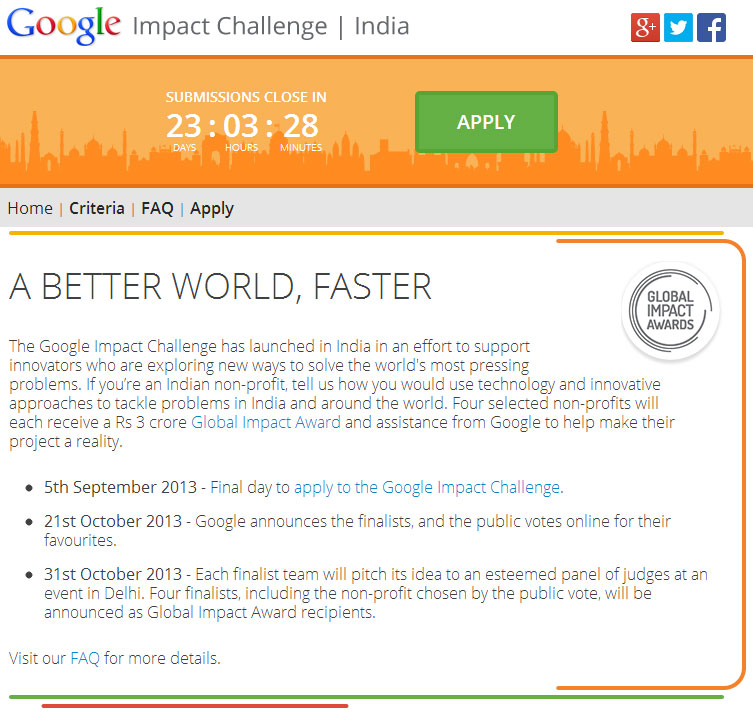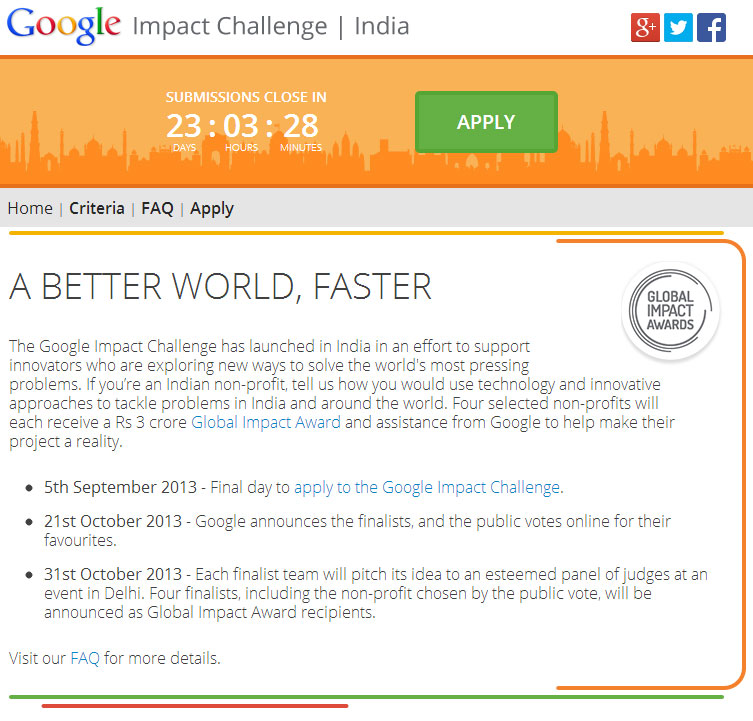 Wondering how are you going to get benefited?
Let us reveal the fact that Google is going to give your dream a life. Google shall be assisting in the accomplishment for the project to come alive. Infact the prestigious award for the entrepreneurs – a Rs 3 crore (around US $500,000) Global Impact Award – is up for the grab for each of the  four non-profits who show the potential to stand in the top four positions out of the hundreds of thousands of projects to be submitted.
Take this as a chance for this independence day that you have been into a passion of changing the lives of the people with the technical assistance offered by Google; provided you are among the top four.
The applications are open till September 5 and the received entries would be undergoing a perfect scrutiny by the Google staff in India and across the world too. On October 21, the top 10 projects, which are the finalists for the challenge will be announced.  Following, all those 10 projects would be set to stage for a voting by the people. The one that receives the most number of fans, will be grabbing the Fan Favorite Award. Besides, these top 10 finalists, whose projects were worth a wining, will be called up to voice their ideas in Delhi, on October 31.
The jury includes Ram Shriram, Jacquelline Fuller, Anu Aga and Jayant Sinha  and shall be waiting to hear the 10 finalists pitch live. Considering the parameters, the first 3 winners of the Global Impact Awards would be announced.
Not able to resist yourself much to get started? Hit this link and accept the best wishes from  us !! 🙂