Global mobile phone market, in terms of handset sales, registered 3.6% growth in Q2 2013. While the overall sales of mobile phones reached 435 million units, Smartphone sales outpaced feature phone first time ever. Against 225 million Smartphones that were sold in the second quarter of the year, sales of feature phone totalled 210 million. This resulted in the negative year-over-year growth of 21 per cent for feature phone market, while the Smartphone market witnessed 46.5 per cent positive growth compared to a year back quarter.
Global Smartphone Market Q2 2013: Samsung Is the Leader
In Q2 2013, Smartphone accounted for 51.8% of total mobile phone sales, resulting in smartphone sales leapfrogging feature phone first time ever. The Smartphone market growth in Q2 2013 was primarily driven by ASIA-PACIFIC region that recorded 74.1 per cent growth rate; Thanks to emerging local vendors and fastest adoption of low-price Smartphones. The region was followed by Latin America and Eastern Europe regions that registered 55.7% and 31.6% Smartphone market growth respectively.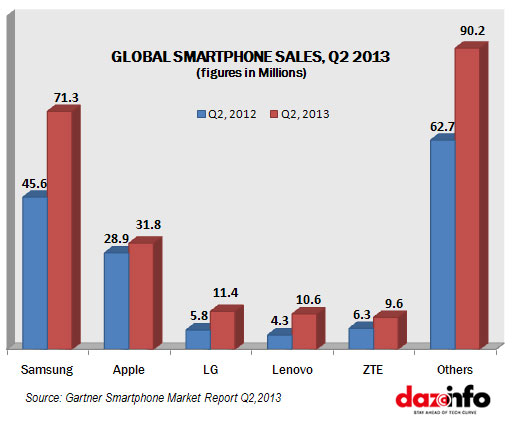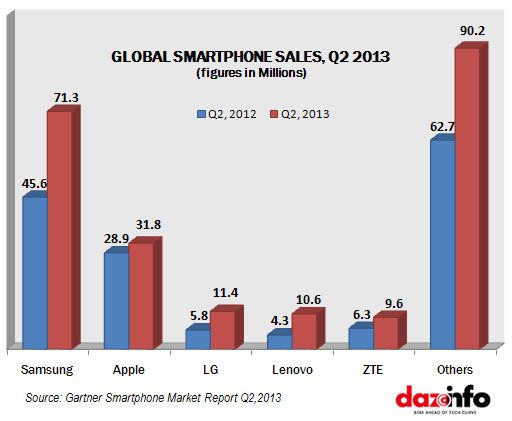 In Smartphone Vendors, industry leader Samsung widened the gap with its closest rival Apple. Samsung's Smartphone market share reached 31.7% in Q2, 2013 while Apple shrank to 14.2% market, losing 4.6% market share compared to the same quarter a year ago. In Q2, 2013, Apple managed to sell more number of iPhone compare to same duration a year back though, the company failed to match the overall Smartphone industry growth. Samsung sold 71.3 million smartphones in Q2 2013 compared to 31.8 million units (iPhone) by Apple. LG electronics – another Korean electronics giant – secured the third position in Smartphone industry by selling 11.4 million handsets, followed by Lenovo and ZTE that sold 10.6 million and 9.6 million Smartphones respectively.
Google Android wiped out the complete Smartphone market in the second quarter with absolutely no competition. Android-powered nearly 177.8 million smartphones sold in Q2, 2013 and captured 79% of smartphone OS market. Microsoft overtook Blackberry by powering 7.4 million units, with 3.3% market during the quarter.
Samsung presented the stronghold over the global smartphone market in Q2 2013. Out of 177.8 million Android smartphones, sold in the second quarter, Samsung made nearly 41% units. As the trend is doomed to stay for next few quarters, global smartphone market is turning out to be a race of only 3 pacing up horses – Android, iOS and Windows Phone Os (Microsoft).
Source: Gartner