The past few weeks have witnessed an interesting phase in the smartphone market as many manufacturers have rolled out their respective products in this segment considering the fact that low-price Smartphones will account 46% of total Smartphone shipments by 2018. With competition heating up like anything at all price points, manufacturers are not shying away from doing anything as long as it ensures initial grabs for their products. These steps may include aggressive marketing and promotion strategies, lucrative pricing, attractive offers and the likes. In fact many new players are emerging in this segment just to tap into this new-found wave of smartphones that has taken the market by storm. In fact, by 2017, nearly 50% Smartphones, out in the market, will cost anything between $150 to $200.
One such example is iberry; more known for its Tablets over its Smartphones. Following the launch of the much awaited Micromax Canvas 4 (which could also turn out to be the Auxus' greatest competitor); the Hong Kong based manufacturer has introduced its latest offering – The iberry Auxus Nuclea N1. For starters, the name iberry appears to be the product of a cross between an iPhone and a BlackBerry! Jokes apart, let's not delve into the nomenclature of the company and dive straight into the details of this new product.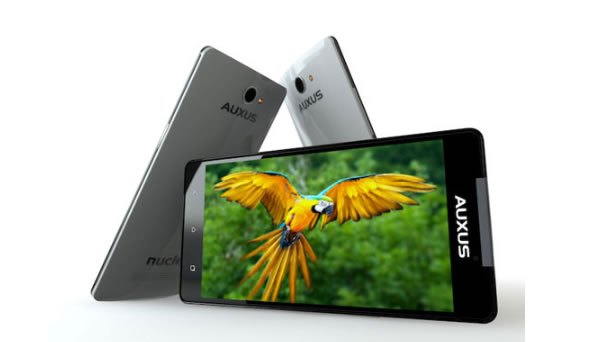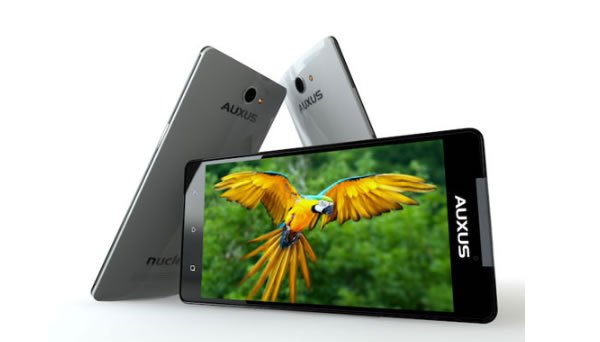 The brand new Auxus Nuclea N1 brings a lot of kit to the table; which is something very impressive. Let's take a look at its highlights:
The Nuclea turns out to be quite a sleek smartphone with dimensions of 144.5 x 73 x 8.9 mm, 142 x 73.5 x 9.6 mm. It weighs 120.7 grams and is 9.6 mm thick. It has the three usual capacitive touch keys on the front end ,the screen lock key and volume rocker on either side
Its screen size is 5.0 inches and the best part is that it is a full HD screen having a resolution of 1080p. It is an Active Matrix display based on One Glass Technology (OGS). It also comes with Corning Gorilla Glass 3 protection.
As far as the OS is concerned, the Auxus Nuclea N1 runs on Android's latest Jelly Bean 4.2.2 and to back this, there is a 1.5 GHz Mediatek MT6589T quad-core processor with VR SGX 544MP GPU. It has a  1 GB RAM.
It has a 13.0 Megapixel primary (rear) camera with flash and an 8.0 Megapixel secondary (front) camera. The camera has a powerful sensor and is backed by a host of in-camera features such as Burst mode, Smile/face detection, HDR, Multi direction Panorama, Geo-tagging, Anti-flicker, Image Stabilization, Selective Focus and full HD video recording capability as well.
This is dual-SIM smartphone but the downside is that only one SIM supports 3G connectivity while the other SIM supports 2G connectivity. It also supports Wi-Fi, Bluetooth and GPS.
As far as storage capacity is concerned, the phone comes with 4GB on-board storage that is expandable up to 64 GB via Micro SD card. A feature worth noticing is that the Apps can be stored on the Micro SD card thus freeing up the phone memory.
To power all this, there is a 2800 mAh battery that as per iberry's claims can last for up to 12 hours (talktime) and 250 hours on standby.
iberry has also bundled in four different back panels  along with the package.
To top it all, iberry has launched the Auxus Nuclea N1 at with introductory price of Rs. 15990 (T&C apply) that is lower than a similar specced product from any competitor. The pre-booking of iberry Auxux Nuclea N1 has already started three days back on ebay.
If you compare the Nuclea N1 to its nearest competitor – the Micromax Canvas 4 – the farther one comes out standing head and shoulders above the Canvas 4. Unfortunately Micromax Canvas 4 falls short on the following counts:
Display:
The iberry sports a 5.0 inch 1080p full HD screen whereas the Micromax Canvas 4's fails to adopt the Full HD capabilities with just 720×1280 pixels resolution.
Processor:
Over here also the iberry out classes Micromax as it offers a 1.5 GHz quad-core processor with dedicated graphics for gaming in contrast to Micromax's 1.2 GHz quad core unit.
Front Camera:
The iberry's secondary camera boasts of an 8.0 Megapixel unit over the Micromax's 5.0 Megapixel camera.
Price:
Upon launch, iberry priced the Auxus Nuclea N1 at Rs. 15990/- (introductory pricing) while the Canvas 4 was pegged at Rs. 17,999/-.
Battery:
It's appalling to see that Micromax equipped the Canvas 4 with a meagre 2000 mAh battery; especially when you look at the Auxus Nuclea N1's mammoth 2800 mAh battery. We already explained why is it important to have a power-packed battery in your Smartphone these days due to higher penetration of third-generation mobile internet connectivity and explosive adoption of social media by Smartphone users.
The only area where Micromax wins over iberry Auxus Nuclea N1 at the very first look is storage as Canvas 4 is pre-loaded with 16 GB storage – expandable unto 32 GB – while Neclea N1 is available with mere 4 GB of storage. However, this could easily be addressed with an external storage of 16 GB chip. But considering the fact that Nuclea N1 is already Rs 2,000 lesser than Canvas 4, there should be any second thought.
All said and done, it appears as if the newly launched Auxus Nuclea N1 by iberry will emerge at the fore-front of this 'low on price but big on features' smartphone rat race. But things may not seem so easy as well. Although most analysts have touted the Micromax Canvas 4 as a major disappointment, I wonder how many brand conscious consumers would consider ditching a Micromax (a brand with an apparently better brand value than iberry) and turn towards something like an iberry that has better kit to offer. Micromax will have to take serious note of its competition and get its act together unless it wants to be toppled over by the onslaught of players like iberry and take the lead position in Smartphone market in India – world's 3rd largest Smartphone market by 2017.