While Smartphones and Tablets are marking their presence, businesses are finding it difficult to satisfy the needs of constantly growing technology shift; Smartphone is poised to outpace feature phone market in 2013 as two biggest mobile giants Apple and Samsung, jointly, are expected to ship more than 583 million Smartphones in 2013. At the same time, adoption of mobile Internet is also pacing up due to significant penetration of 4G and 3G networks in developed and developing countries. Currently, nearly 10% of global Internet is being originated from mobile devices.
Due to such emergence, companies have started implementing mobile-first strategies in order to leverage over this astounding growth. Even search giant Google has recently announced its revised policy over ranking websites for search, resulting in penalizing non-optimized websites for mobile platforms. However, only 55% of businesses now have mobile-optimized websites till now, according to latest report "Reducing Customer Struggle" from eConsultancy.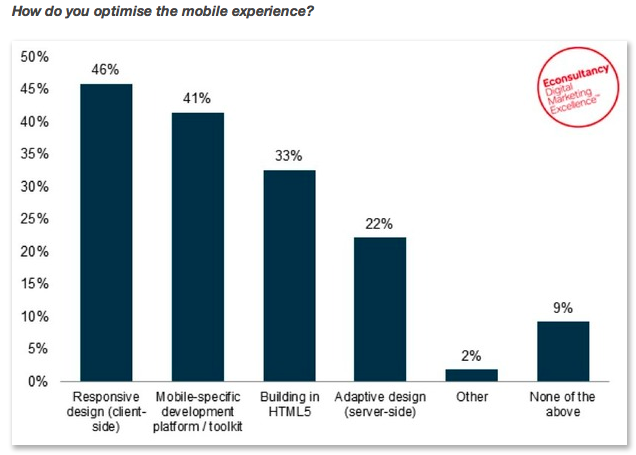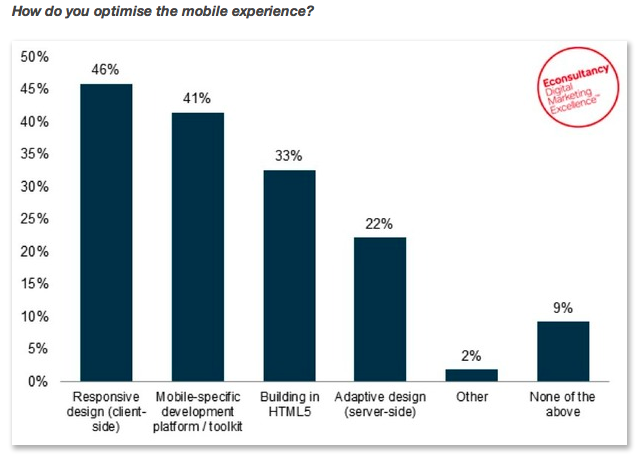 Apple iPhone wins over businesses as 44% claimed to have iPhone app against 33% businesses with Android app. Interestingly, in spite of low penetration of Tablets, 26% claimed to own an app developed for iPad. Businesses are finding it difficult (and expensive too) to satisfy their mobile optimization needs through native apps due to platform variants. Therefore, majority of them have adopted Responsive Design tactics in order to enhance their presence for mobile devices users; nearly 46% businesses have claimed to use responsive design, while only 41% prefer mobile platform specific tool (i.e. native app). Interestingly, much-hyped HTML 5 managed to convince only 31% of business – thanks to slow adoption of full-feature HTML5 support by mobile browsers and platforms.
Mobile Optimized Business: ROI ?
The report also highlights how businesses considering their optimization efforts against returns. Nearly 72% of businesses that implemented mobile optimization strategy recorded more than 10% of their total website traffic coming from mobile devices. In 2012, only 52% businesses recorded similar amount of traffic. Interestingly, 41% businesses claimed that they recorded more than 20% of traffic originating from mobile.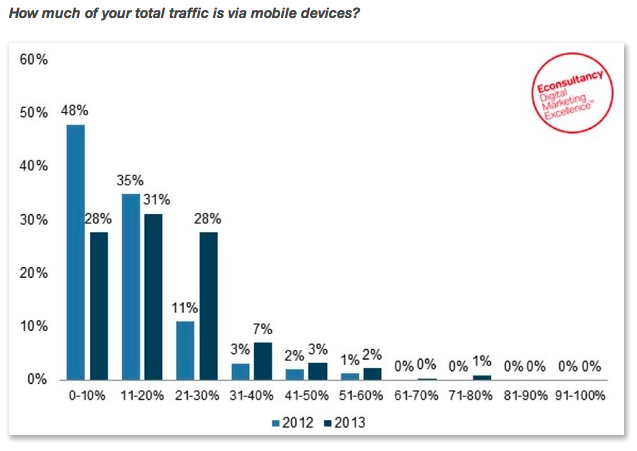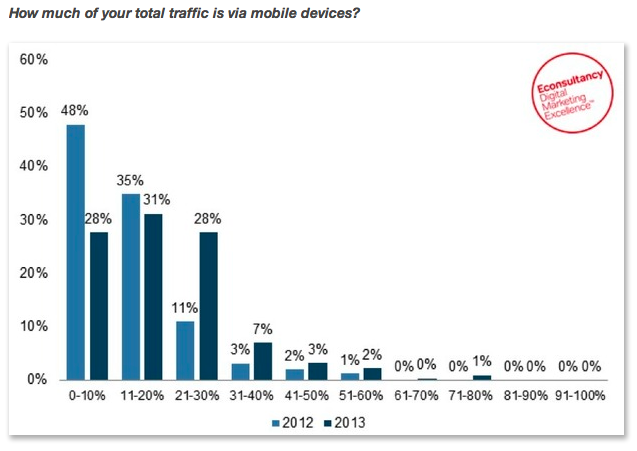 However when it cam to actual commerce, majority (60%) of businesses said that consumers are accessing website primarily for product research before later purchasing online. While 1 out of every 2 businesses claimed that they recorded sales from consumers using mobile devices. Interestingly, mobile optimized websites also have influence over offline sales as 44% businesses claimed to register offline sales from consumers who researched about the product using their mobile devices.
The results clearly indicate how mobile optimization of your business' online presence could boost your online and offline sales. Besides, it has direct impact on consumers who are wiling to buy products later.