We are living in an unparalleled time for technological progress. In 10 years, it will be almost impossible to describe to any child in India what life was like before the Internet. Internet users in India have reached to 150 million count making the country holding world's third largest Internet population, after China which has 575 million internet users followed by U.S. with 274 million. According to the latest study one out of four students from Metro cities browse Internet in India over their mobile phone. The level of access is much higher as the majority of students across the country spend 1 to 2 hours accessing Internet every day.
The study conducted by TCS over more than 17,000 students in India, highlights various startling facts about "Generation Y" and how they are adopting Internet and get expose to information access. While 72% students access Internet from Home, penetration of mobile Internet is also on the rise as nearly one fifth of students are making use of mobile Internet, reducing their dependencies on School and Cyber Café. However, the slow infrastructure growth in Mini Metro cities is still pushing students to Cyber Café making it the best source of Internet access. Despite of the fact that schools in Metros are constantly improving their infrastructure and making education more digital, resulting in higher number of internet access points, nearly 83% students are still voting for Home as their favorite place to access internet.
Facebook: Digital Hangout For Indian Students
It's an era of internet and mobile and social networking sites are the most popular online hangout place for majority of internet users in India, including students. However, due to the nature, maturity, interest and preferences, each social network has got its own market and community. In India 83.38% students have already registered themselves on Facebook and the trend of almost the same in Metro and Mini Metro cities. Others social networking sites like Twitter, LinkedIn and Orkut are way behind compare to Facebook. However, the rise of Pinterest and LinkedIn in Metro cities clearly states the difference in mindset and online activities between students in Metro and Mini Metro cities.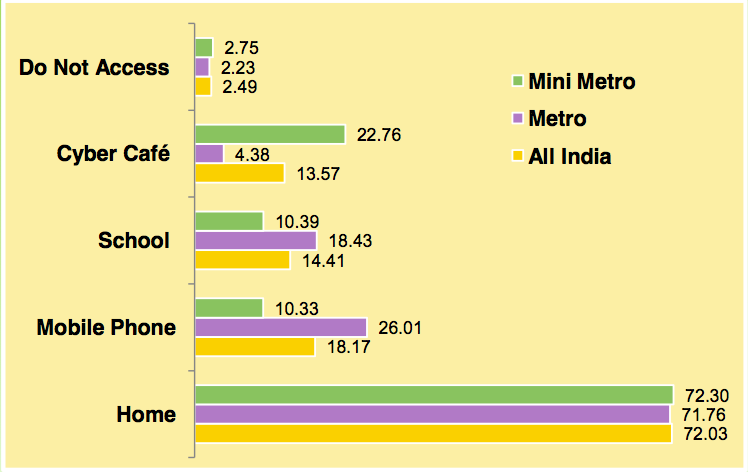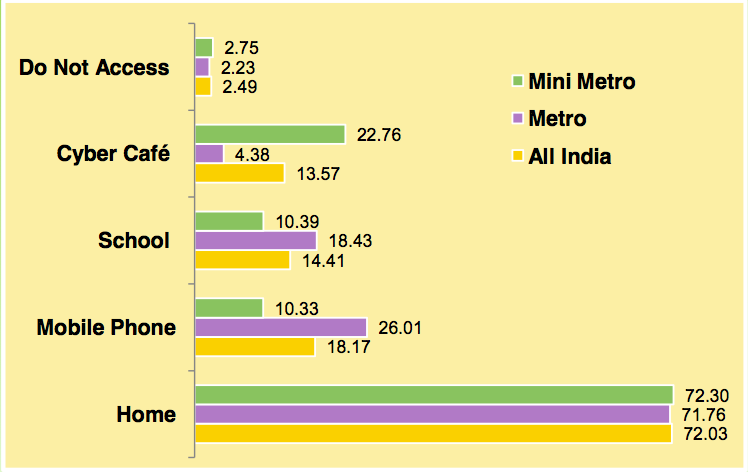 Not to be surprised, Facebook and Twitter have become the primary source of mobile communication among students beating statutory mobile services Voice calls and SMS. 73.68% students across the country use Facebook/Twitter to communicate, followed by 53% via SMS and 43% by calls. No wonder telecom companies are worries about the dropping call charges as well as usage and actively working towards effective monetization of mobile Internet. In fact, the constant growing popularity of social media has also reduced the dependency of E-Mail among students as only 41% students in India are making use of it now.
Career And Online Shopping
Nearly four out of every 10 students are shopping online, thanks to E-Stores who are looking beyond Credit cards and offer other modes of payments like Debt card, Net Banking or even Cash-On-Deliver (COD). However, like social media, online shopping preferences are again different among Indian students as Movie Tickets are the most selling product; 61.71% students across India buys Movie Ticket online, surprisingly the numbers are higher in Mini Metro cities than Metro despite of the not-so-encouraging internet situation. Books/DVD/Music is the second best online shopping category by students with 47% students, followed by Airline/Railway Tickets booking done by 39.46% students across India.
So, what these most of the students do online? According to the study 73.65% students across India access Internet to Research School subject. However, other popular activity Chat is not too far as 62.35% students are busy with Chat/Blog/Connect, followed by 49.10% with Email and 45.47% in Listing or downloading music.
The report is based upon the finding from "TCS GenY Survey 2012" conducted by TCS among 17,478 students from 12 cities in India from August 2012 to December 2012. 1660 schools participated in the survey with their students aged 12 – 18 years.