Social media marketing refers to the process of gaining website traffic or attention through social media sites.  It has become a platform that is easily accessible to anyone with internet access. Increased communication for organizations fosters brand awareness and often, improved customer service. Additionally, it serves as a relatively inexpensive platform for organizations to implement marketing campaigns. Email marketing is rising over other networks in terms of following a brand, purchase and other related factors in Canada.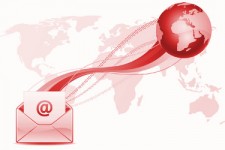 According to a survey from ExactTarget, Canadian consumers are most likely to make a purchase from a company through their e-mail subscriptions than other networks like Facebook or Twitter. The survey indicates that-in more than 1,300 online Canadian consumers, 93% of online consumers subscribe to at least one mail marketing program. Of which 44% have made a purchase after receiving an email marketing message.
Email Marketing In Canada
Canada is one of the most digitally connected countries and parallel to this brings marketing opportunities of brands to consumers across different channels. In this context eMarketer estimates that three-quarters of younger adults will follow brands on Facebook still the survey shows that email will be the most popular way for internet users to connect with their brands. According to the Ookla Net Index, which is based on speed test data from around the world, Nova Scotia and New Brunswick are the most expensive places for internet in Canada, both costing an average of over $60 a month. Canadian web surfers were first when it came to the average number of web pages viewed each month at 3,731, pages an average of more than 120 web pages per day. Further the survey done by ExactTarget shows among adults under 45 age, around three-quarter follow brands on most popular social networks of the country.
In Email-93 percent of online Canadian consumers subscribe to at least one email marketing program, 44 percent of consumers that subscribe to a brand's email program have made a purchase after receiving an email marketing message. 89 percent of consumers report checking email at least once daily.
In Facebook-61 percent of online Canadian consumers have liked a brand or company on Facebook. 24 percent of consumers (ages 25-34) on Facebook have made a purchase after receiving a marketing message on the site and 48 percent of Facebook network users (18-34) report checking the site compulsively throughout the day.
In Twitter-13 percent of online Canadian consumers have followed a brand, 47 percent of the users follow brands to keep up with a company's products. Services or offerings and 5 percent of consumers on Twitter have made a purchase after receiving a marketing message on the concerned site.
"Canada is among the most digitally connected countries we've surveyed which creates a tremendous opportunity for marketers to connect with Canadian consumers across the channels they use most email, Facebook and Twitter," said Tim Kopp, Exact Target's chief marketing officer.
Email Marketing: A Global Scenario
Email marketing creates maximum customer engagement. More than 75% of marketers considered email and social media as the most effective tool for customer engagement. Consumers who receive brand updates/offers on email (42%) were more probable to purchase than those who receive in SMS (33%).
The main reason of connecting to brands via social channel email is to receive discounts and promotions, along with free stuffs and other related offers. Facebook has the same intention as email. On the other hand Twitter's main goal is to promote more interesting things and keep up-to-date with the company's offering.
In comparison to Canada's marketing prospect, India's marketing strategies includes the importance of video content.  55% of marketers in India recorded higher Click Through Rate (CTR) after adding video into their email marketing campaigns and 44% of them also claimed subscribers are spending more time in reading an email, while 41% reported an increase in sharing and forwarding of emails. The global email marketing industry size is expected to be worth US$6.5 billion by 2018. The growth in email marketing is attributed to higher penetration of Internet in many developing countries.