Google Inc's (GOOG) Android is growing faster than ever; it has now infiltrated the desktop too, and this was expected and it was just a matter of time.
All-in-one desktop computing is all the rage, with space and portability of computers gaining lot of importance; it looks like Hewlett-Packard Company (HPQ) got a cue at the right time as it just released its brand new product, the HP Slate 21 AIO, which was unveiled during an event in Beijing.
So, What Makes This Device A Unique One?
This device has an operating system that, many other manufacturers have tried hard to install on their desktop products i.e. Android 4.2.2 Jellybean, the success of the Mobile OS is now introduced into the PC world.
Features of AIO Machine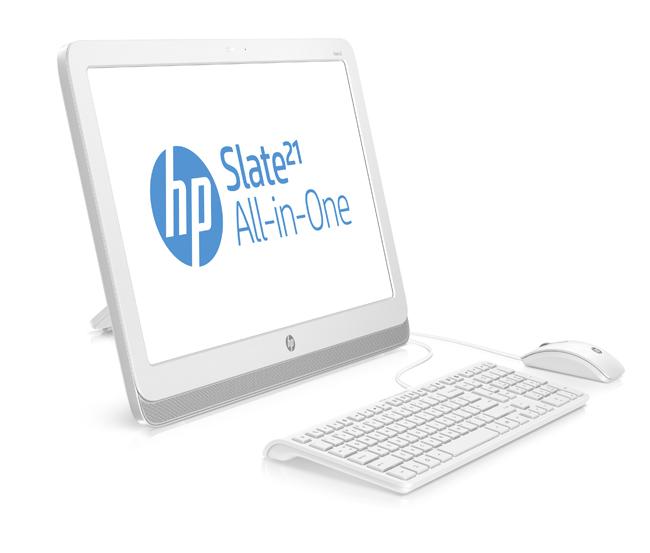 The device flaunts a 21.5-inch display, it's a touch screen enabled and features full 1080p resolution, including Nvidia Tegra 4 processor, built-in dual speakers, a webcam and wireless printing capabilities. HP also states that many features have been included to make Android work better on the desktop, which includes drivers for USB peripherals, a bag of software, it is preloaded with KingSoft Office, in addition Splashtop2 HD will also be pre-installed, which allows the user to remotely access and control their Windows or Mac computers. The slate has 8 GB of storage and HP has a hinge that lets users to adjust the angle of the display from between 15 to 75 degrees. It will be available in the stores from September for $ 400.
 Similar Products
Asus (TPE:2357) has already launched a similar product, Transformer All-in-One; it has an 18.4-inch Full HD tablet that runs Android 4.1 Jellybean, with a PC docking station that runs Windows 8 and Asus announced a product which works as Tablet, laptop and desktop, called Transformer Book Trio, it has a 11.6-inch display, a 2,0GHz Atom Z2580 processor, 2GB of memory and 64gb of storage and runs Android 4.2 JellyBean. Last week Samsung Electronics Co.Ltd (KRX:590035) also announced the convertible tablet ATIV Q, it is designed to merge Android and Windows, it is equipped with a 13.3-inch display with a QHD resolution and it runs on both Windows 8 and Android 4.2 Jelly Bean.
Google Android A Nightmare To Microsoft?
Android has dominated the Mobile sector; it has proved that it is here to stay. The market is experiencing massive shifts, in the past 2 years the mobile industry has grown but the desktop market decline, PC's faced a decline of 13.9%. So Microsoft Corp (MSFT) started to reinvent itself and adapted touch into Windows 8, the desktop version of Windows 8 was not appreciated that well, according to a report, users preferred to buy Windows 7 notebooks or low-end PCs instead of much-hyped, high-priced Windows 8 Ultrabook, only 60 million licenses of the OS were sold in Q4 2012. And according to another study, the sales of windows devices in the U.S dropped 21 percent Y/Y.
Will Android Charm The PC World?
Android charmed the Mobile sector; this does not mean it will be successful in desktop, though it has some advantages; it comes with a lot of disadvantages too. The device will enable the user to experience some of the high-end technologies but as Android is an open market; it is prone to malware, so user's security is at a risk. As many enterprises already have desktops integrated with windows, Android PC is prone to lose enterprise mobility share. Microsoft has ruled the PC world, Windows 8 did not make miracles, but Microsoft has already announced Windows 8.1, an improved and a better Window OS, which has options like Boot-to-desktop options, better handling of tiles and many other updated features.
Having Android on a desktop, is not such a good idea, Google Inc (GOOG) already is pushing Chrome OS, its low-priced substitute of Windows.  Android may suite small-screen devices, for now it should focus on that, and things may change for Microsoft too with its new OS, But it's too early to jump into a conclusion as the OS is not yet launched.