The adoption rate of Smartphone in India is pacing up with the emergence of local mobile makers and constant growing price war among leaders. Nearly 60% – 58.93% to be more precise – students are using Smartphone in India. More interestingly 75% of students prefer social media communication than phone calls, reveals a recent survey done by TCS.
As a stand-alone device, absolute mobile gadgets – like Mobile Phones, MP3 Player and Tablet – have emerged as most favorite devices among students. However, when it comes to actual owning and usage, most of these lags behind than Mobile Phone, Home PC and Laptops.
On the larger scale, Mobile phones are still the best electronic mates for students. 65.7% students own mobile phones along with Home PC. Tablet and Gaming Consoles are being considered as 'nice to have' products and have higher adoption rate in Metros. This clearly showcases that Indian students are still conscious towards the ROI when it comes to actual product ownership.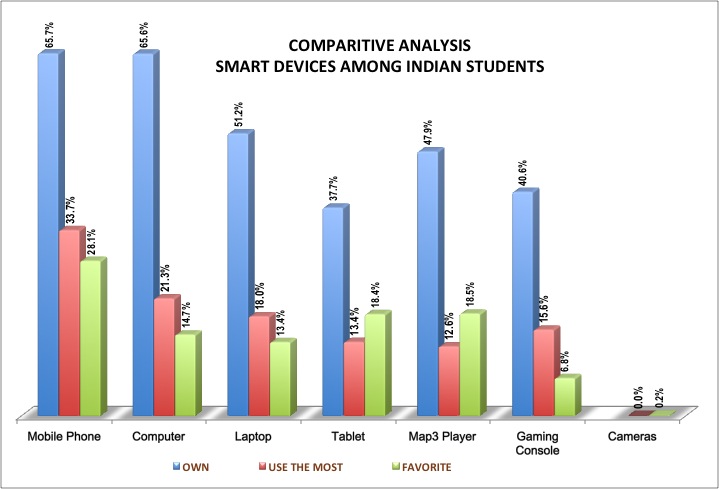 Mobile phones also emerged as the most used devices compare to Computer, Laptop, Tablet, MP3 player, Gaming console and Camera. Around 33% student prefer to use Mobile phone than any other devices due to the fact that it acts like a true MFD (Multi Functional Device) and satisfies the needs in well acquainted manner. This resulted in the biggest market loss especially for MP3 and Camera as stand alone device.
As a brand, Nokia surprised to all by still being the second most preferred brand among Student following Samsung with thin margin. Nokia powered Smartphones are yet to gain sizable market share of Smartphone Industry in India, though, it manages to beat Apple, HTC and many other local emerging brands like Micromax, Karbonn among students.
Google's Android powered smart devices are the favorite among students. With 53.7% share Android managed to beat its closest competitor Windows that could grab 33.6% share of smart devices used by students.
These finding are the part of Gen-Y survey conducted by TCS between August – December 2012. The survey was conducted over 17478 students, aged 12 – 18 years, across 14 cities including Bangalore, Chennai, Delhi, Hyderabad, Mumbai and Kolkata.