The search engine giant Google Inc. (GOOG) is making more than 50% of total worldwide revenue. In 2013, Google and Facebook Inc. (FB) together are expected to make $10.89 billion net mobile internet ad revenue which accounts to 68.87% of total mobile internet ad revenue. In 2012 Google had made $4.61 billion in mobile internet ad revenues which was three times more than its earnings in 2011, this year it will be breaking its own record as its revenue reached $8.85 billion.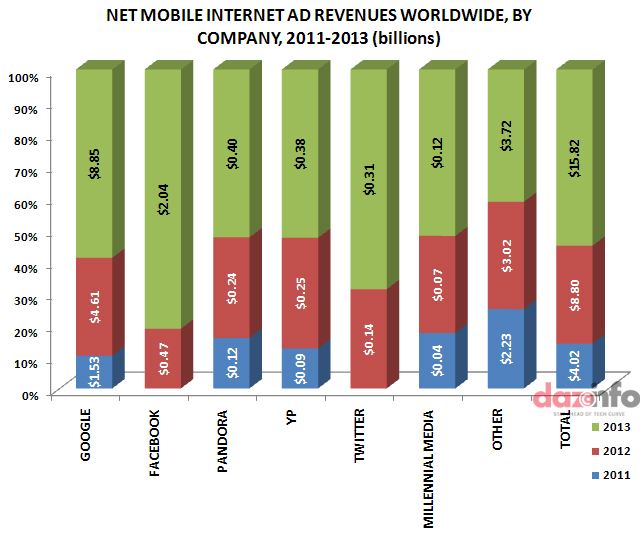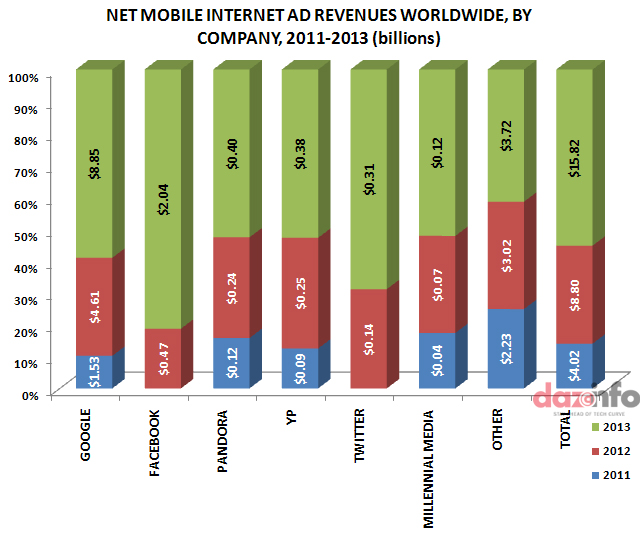 Facebook And twitter Ad Revenue Growth In 2013:
Social media giant has shown immense growth in its mobile advertising revenue since year 2012, this is a commendable achievement as it had no mobile ad revenue in the year 2011 and now it is expected to grow over $2 billion in 2013 which will account for 12.9% share of the global net mobile advertising market. Twitter's is witnessing its bad days when it comes to user base but on the other hand its mobile ad revenue share is expected to increase by 2% this year. Twitter lost its second position to Google+ in US but still it will be achieving an increase of 3.6% share of ad revenue when compared to last year in US.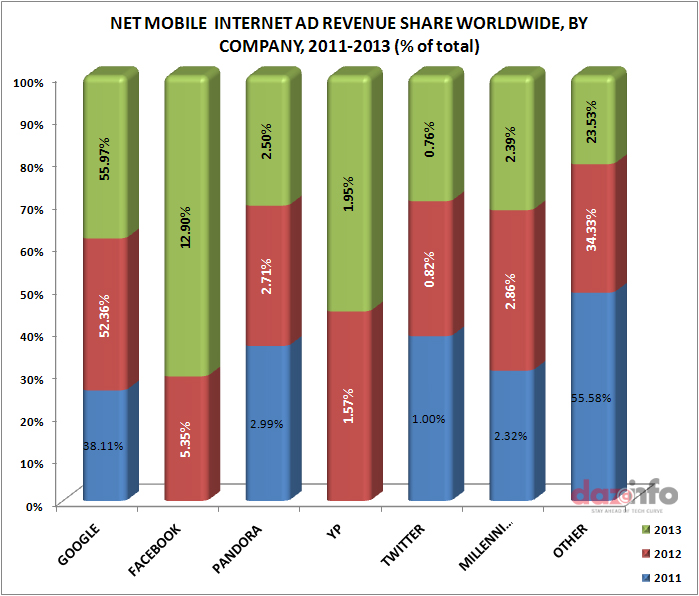 Google's Ad Revenue Share 2013:
The search giant remains the digital revenue king Worldwide as last year it earned $32.73 billion in net digital ad revenue. In 2013 Google will make revenue faster than last year as it continues its monetization on YouTube and working on mobile advertising which will make its net mobile revenue touch the sky. Smartphone users are increasing globally and Google still remains the best Diaz for searching.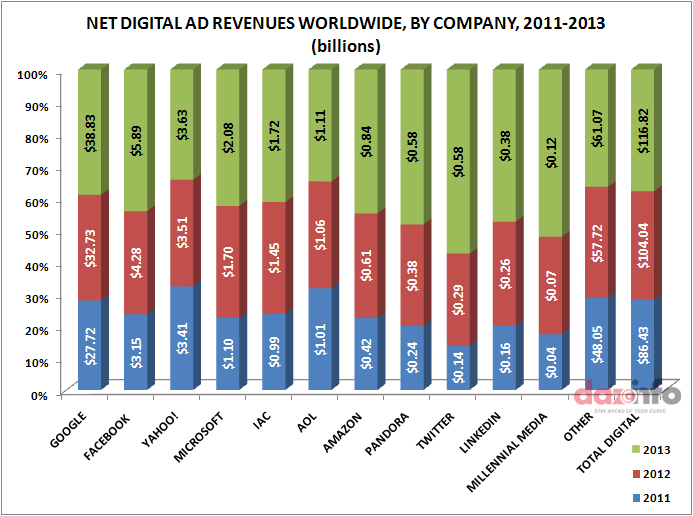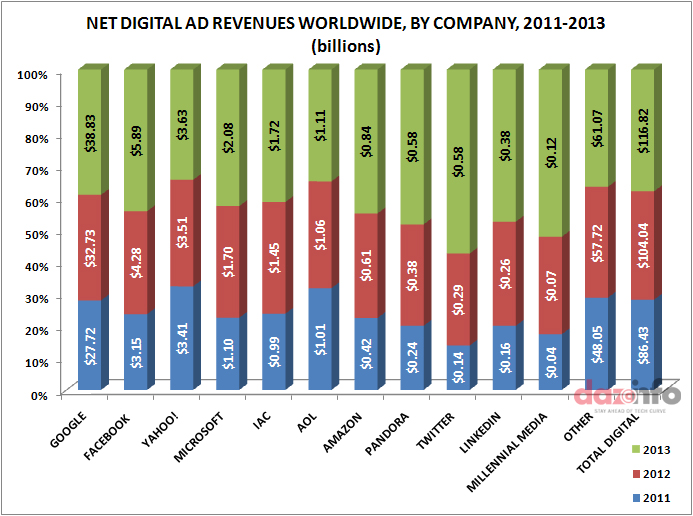 Net Digital Growth Revenue Rate Worldwide:
In 2013, Twitter is expected to grow its digital ad revenue by 102.2% when last year it had made a growth of 106.7% which is 12.3% growth in total digital ad spending in 2013 when compared to 20.4% growth in 2012. Rest of the companies like IAC, AOL, Millennial Media, Pandora and others are expected to grow but will not be able to acquire huge digital or ad revenue in comparison with Google and Facebook.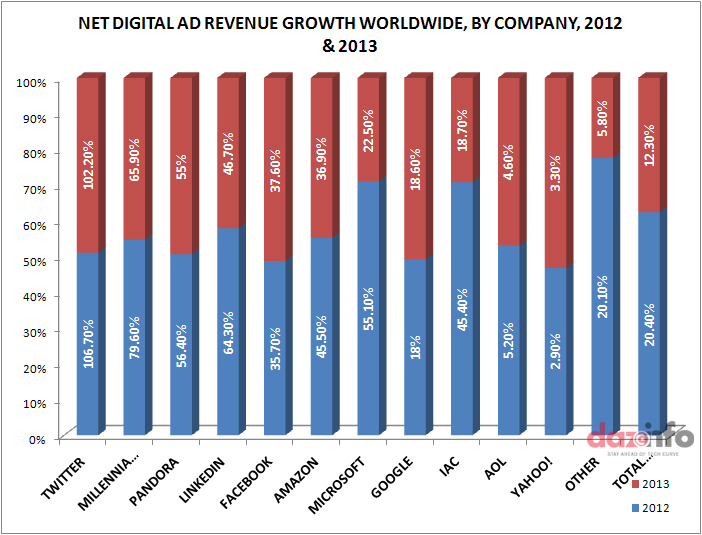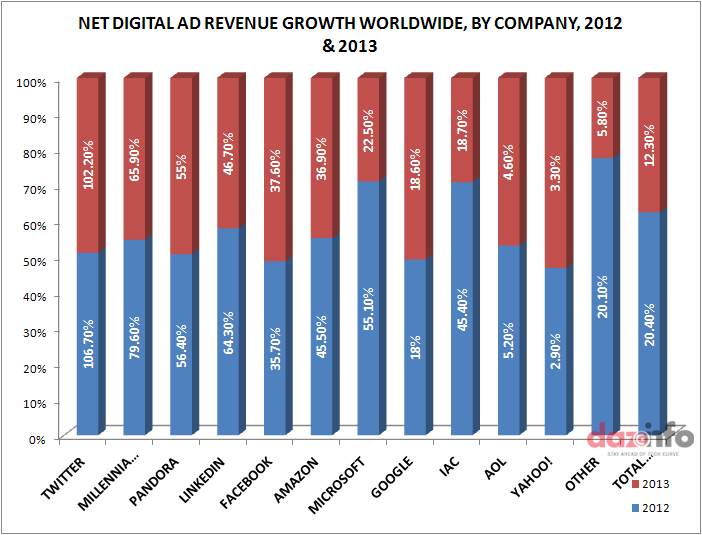 Facebook and Google are doing dynamic planning to monetize their revenue through mobile advertising as there are 136.7 million Smartphone users in US alone and this will make a huge impact on this year's total net mobile advertising share Worldwide.