A little over a month after the launch of Galaxy S4, Samsung Electronics Co Ltd has finally confirmed the rumored Samsung Galaxy S4 Active Smartphone, a dust and water-resistant member of the Samsung Clan.
JK Shin, CEO and President of IT & Mobile Communications Division at Samsung said "The Galaxy S4 Active is the newest addition to the Galaxy series and it's purposefully designed for active users who love the outdoors".
Aimed mainly at people who live an outdoorsy lifestyle, the Smartphone arrives with a qualified protection from dust and water (IP67). The phone is set to become available for purchase later this summer. Initially it will be launched in United States and Sweden in three different color options.
Features Of S4 Active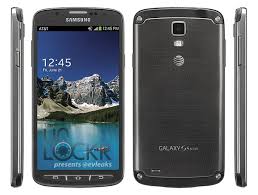 Samsung Galaxy S4 Active is featuring a fully sealed form factor, it can be submerged under 1 meter of water for up to 30 minutes, and Samsung Galaxy S4 Active's camera has been dropped to 8 megapixels from 13 megapixels but the active flaunts an Aqua Mode for quintessential under water snaps, Measuring in at 9.1mm thick and weighs 0.33 pounds, S4 active is 1.2 mm thicker and 21g heavier than Samsung Galaxy S4 which makes it quite chunky. The S4 Active supports all the same software features as its predecessor.
Was It A Conscious Move?
Samsung is known for its innovation, variant products, but it's quite an odd timing to come up with a S4 Active which has more features and has a potential to steal the S4 customers. But S4 Active fits very well in Samsung family in terms of health and this phone is going to be a closest rival to Sony Xperia Z.
Sony apparently made lot of sales through Xperia Z, and Xperia Z became a close competitor for S4, though it lacked better software it did quite well in the market because of its water and dust proof features.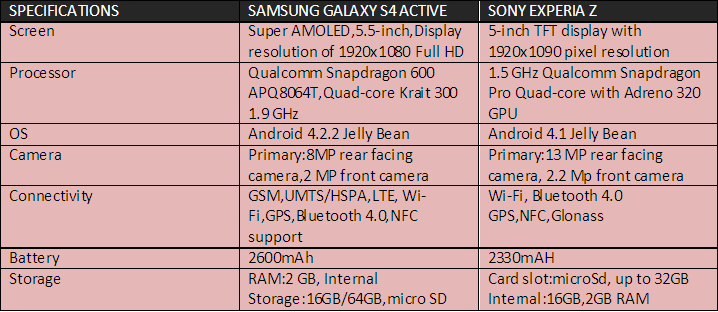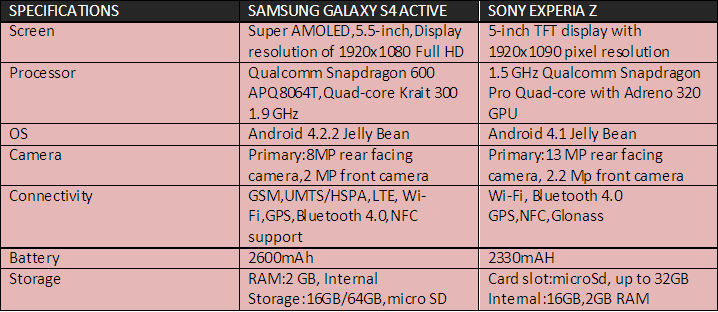 Features
When it comes to looks Xperia is made of premium glass, it is quite sophisticated and looks very high-end and it is quite light whereas Samsung S4 Active is quite chunkier and with the exposed screws and industrial styling it does not look that high-end but when it comes to software S4 Active has more features than Xperia Z and has potential to steal Xperia's customers.
Samsung Company's innovative features have allowed the products to rise from nowhere to total world dominance, in just a few years. Samsung is coming up with variety of products S4 with Stock Android and there were rumors that it is working on a Fancy Galaxy Smartphone possibly one with an aluminum shell-like HTC One. Samsung is coming up with so many products; it's going to be quite hard for its global counter parts to compete with it.