Australians enjoy being active on Social Media this was revealed by comparing Australia's population and Australians on social media. The Australian Bureau Of Statistics Population Clock- total Australian population on 30th April, 2013 was approximately 23,007,086 and Facebook has 11,489,380 users out of total country population which means 50% of Australians are Facebook users considering that 13 years below are not allowed to use Facebook and many senior citizens of Australia don't prefer Facebook.
Social Media Usage In Australia:
Surprisingly, in Australia 14 to 19 years users love using social media while watching their favorite show according to them their TV watching experience becomes more enjoyable. Home is the heart for social media usage in Australia as 96% of Australians access social media from their home mostly in the bedroom, study and bathroom in fact, 6% enjoy using social media while on the toilet and 18% in the car.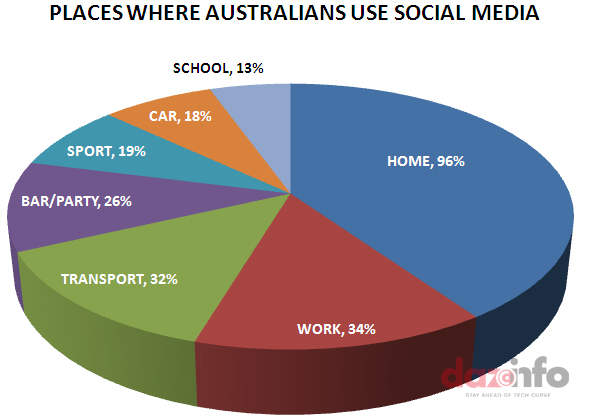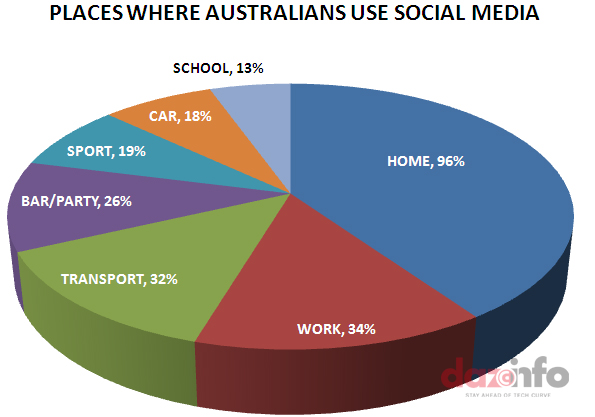 Australia's Most Used Social Media Sites:
Facebook dominates other sites and remains as Australians one of the favorite social media site as the typical Facebook user spends more than 7 hours per week on the site. Interestingly, LinkedIn achieves the second most popular social media platform position followed by Instagram, Twitter, Google+ and Pinterest. LinkedIn is more popular with males than in females and massively used by 40-49 years old.
Australia's Social Media Sites Fallen Out Of Favor:
Twitter is witnessing its worse days in Australia with a huge loss as 45% of Australians have stopped using the platform. Facebook has also noticed a loss of 20% users but still it remains top in the chart with maximum user base.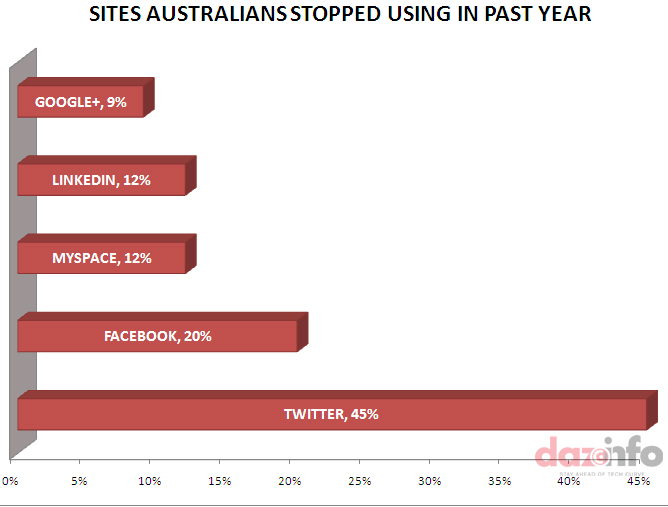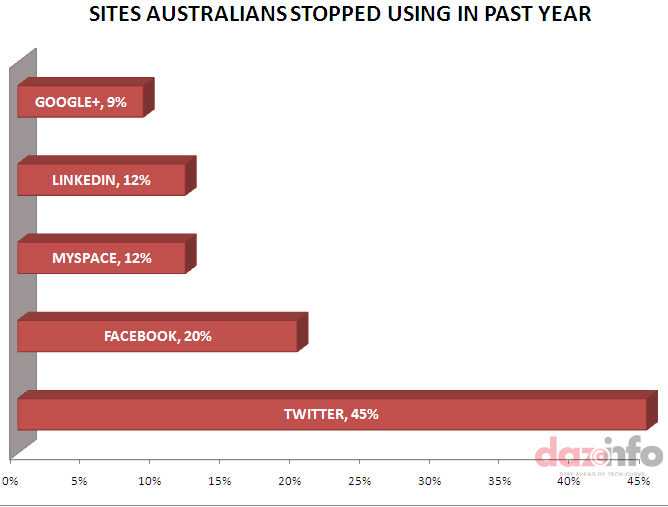 Smartphone Usage For Social Media In Australia:
Smartphone has turned out to be the most used social media device in Australia overtaking laptop and desktop users. Social Media Usage In Australia shows Smartphone growth from 53% to 67% in last 12 months while Desktop stills remains a crucial social media device for those aged above 50 years as Smartphone is not in their priority list. Laptops use has fallen from 69% to 64% over the past year but On the other hand, Tablet computers are beefing up with 18% in 2012 to 35% this year. Social Media Apps are the best ways to access Social Media through mobiles devices, with 69% of users using the mobile apps when compared to 19% who use the website.