Tumblr Inc. has finally given in. David Karp who once vehemently opposed advertising has now sold his company to an advertising mogul. Yahoo! Inc. [YHOO] under Marissa Mayer is on an acquisition spree and today they nailed the single most important deal in their long and checkered history. Yahoo has acquired the fastest growing weblog platform Tumblr in an all cash $1.1 billion deal eclipsing facebook's $1 billion deal of Instagram last year. Without doubt this is the acquisition of the year.
While the blogosphere is abuzz with mixed reactions to the deal, the general consensus seems to be that with tumblr on board Yahoo will have a huge opportunity to monetize the platform and make a freaking killing in the process. But there is more to that than what meets the eye.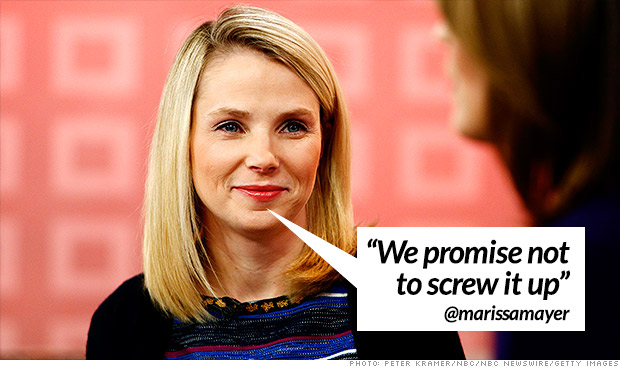 In their official announcements both parties have stated very categorically that after the acquisition tumblr will not loose its cool-quotient and will remain its popular self and grow independently like it has been growing so far. The two CEOs have indicated that tumblr will remain the same. Here is the Yahoo side of things –
"I'm delighted to announce that we've reached an agreement to acquire Tumblr!, We promise not to screw it up. Tumblr is incredibly special and has a great thing going. We will operate Tumblr independently." – Marissa Mayer, CEO, Yahoo.
And here is the tumblr statement –
"We're not turning purple, Our headquarters isn't moving. Our team isn't changing. Our roadmap isn't changing. And our mission – to empower creators to make their best work and get it in front of the audience they deserve – certainly isn't changing." – David Karp, CEO, Tumblr.
Both official statements sound almost musically in sync with each other. But I find it hard to believe that Yahoo would spend one fifth of its annual revenue for just sounding cool again – as some analysts have noted.
Here is why they did it?
Yahoo is an internet pioneer and tumblr personifies the modern internet user. With this acquisition Yahoo seeks to reach a new audience. One which is massive in count and has hardly ever been interested in a Yahoo product. It's a brand new market for yahoo.
Tumblr is without doubt the most popular platform of choice for the youth, the world over. After all it was tumblr that introduced us to the art of reblogging.
Tumblr has been making inroads in the mobile platform and their efforts have recently started paying dividends.
Tumblr understands the social web like very few do and Yahoo badly needs to tap this huge market.
Now let us have a quick run down of what tumblr brings to the Yahoo table –
300 million monthly unique visitors.
120,000 signups every day.
90 million posts are published/posted on Tumblr every day which stands at 900 posts per second.
Over 100 million blogs.
17 percent of U.S. visitors use tumblr from their mobile devices.
And here's what Yahoo has to offer to the tumblr team –
Yahoo has a search engine, though it isn't a Google competitor anymore, it still is a massive web service that touches millions of people each day through the billions of search results it is queried for. This means tumblr users will have an opportunity to search for content, content creators and what not through Yahoo search's integration into the platform. This is a bit like the facebook graph search and let's not forget tumblr is the biggest social web product Yahoo could afford to buy (in part because they haven't been able to build one themselves).
Yahoo will lend some speed to tumblr. Which essentially means that the tumblr platform will be able to use Yahoo's personalization and search techniques to offer quicker results to users.
Here are some stats that the Yahoo premier threw up during her announcement of the acquisition –
Yahoo's audience will grow by almost 50%. Taking its monthly visitor count to 1 billion and above.
Yaoo's traffic could surge by almost 20%.
Interesting numbers indeed. But that is where the problem lies with Yahoo. It gets excited about acquisitions but hardly ever manages to do justice to the acquired entities. A prime example has been the photo sharing site Flickr. Its has been close to a decade since Yahoo bagged them but they have failed to keep Flickr at the top of the photo sharing list. Younger companies like Instagram have far outpaced Flickr.
Yahoo also have a history of missing out on acquiring some of the most important companies of the decade. They considered buying DoubleClick and YouTube but didn't. Google bought them and effectively turned them into revenue generating behemoths. They had second thoughts about ebay Inc. which they must regret now. And of course they very publicly failed at acquiring facebook years ago.
One could argue that since these debacles Yahoo's leadership has changed and Ms. Mayer being one of the most dynamic leaders in the business today has a road map for Yahoo, which at the moment has a lot of buzz about it due to the numerous acquisitions in multiple functional areas. But acquiring a great company is only half the job done.
Here is hoping the old  gun Yahoo doesn't end up inadvertently killing the coolest young (tumblr is still only 6 years old) company in the social media sphere.