Samsung Electronics Co. Ltd (KRX: 005930) financial earnings report for Q1 2013 has been released; the undisputed leader in the worldwide smartphone market has maintained its top position held at the end of 2012. The Korean electronics giant has earned an operating profit of $7.9 billion resulted in net profit of $6.45 billion in the first quarter of 2013.
Samsung shipped 115 million mobile phones across the world covering 27.5% global mobile market share in last quarter (Q1'2013) up by 22% Q-O-Q from 93.6 million shipments in Q1'2012. Majority of Samsung's profit came from mobile business arm, which accumulated $5.8 billion operating profit up from $3.7 billion during the same period a year back.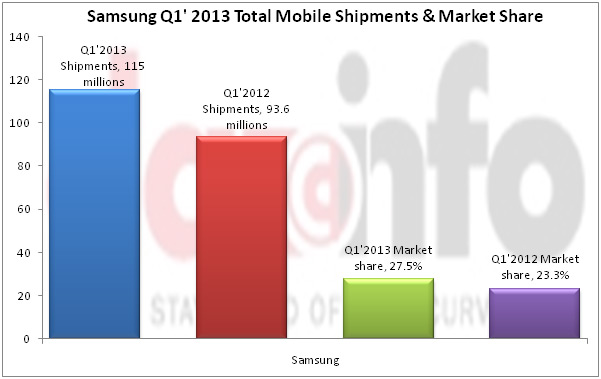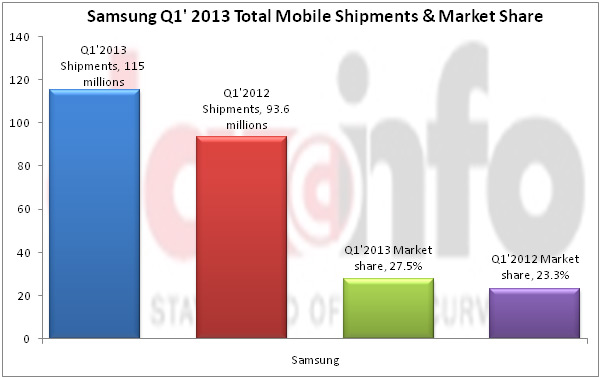 More than 60% of phones shipped by Samsung in Q1 2013, were turned out to be Smartphones; the company managed to ship 70.7 million Smartphones securing 32.7% global Smartphone market share in Q1'2013. Though there was no major launch in the whole quarter, the shipment of smartphones went up by 60.7% from 44 million in Q1 2012.
Interestingly, Samsung's Smartphone shipment in Q1 2013 is equal to combined shipment of its closest rivals Apple Inc (AAPL) with 37.4 million, Nokia Corporation (ADR) (NOK)-4 million, LG  Electronics Inc. (KRX: 066570)-10 million, Huawei Technology Co Ltd. (SHE: 002502)-9.9 million & ZTE Corporation (SHE: 000063)-9.1 million.
"Samsung Smartphone Shipment=(Apple + Nokia + LG + Huawei + ZTE) Smartphone Shipments"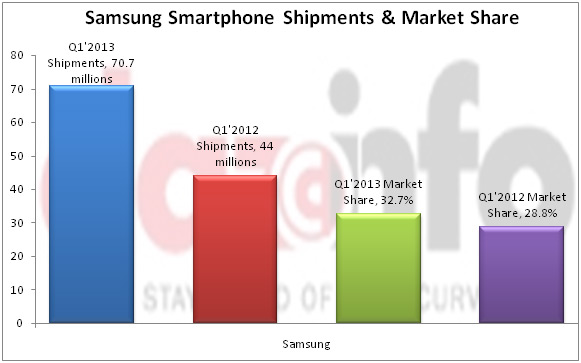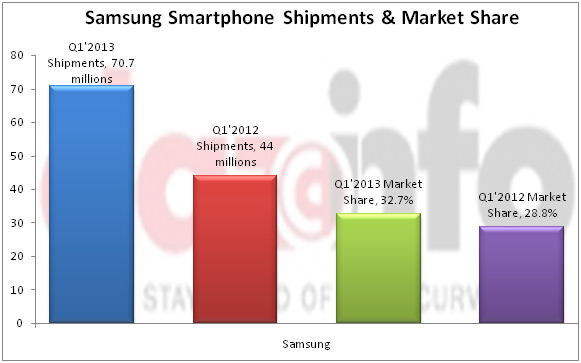 Although, the company gained good profit from mobile sector other sections, such as Consumer Electronics, Device Solutions and Display panels, disappointed. According to Samsung, slow global economic conditions and weak seasonality remained the major causes behind such weak performance in Display and Device sectors. Samsung registered severe decline in sales of devices other than smartphones: 23% of QoQ decline in digital appliances and 29% of QoQ decline in TV sales, whereas 10 and 11% decline in Semiconductor and Device panel segment respectively.
Nearly 90% of Samsung's profit came from its mobile arm; thanks to Galaxy S III's fixed sales and improved sales in Galaxy Note II. However, the demand for Tablets has decreased in both developed and emerging markets, says Samsung.
With the worldwide launch of Galaxy S4, Samsung is expecting significant surge in revenue. Though, Samsung already has enough handsets in the market for entry-level Smartphone users, the company is apparently filling gaps in Phablet section by launching lower priced Galaxy Mega series as Note and Note II are still far from reach of cost-conscious users.