World's two biggest mobile markets – in terms of mobile subscriptions – China and India are also being identified as the markets having maximum number of infected mobile devices. According to latest NQ report, among nearly 35 million malware infected devices in 2012, 8.5 million devices are in China, followed by 7.1 million in India.
Interestingly, the biggest mobile market, the U.S. is also ranked at number four position in the list of Top 5 Malware Infected markets.
According to the report, 94.8% of Malware infected devices across the globe are powered by Google Inc (GOOG) Android OS; And, all this has been occurred in spite of Google's claim to provide more security and protection to users' personal data in recent years.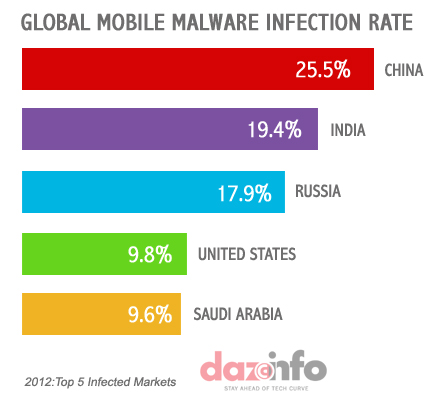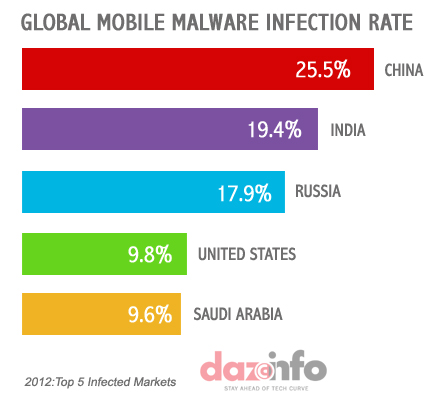 Compared to 2011, malware infection went up by 162% in 2012. The main objective behind malware infection is identified to steal users' personal data for financial gains.
For detailed statistics and study over Mobile Malware 2012 and Android infection, take a look at our earlier report:  Android Failed To Fight Against Malware: Infections Tripled In 2012
Bill Shocker – The Most Infectious And Cost Malware
"Bill Shocker" has been identified as the most infectious and costlier malware in the history. This malware infected nearly 600,000 users in China alone. The malware majorly spread through Tencent QQ messenger and Sohu news. It's important to mention here that Tencent is the same company which has developed one of the most popular mobile messaging app WeChat.
The malware has been idenfied as the most dangerous mobile malware as it turns mobile device into a Zombie and keep uploading stolen personal information to server. Besides, its also send anonymous messages and allows to control the mobile device remotely.
VDLoader,  DDSpy,FireLeaker And DyPusher have been identified as few other major destructive malwares.