The dawn of social media sites has encouraged us to foster personas for ourselves online. But the social media sites is fragmented. If we take a close look at the Facebook it is mainly used to interact with family and friends, Google is for trust in information, Twitter to follow influencers and to share opinions on many verticals, LinkedIn to maintain our professional circle while Gmail, Yahoo! or Hotmail to communicate directly with our important contacts.
Janrain, the leading provider of user management solutions for the social web, announced a new integration with Google+ Sign-In. Since Google (GOOG) launched its Google+ sign-ins earlier this year, social logins have suddenly become a hot topic again.
Frankly speaking, Google+ makes things easier to share. The +1 feature shows up on every website, along with every picture, blog, and video. Clicking on it is incredibly easy, so there's nothing to lose and no time wasted. Furthermore, Google+ makes it easier to choose what you share, thanks to Circles. And, its much easier to join or create a Circle as well, so users have Circles for business, work buddies, family members, and special interest groups.
Janrain says that Google continues to gain social login market share as more than a third of online consumers choosing to use their Google credentials to log in to the websites of Janrain customers. The report says that Facebook accounts for 46% of social logins but at the same time sees a downfall of 3% compared to Q4 2012. On the contrary, Google sees 3% gain in its social login share. Its also said that this is the second consecutive quarter where Facebook is losing its ground to Google.
"Google+ Sign-In gives users a trusted way to use their Google credentials to securely access apps and involve friends in the app. It also makes it easy for web users to discover and download a web site's Android app. We're excited that Janrain will help bring these new capabilities to more users and developers", said Seth Sternberg, Director of Product Management at Google.
The first quarterly report of 2013 released from the Janrain reveals some interesting facts and figures. It says, people wants choice when it comes to social login. Facebook currently leads as the most popular identity provider for social login. During Q1 2012 (survey from the same firm), Facebook lose its ground to Google for the second consecutive quarter, plunging its popularity from 49% during Q4 2012 to 46% in Q1 2013, while Google's share of social login ascended from 31% to 34% during the same period.
But despite the moderate decrease in share of social logins during Q4 2012, Facebook still remains the most popular choice for the ninth consecutive quarter observes the report. Also, LinkedIn enjoys substantial popularity on sites that cater toward business professionals, with as many as 80% of business professionals choosing to log in with their LinkedIn identity on some B2B websites.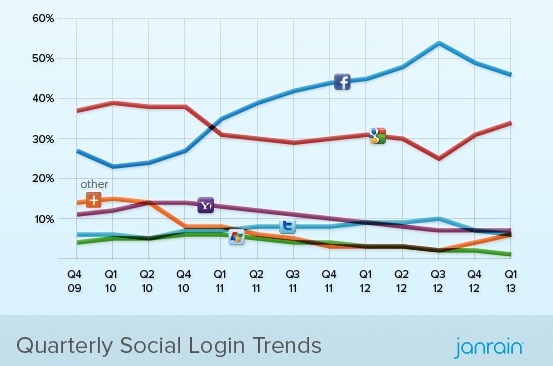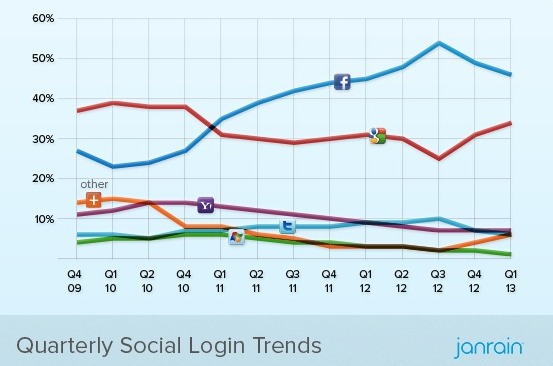 The report also spill beans on the social sites popularity according to geographical regions.  For example, Hyves contends with Facebook as the most popular social network in the Netherlands, and social login preferences on Dutch websites substantiate that notion.  In Brazil and India, Orkut is a popular identity provider for social login, while in China, Sina Weibo and Renren maintain popularity. Mixi is a common social login choice in Japan, while VK is preferred in Russia.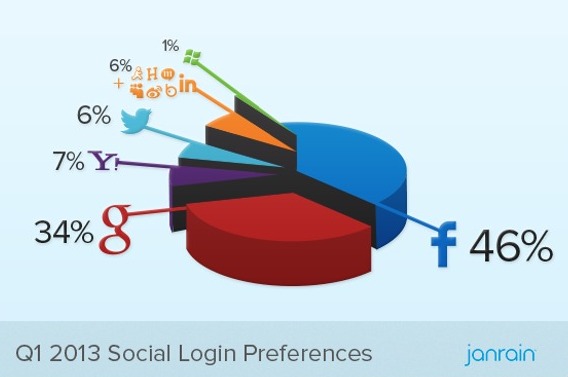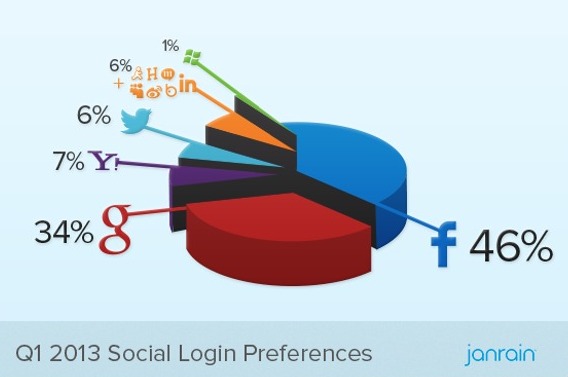 Interestingly, Google is performing well as the second most favored portable identity provider across each of these verticals, but its popularity is most evident on retail and consumer brand sites, which could perhaps be a reflection of the trust that people place in Google as a secure provider of their online identity.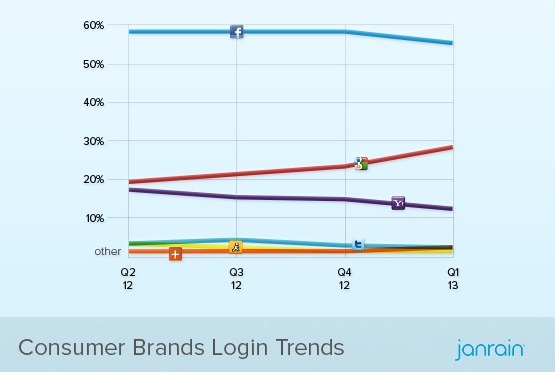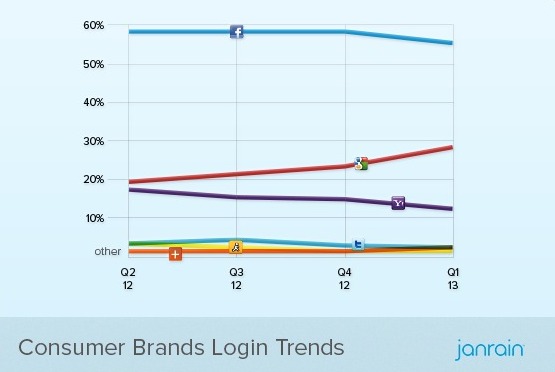 The report also highlights that Facebook still leads other social networks and email providers across prominent industry verticals including media, retail, entertainment and gaming, consumer brands, and music-related sites.  Its popularity is especially pronounced on entertainment, gaming, retail and consumer brand websites.