Majority of the marketers believe that this year about 50% of the customers will view the email marketing messages on their mobile, but sadly only 40% of the marketers are ready for the mobile marketing strategy. While, 70% marketers expected that over 25% of their email campaigns would be viewed on a mobile browser this year.
Astoundingly, consumers who receive brand updates/offers on email (42%) were more probable to purchase than those who receive in SMS (33%).
Octane Research, "Spark the Surge: India e-Marketing Outlook 2013", says that marketers in India are more focused on engaging customers through content and techniques. When the respondents were asked about their digital spending this year – social media and Email marketing gained top positions in their list of choice. The investment plans in both email and social media marketing channels are the clear indications of their importance this year.
The survey was based on great thoughts, insights and inputs from over 500 top marketers in India representing leading companies across industry verticals.
Nearly three-fourth of the respondent revealed that email alerts get them the maximum customer engagement, followed by social media marketing (36.55%).
Interestingly, despite the regulations from TRAI (Telecom Regulatory Authority Of India) impacting SMS marketing, 9.87% of Indian marketers still feel it is an effective channel for engagement. While newsletters and blogs still lag behind at 11.21% and 3.14% respectively.
Furthermore, out of the marketers who feel email marketing draws effectual customer engagement, have also been polled to increase investments in email marketing (46.25%) while those who feel social media is more effective have polled to increase their investments in videos (44.64%).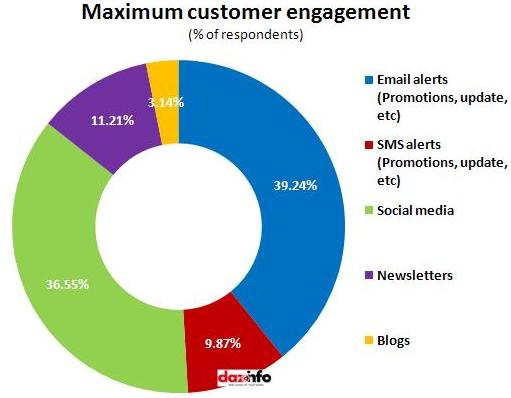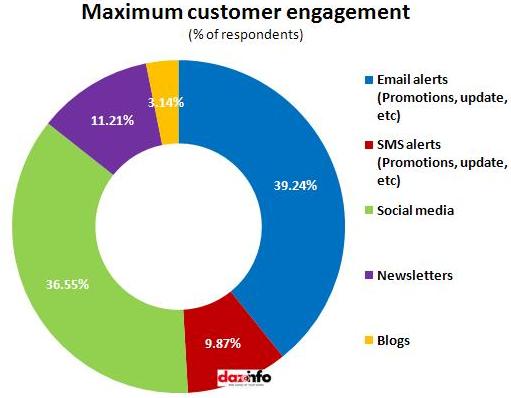 Interestingly, sales revenue generated by Email/SMS grow bigger, report indicates 7% increase in the number of companies that report up to 30% of their overall sales revenue generated via Email/SMS marketing since last year (61.5% in 2012), 68.20% in 2013.
Around 11% of the companies see revenue generation between 31%-50% while around 6% revealed it to be in the range of 51%-75%.
To wonder, about 12% of the Indian marketers are not tracking revenue generated via e-Marketing despite their investments in these channels.
In addition, 52% of those who get less than 10% revenue from e-Marketing are planning to increase investment in email marketing in 2013.
Majority of marketers are planning to increase Email/SMS marketing in 2013. Roughly, 60% of the respondents would give Email/SMS marketing budget a boost of 6% to 20% in this year. And, nearly 6% of them said they would increase investments up to 50% while another 6% of them plan to increase more than 50%.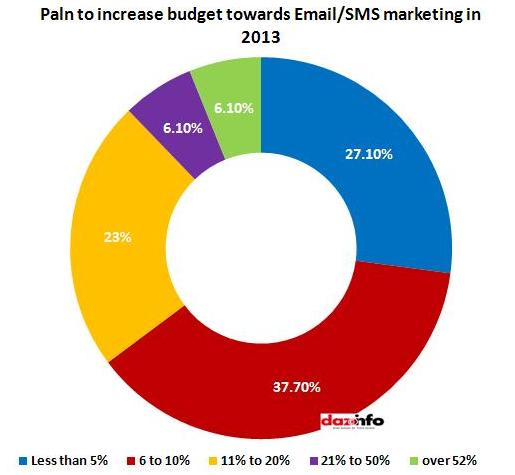 Frequency of sending Emails/SMS bumps up from last year. Almost 70% of the respondents have been sending emails to their customers at least once a week. Out of this, 32% are mailing daily and 37.7% of them are mailing weekly.
Majority of marketers believe that leveraging behavioral targeting increases effectiveness. A substantial 87% of the respondents in the survey (last year) felt that behavioral targeting (sending messages based on subscriber behavior like open rates and click rates) can increase effectiveness of subscriber behavior.
Taking count for this year, nearly 53% of them believe that it may have a significant increase in effectiveness. At the same time, about 13% of the Indian marketers are not sure about the value of effectiveness of behavioral targeting.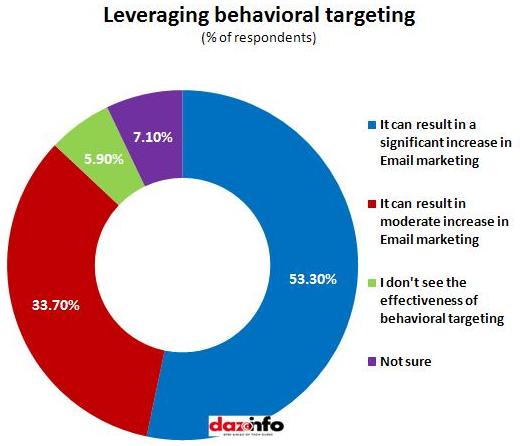 Nearly 100% respondents said that they either use or are planning to adopt one or more segmentation techniques in there e-Marketing campaigns. The most popular choice was segmentation using interest based preferences followed by segmentation based on recent or click activity.
Furthermore, increasing Click-Thru-Rates (CTR) & conversation, acquiring new email contacts and reaching out to the target audience were the challenges faced in email marketing last year.