Online fashion and lifestyle products retailer Myntra today said it has acquired San Francisco based technology platform provider Fitiquette for an unrevealed amount.
Headquartered in Bangalore, Myntra was started by a group of IIT/IIM graduates in 2007. The company has been funded by Tiger Global, IndoUS, IDG and Accel Partners.
The acquisition was first reported by Techcrunch. While the company did not disclose the financial details of the deal, it only said that "the acquisition was part cash, part stock".
"This acquisition will strengthen and expand Myntra's technology platform and drive transformational change in the online shopping space in India by providing world-class experience to its customers," the company said in a statement.
while, Fitiquette CEO & Co-founder Andy Pandharikar said the acquisition will benefit Myntra's vision of providing world class solutions to online shoppers across the country.
By the way, Fitiquette is a company that hopes to help fashion sites by virtualizing clothing measurement in a way that's never been done before. It was started by Andy Pandharikar and Anant Kumar, ex-colleagues from Cisco.
The virtual dressing room developed by Fitiquette generates a virtual tailor's dummy based on various body types to which users can adjust each specific measurement according to their body until it closely mirrors their own, the company said, adding that the technology enabled online shoppers to virtually 'try before they buy'.
To be more brief, Fitiquette provides clothes at suggested sizes that could work with those measurements — playing on the fact that usually a few different sizes can fit you, so this actually helps you to see how each would actually look like. You click on each size, the tailor's dummy puts that piece on; and then you can zoom and spin the model to see the result at different angles.
So, basically Fitiquette's technology innovation aims at solving fitting and size issues for online shopping consumers.
Commenting on the acquisition, Myntra CEO & Co-founder Mukesh Bansal said, "Fitiquette has developed pioneering technology for solving the Fit/Size problem online. This acquisition will not only help us improve the experience significantly, but will also enhance our technology team with addition of top tech talent from Fitiquette."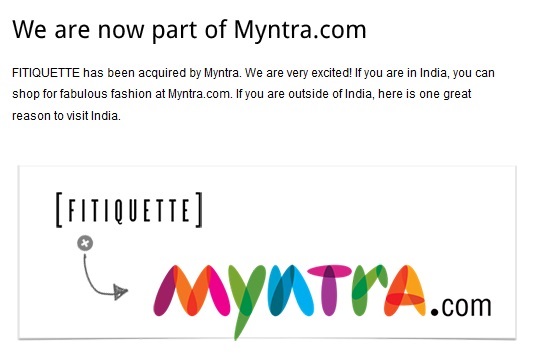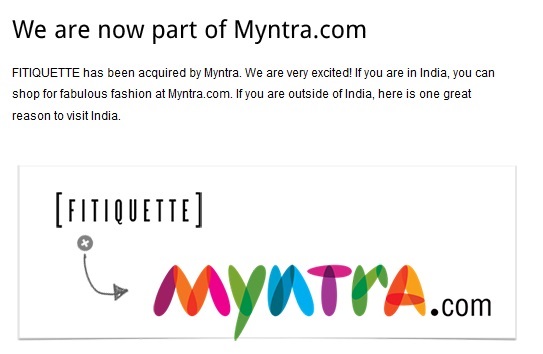 The Fitiquette team will be joining Myntra with Andy heading Myntra's newly formed Innovation Labs in San Francisco, the company added.
This is Myntra's second acquisition in just four month period. The first, in November 2012, was of New York-based Exclusively.in and its private label brand, Sher Singh. In both cases, the financial terms were not disclosed.