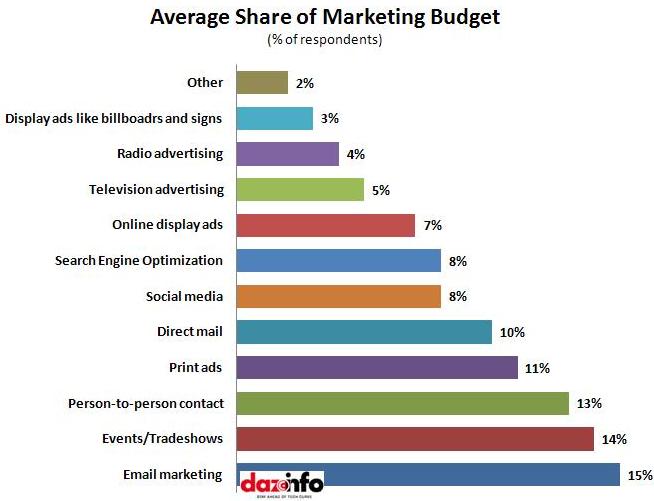 Email remains a staple element in the marketing strategies of businesses and organizations of all sizes. Despite the emergence and hype surrounding many other digital marketing channels, such as paid search, SEO, and in recent years, social media, email still restores a larger share of marketing spend than any of its contemporaries.
Just a few days back we had presented a study on email marketing which says that emails sent late at night bets to get good results than emails sent at any other time of the day. And, emails deployed on Monday gets highest revenue.
An Edge Research which was commissioned by iContact, an email service provided by Vocus says that Small and midsize businesses are allocating the largest share of their marketing budgets to email, with more than half spending up to 20% of their total marketing dollars on email marketing efforts, says a report commissioned by iContact.
The study surveyed 601 email marketing decision makers at companies with annual revenue of $1 million to $50 million and which comprised of less than 1,000 total employees. Respondents had to be involved in email marketing decisions, have knowledge of how their marketing budget was distributed, and belong to an organization that owned their own list and used an email service provider.
Marketing Budgets
On average, businesses spend 15% of their marketing budget on email marketing; 54% report spending 10–20%, while about one-fifth spend more than 20% of their marketing budget on email. Budget commands more than any other single marketing tactic.
While, the next most popular tactics are events (14% on average) and person-to-person contact (averaging 13%). Social media and SEO each accounted for 8% of budget spend.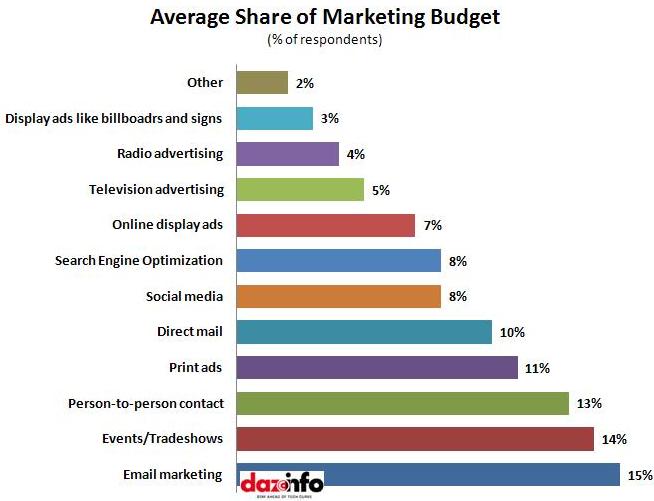 When coming to frequency of emails to list, 39% of businesses email their entire list about once per week—with 6% sending daily emails. 58% report sending emails to just part of their list about once per week, with 10% sending daily emails to a partial list.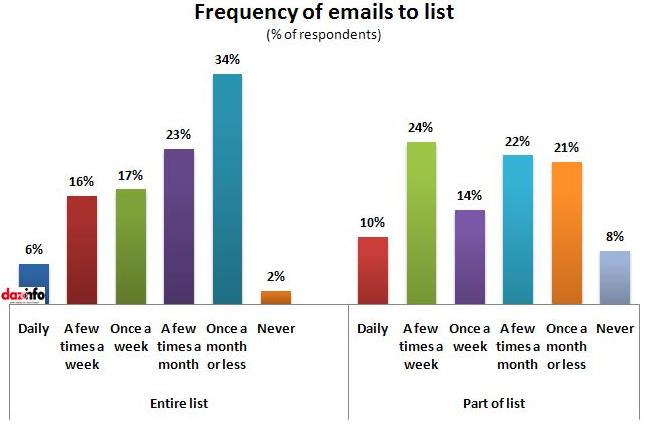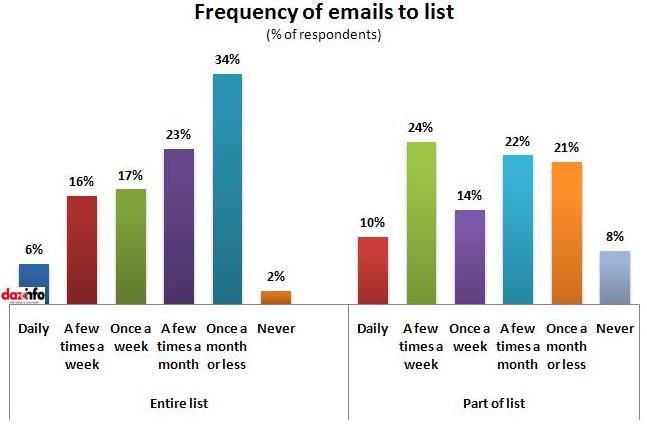 Marketers confidence/usage of email
Also, 32% of respondents said they were very confident in email marketing, while 78% said they were somewhat confident. Email marketing was ranked third (78%), behind personal outreach and events and ahead of social media (60%).
Interestingly,  91% of businesses said email marketing was either helpful or very helpful to their organization. Most businesses cite the precision audience segmentation that email offers and the ease with which customers and prospects can engage the brand.
Email's primary purpose is to share, 92% of businesses say they use email to share information about new products or services; 90% said they use email to share news about their organization.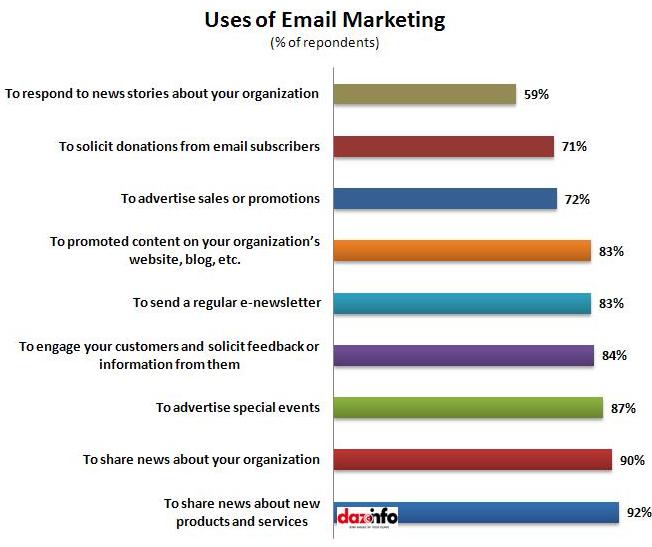 Certainly, integrating email with other types of marketing was also seen in the report, 64% of businesses coordinate email marketing with social media marketing—the most.
This finding correlates with the other study where majority of marketers considered Email and social media as most effectual customer engagement tools and they are primarily used to drive engagement. It is just like we say some things just go better together. That's why integration of social media with email marketing technology sees hike this year. This can give your customers the ability to spread your messages on their own terms.