LinkedIn is the perfect example of B2B site. LinkedIn users are mostly tech-savvies. The site holds many professionals in its forum. And, it is the most popular social media channel, also its said to the globe's fastest-growing private companies. More than four out of five (81%) companies listed on the 2012 Inc. 500 use this professional networking site, up from 73% a year ago.
At the same time, professionals on this site are turning to their online networks and other experts to make decisions about their next smartphone, tablet, or any other gadgets, says the results of  LinkedIn's annual Consumer Technology study. The statistics are based on a survey of LinkedIn users conducted in the U.S. in Dec. 2012.
The study reported that 88% of LinkedIn members own smartphones, compared to 46% of the general population, and 62% of LinkedIn members own tablets, compared to only 22% generally.
LinkedIn users are said to own more products and ability to purchase is said to be high compared to general population. 88% bought at least one tech product in the past year, compared to 80% of overall consumers.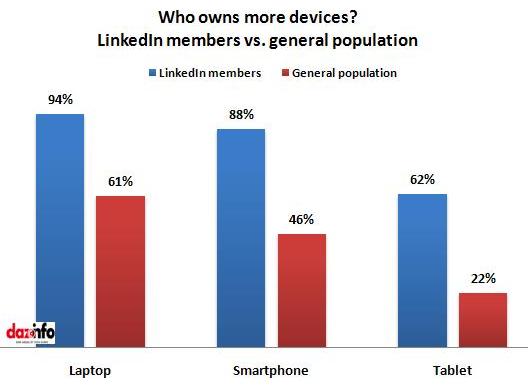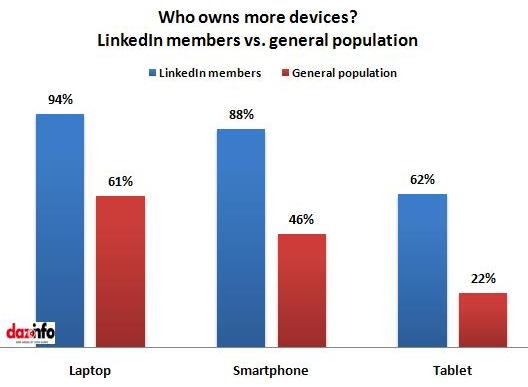 Michael Weir, who leads LinkedIn's Marketing Solutions efforts in the technology sector, offered some additional insight as to how people use social media before and after they buy a new gadget.
Few users post a link to an article about a new product or a product update and ask their connections for an opinion, said Weir. On the other hand, LinkedIn members are said to join a group built around smartphones or tablets, or reach out to a thought leader to get a recommendation from someone they don't know personally, but they indeed trust their opinion.
People who broadcast their purchases are generally looking for advice on how to use the products better, Weir said, such as features they should try and which apps or accessories they should also invest in.
Also, "They are creating a signal for their peer group to reach out to them," he explained.
Those who do reach out may return by asking what other products the buyer had considered before making a final decision. 56% of LinkedIn members turn to their social networks for advice before they make a purchase. 53% share information about what they buy after they make a purchase. While, 68% say that others rely on them for advice about their tech purchases.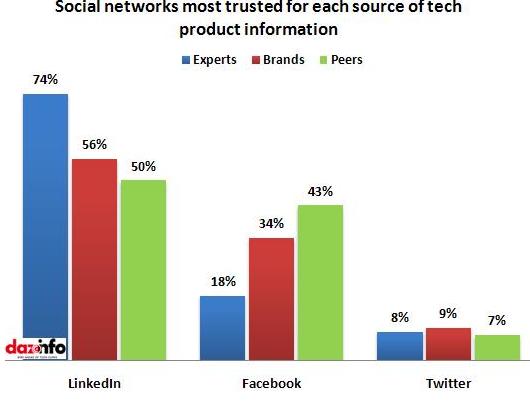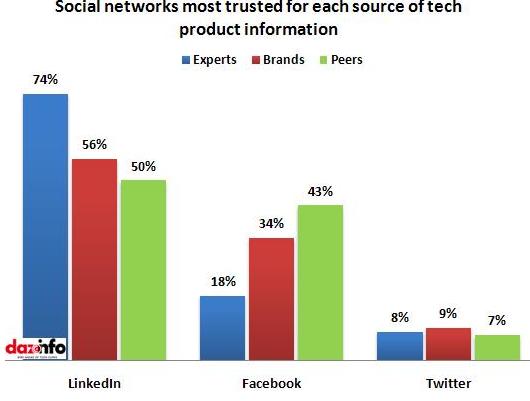 LinkedIn does not see a lot of customer service complaints. Which is due in part to the way people use LinkedIn to establish a professional identity online, the study observes. Any negative comments they share about a company could potentially revert back to haunt them, so members choose their words carefully when voicing a concern, Weir said.
LinkedIn members were twofold more likely than the general population to spend $1,000 or more on consumer tech products. (25% of members spent more than $2,000 in 2012)