Apple Inc. (AAPL) is now very aggressive to stop relying on Samsung Electronics Co., Ltd. (KRX:005935), especially in context of chip production for iPhone 6. At present, Apple Inc. is selling iPhones in more than 100 countries on over 240 carriers. Undoubtedly, China is now the company's second largest market, despite it hasn't made its way to the world's largest mobile carrier–China Mobile. But there's no need to be worried this time. On Tuesday, Brain Blair of Wedge Partners told that the Cupertino based company would launch its one of the most hyped smartphones (iPhone 5S) on 'China Mobile' in July this year. However, the carrier (China Mobile) has now more than 15 million unlocked iPhone users on its network, and more importantly, majority of the devices' users are still stuck with Wi-Fi and 2G data speeds.
Apple Inc. Could Shift Production Order Of A7 Chips For iPhone 6
Recently, Apple Inc. decided to cut the production of iPad Mini tablets, as sub-$200 priced Android based tablets are expected to flourish in the market later this year. However, it's still unclear whether Apple Inc. would launch its low-priced iPhone this year or not. It's believed that the company would continue selling iPhone 4 and 4S, and of course, the iPhone 5S would be another feather in its cap.
Citing to Samsung's high officials, Taiwan's Economic Daily News  has divulged that Apple Inc. could give orders for an A7 chips, which would be equipped in the iPhone 6 next year. Previously, it was said that Apple could shift its orders for A7 chips from Samsung to Taiwan Semiconductor Company (TSMC).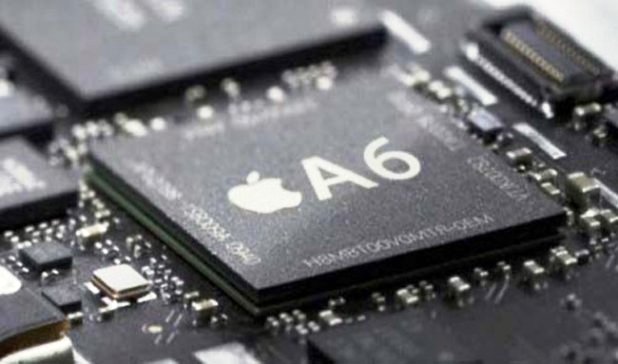 You might have known that Apple Inc. is currently dependent upon Samsung Electronics Co., Ltd. for A-series chips. They have bound to a contract for an exclusive A-series supply, but the contract would expire in June this year. Then, what would you expect from Apple Inc. whether it would shift the production of A-series chips to TMSC? More probably, the iPad maker would go with TSMC's smaller and more efficient 20 nm chips, for its iPhone 6 later this year.
Apple Inc. Is Worried With Samsung's Spend On Marketing Campaigns
Anyway, this time, Apple Inc. considers Samsung Galaxy S4 as a biggest rival for iPhone 5 and upcoming iPhone 5S. We have already explained that Samsung is currently spending quite high for its products' marketing campaigns, especially on the Galaxy lineups. More importantly, the South Korean company has planned to ship more than 100 million units of the Galaxy S4 this year. In simple words, Samsung is going to invest huge on the marketing campaigns for its one of the most important smartphones –the Galaxy S4.
On Tuesday, Asymco's Horace Dediu posted a chart, showing sales, general and administrative expenses of Apple Inc. and Samsung, on his twitter account. Just take a glimpse on the chart: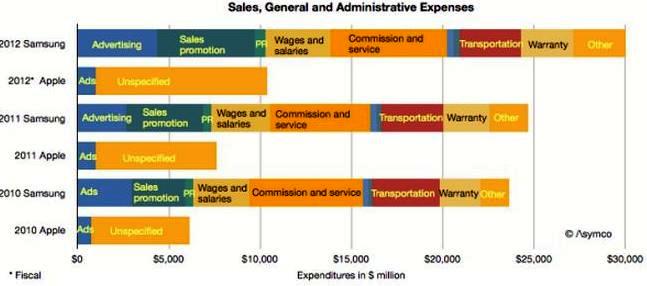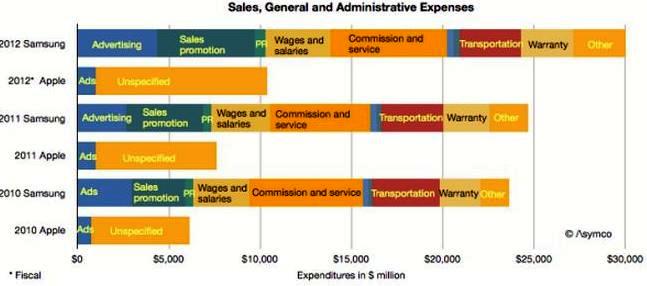 On comparing the expenses of both these companies, we could easily see a remarkable disparity in their sales, general and administrative expenses. Indeed, Samsung is quite ahead of Apple Inc. is such expenses, and this is one of the reason why Samsung is now the world's largest smartphone vendor.
Of course, if Apple Inc. wants to dwindle Samsung's influence in smartphone segment, then it would have to do out of box. But it's clear from the iPhone maker's recent endeavors that it wants to get rid off from Samsung's chips. One thing is still unclear whether Apple would launch iPhone 6 this year end or next year?