In September 2007 #Hashtags went live from the very month till date this feature is doing great. Hashtags are also widely recognized, with the five most notable Twitter hashtags generating upwards of 11.7 million mentions over the last year. Did you ever think that hashtags could drive mobile marketing ?
According to a new survey by programmatic ad platform RadiumOne, hashtags were used to drive online video views even after the company's ads aired. 70% of consumers who clicked on the TV ads through hashtags ended up watching the commercials all the way through, which simply says that it could drive mobile marketing.
RadiumOne's survey evaluated how consumers recognize, value, and use hashtags. It surveyed 494 respondents, 71% were female and 44%, middle-aged. (RadiumOne noted that while social media use is most predominant with 18 to 24-year olds, comScore credits middle-aged women as the group most responsible for growth in social media site usage.)
"Advertisers on Twitter spend a lot of money trying to promote their tweets or promoted hashtags," said Kamal Kaur, the company's vice president, mobile. "Once they have built that audience, what should they do now? One of the solutions RadiumOne provides is the ability to target these users outside that environment across the open Web."
The survey reports that 58% of respondents said they use hashtags on a regular basis, and 70% of the hashtag users are doing so from their mobile device.
The ads aimed at those users who can run both on the desktop and in mobile. The survey also showed that 71% of regular hashtag users interact with them via mobile. Overall, 14% would be willing to make a mobile purchase more frequently if incentives were provided through the use of hashtags.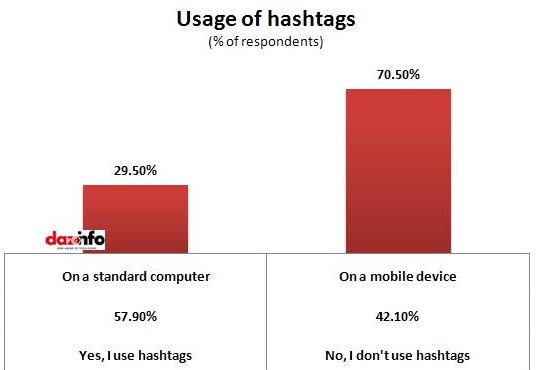 Hashtags enable social media users to mark their preferences at scale in a real-time fashion.  They are used primarily for identifying trends and content discovery, 30.5% of respondents to the survey say that hashtags are good for identifying trends, and 20.6% of them say they are good for finding brands and products.
Users are also using hashtags mostly to explore content, with 41% of respondents claiming they would click on a hashtag to learn more about a brand or product.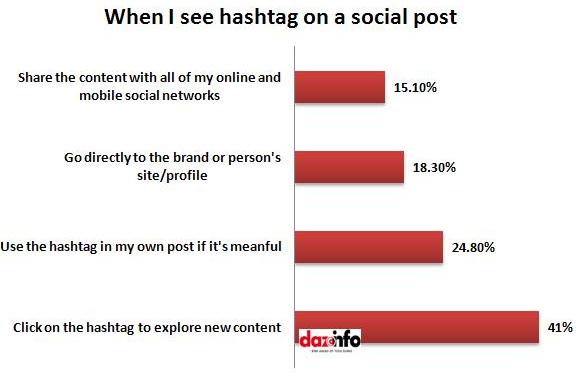 Another key insight from the survey was that hashtags are being used primarily to communicate personal ideas and feelings (41%). The second most popular reason for using hashtags was to search or follow categories and brands of personal interest. While, 14.8% use them to re-direct users to external Web content (Links, Videos and articles), and 10.4% use them to promote corporate or social events.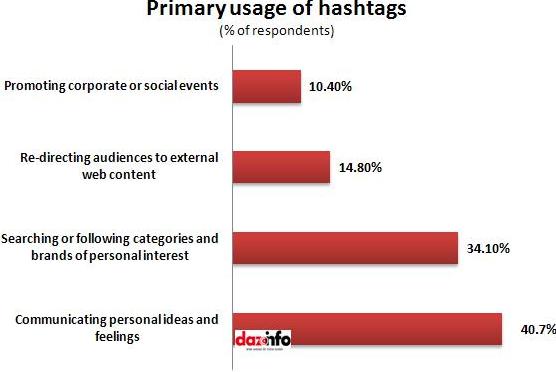 Furthermore, 43% said that they find hashtags useful, and 34% use them to search or follow areas of interest and personal brands. Additionally, 17% have discovered brands through a hashtag. And, more than half (51%) would share hashtags more often if they could get sponsored discounts in return.