Nokia, once the king in mobile handset manufacturing, is now struggling to make stronghold in smartphone segment. Last year, Samsung took the throne of the world leading mobile handset maker from the Finnish handset maker. Yesterday, we discussed how Samsung is gaining momentum in emerging smartphone markets, especially in India and China.
Nokia Led Indian Mobile Handset Market In 2012
According to a recent report from CMR, Nokia led Indian mobile handset market in 2012, followed by Samsung. Last year, 221.6 million mobile handsets were shipped in India, up from 183.4 back in 2012. In simple words, Indian mobile handset market registered 20.8% Y/Y growth in 2012. More importantly, the demand of feature phone in the country is still quite higher, compare to smartphones. Out of 221.6 million mobile handset shipped last year, 206.4 million were feature phones. Feature phones had seen almost 20% Y/Y growth in 2012, showing how people in the country are budget-oriented.
Local Vendors Fueled Smartphone shipments in 2012
In India, higher-demand of feature phones doesn't mean that there's no scope for smartphone vendors. In 2012, the country also saw 35.7% Y/Y growth in smartphone shipments, taking the figure to 15.2 million units. The stunning growth in smartphone shipments was seen in second half of the last year; Indian smartphone market had seen 75.2% growth in second half of the last year, compared to the first half. Thanks to participation of local vendors, such as Micromax, Karbonn, Lava and more, those were offering smartphones at very affordable price tags, ranging from $100 to $300.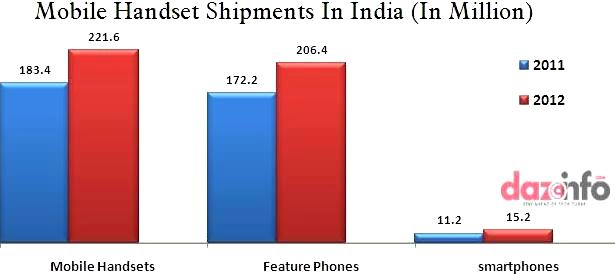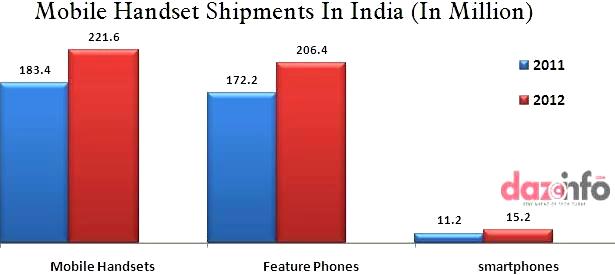 In 2012, out of the 15.2 million smartphones, 43.1% of those were sold by Samsung. On the other side, Nokia managed to grab second spot with 13.3% market share. Furthermore, with the popular mid-range offering, Sony Mobiles succeeded to push out BlackBerry from the third spot in 2012. The Japanese company came third with an 8.2% share in Indian smartphone market.
We had have a discussion that in 2012, 20 million smartphones would be shipped in India. But you might have surprised that the figure could reach to just 15.2 million units. It should be understood that the firm (CMR) hasn't included smartphones those are featuring display screens bigger than 5-inch. In other words, the firm hasn't encompassed Galaxy Note and Galaxy Note 2 in smartphone categories. It's well known that these two devices–Galaxy Note and Note 2–were among the most popular smart devices in India last year.
In 2012, these Phablets were considered among niche categories, and of course, in 2013, the scenario is going to change in India. At present, both global and local vendors are targeting to manufacture smartphones with screen display size of 5-inch or more.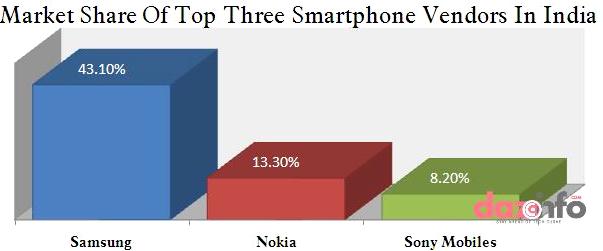 With the participation of local vendors, smartphones are becoming more and more budget-friendly for Indian folks. In 2013, smartphone shipments are expected to show off 100% Y/Y growth. In the contrary, shipments of feature phones are estimated to drop significantly this year, in comparison to the last year.