Windows Phone platform has gradually been gaining market share in smartphone segment, while on the other side, there's no any sign of downfall in Android's market share growth. Undoubtedly, proportion of smart connected devices today has reached to a distinct level, and this time, fragmentation of hardware (based on form factor) has become one of the major concerns for both developers as well as consumers.
Active users On Android, Windows Phone And iOS platforms Prefer Most to Medium Size Phones
Thanks to Flurry, an app analytic firm having global presence on 1 billion mobile devices, which has endeavored to find out users preference, related to hardware form factor.  As per Flurry's latest survey, it has been noticed that people mostly prefer to use apps on medium sized smartphones, including Samsung's Galaxy lineup, and full sized device like the iPads. For achieving the conclusion, the analytic firm tracked top 200 device models in its database, claiming 80% of all usages.
The firm categorizes all mobile devices into five groups; small phones (under 3.5″ inch screen size), medium phones (3.5-4.9 inch), Phablets (5.0-6.9 inches), small tablets (7.0 to 8.4 inches) and full-size tablets (8.5-inch or greater screens).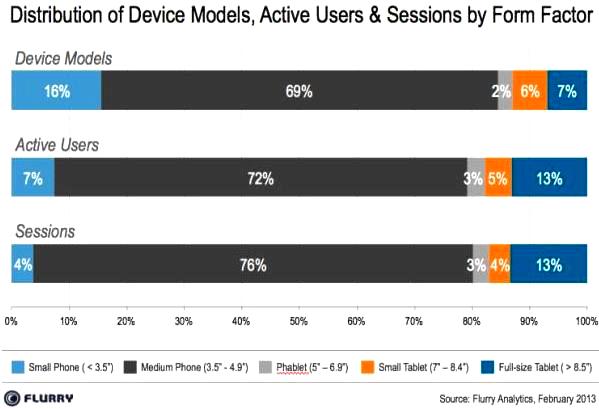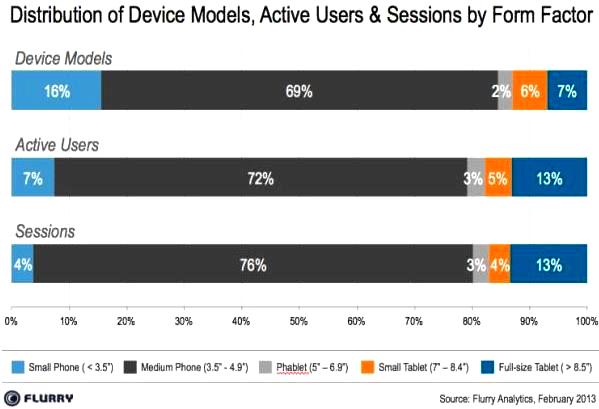 Why Do Marketers And App Developers Need To Focus On Medium Size Phones?
Majority of 'Device models' currently come under medium size, ranging from 3.5-inch to 4.9-inch, followed by small phones with 16% of share. Besides, the proportion of active users and sessions are also higher on medium size phones, compare to other form factors.  In simple words, medium size phones dominate in all sections (device models, active users and sessions) over other form factors featuring phones.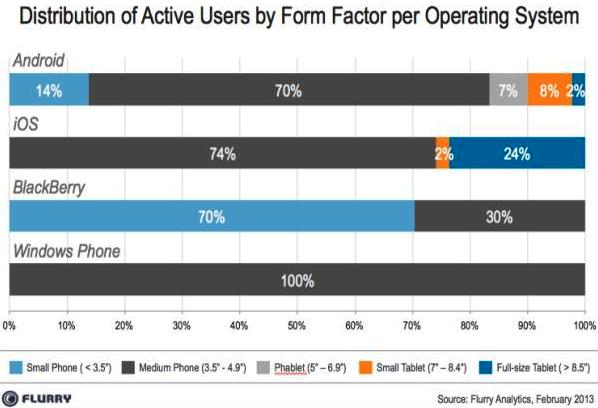 Furthermore, active number of users on different platforms, including Android, iOS and Windows Phone, prefer more to medium size phones, than phones with other form factors. Interestingly, 100% active users on Windows Phone platform use medium size phones. In the contrary, majority of users (70%) on BlackBerry platform use small size phones; remaining 30% use medium size phones.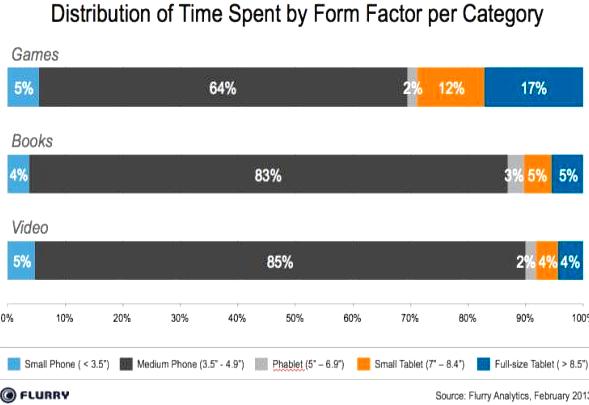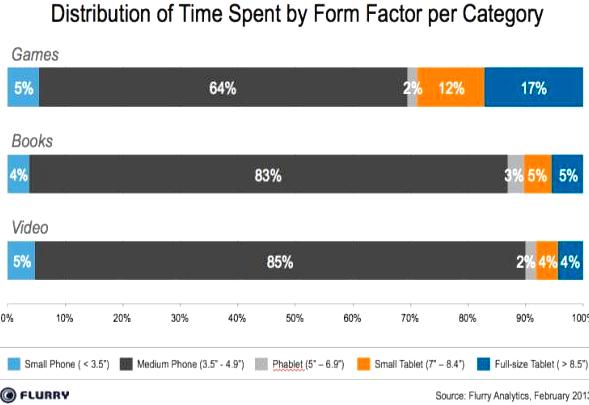 Indeed, it's important to know the distribution of time spent by form factor. It's pretty much clear from the above graph that medium size phones owners are more likely to use their devices for playing games, reading Books and Video viewing, than other form factor users. More importantly, 85% of medium size phone users use to spend their times on watching videos, followed by 83% and 64% of users those use to spend their time on reading books and playing games respectively.
In last, it's really important for mobile marketers and app developers to focus more on medium size phones than other phone sizes, as majority of users are currently stuck with medium form factor. It's true, at present, majority of high-end smartphone manufacturer are focusing to build 5-inch or bigger smartphones, but they should know that a significant number of users are still using medium size phones.